Getting and retaining employees who fit within your company's culture is a delicate art and can be time-consuming and costly, especially in a small business when your next hire could double your workforce or wind up being your first C-level exec. But there are innovative ways for small-business owners with more moderate budgets to source and retain the talent they need to stay innovative and successful.
Digital platforms give small companies access to a global workforce, allowing them to find the perfect employee for a temporary task or a long-term engagement, while making the process of evaluating their skills and planning their growth inside your company a more seamless process.
Recruiting new staff can be tedious; sifting through a stack of resumes with many candidates lacking the right skills increases the likelihood that the ideal employee could slip right through the cracks. Connectcubed is a recruitment platform that determines an applicant's capabilities through game-play. You can tailor the game to your specific industry to test the skills you need to bolster your business. The program gives players a rating based on their performance, which makes it easier to filter through applicants. Connectcubed gives employers access to the most relevant potential employees, and elicits skills sets that aren't easily garnered from a CV.
RELATED: 3 of the Biggest Hiring Mistakes Employers Make 
A Workforce On Call
If you have a task that's larger than what your small business can handle, where can you find high-quality workers? Head to Crowdflower, an online crowdsourcing service that distributes tasks to a massive group of contributors—a veritable virtual taskforce—that can break down the work and get it done quickly. Employers can search through a list of services, then Crowdflower finds the best people for the job. Each contributor on the site has taken a skills test so you can be assured that the person with the most relevant capabilities will be the one completing your task, allowing you to target the job to a specific worker with the expertise you need.
Sometimes you need employees on a very short-term basis—for tasks such as market research or general feedback. Ask Your User is an online service that quickly connects business owners with relevant professionals in a cost- and time-effective manner. The site uses LinkedIn to source professionals who are available to hire as micro-consultants. You can search for consultants based on their experience, expertise and specific demographics so you can receive the best feedback possible in the shortest amount of time. Having a roster of ready-made consultants is an effective way to bolster your workforce; freelancers can also add to your team when projects call for specific creative skills or business expertise.
Finding reliable freelance talent through word of mouth and online job boards is challenging enough, but then you never know who's going to be available. Working Not Working strives to solve that problem, functioning as a realtime network that constantly broadcasts the availability of vetted creative professionals. Subscribing companies have access to a database of top freelancers and can see whether or not they're free to do business. WNW reduces cost, with a low-cost monthly fee for accessing the entire list of freelancers who are organized by seniority, category, expertise and skills, streamlining the search process to find the perfect worker for you.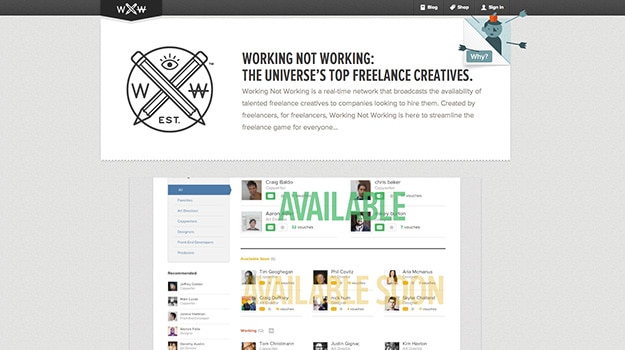 The Rock Stars Within
Hiring outside talent may be necessary when the workload is heavy, but never overlook your own employees who already have a strong working knowledge of your business and often the desire to take on new roles and responsibilities. Once you've hired a person, you want to ensure they do their best work and have the opportunity to grow within your company—this is where Talent Analytics comes in. This platform measures "talent characteristics" to highlight a person's value. This is not about assessing skills sets, which are specific to a field and change over time, but rather involves complex data crunching of the employee's preferences and motivations to predict his job performance. This is data driven human resources to better understand the person's innate attributes that make him work the way he does. Once you've assessed a person's talent, you can place him within the company for optimal performance.
RELATED: 8 Ways to Conquer Your Leadership Blind Spots 
Small businesses by definition have limited resources, so your workforce needs to be carefully curated to maximize the skills of each employee. When recruiting, you want to have the best people in the best positions, and, once you've made that hire, you want your employee to stay satisfied. The cost and effort to find and retain the perfect employee can seem overwhelming to a small-business owner, but the options available in the digital age mean you can more efficiently evaluate potential workers in advance, outsource to quality freelancers and properly assess your own employees to ensure that your company and employees outperform an operating budget of any size.
Piers Fawkes is the president and founder of PSFK.com, a daily ideas publication for creative professionals. 
Read more articles on hiring. 
Photos: iStockphoto