In 1995, Fernando Messier left Colombia for the University of Louisville on a swimming scholarship. After he graduated in 2001 with a degree in civil engineering, Messier went to work for one of the large engineering firms in the area, which is pretty much the exact moment his unexpected entrepreneurial journey began.
Within the year, he had navigated the complicated government paperwork to open his own engineering and construction firm. Today, Messier & Associates employs over 47 people and, at any given moment, is designing or building for eight to 10 large construction projects.
Hispanic-owned businesses like Messier's have nearly doubled in number over the past 10 years—in 2014, the number was at 3.2 million and  generating $468 billion in annual revenue. 
What's interesting is that this trend is occurring nationwide, not just in traditional Hispanic strongholds like Miami and Los Angeles. Hispanic-owned business is also booming in middle America towns like Louisville, Kentucky, thanks to a swelling wave of institutional and government support, an increase in educational opportunities and a deeply embedded culture of entrepreneurship among Hispanic immigrants.
OPEN Forum profiled three cities with very different pockets of Hispanic business ownership and looked at the factors that are driving their success.
Albuquerque: A Chamber That Speaks Spanish
Although Paul Chavez estimates his family is five or six generations from its roots in Spain, elements of his Spanish heritage were still strong enough to push him into joining Valley Fence Company, a business his father started in 1969. 
"Hispanic families, it's one of those love-hate things," says Chavez, who's the company's CEO. "You're very close, and there's a lot of it." Today, Chavez's sister and his son both work at the company, and his father is semi-retired.
Chavez says his father pushed his children to go to college though he himself hadn't finished elementary school. "My father wanted us to get educated so we could take care of ourselves better because he had to work so hard," Chavez explains. "But all we knew growing up was to work hard and try to do things right. He taught us that."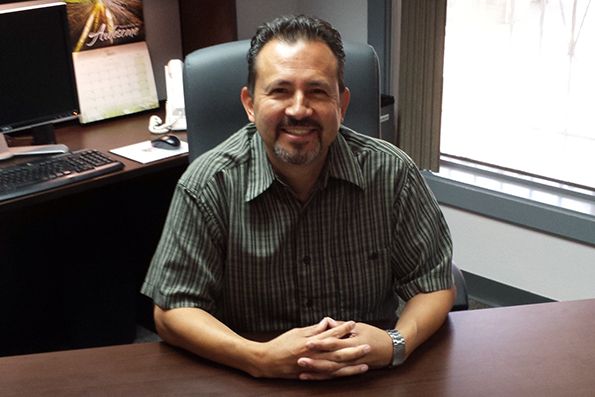 Chavez was about 6 when he started tagging along with his father on construction projects, and although he did start college, he left after about a year. "When [hard work] is ingrained at an early age, that's the direction you end up with," he says. His own son, Tyler, Chavez is proud to point out, has earned his MBA.  
According to Chavez, there's been a growing emphasis on Hispanic entrepreneurship in Albuquerque during the past 10 to 15 years. "Before that, minority options for things like getting funded were limited," he says. "That's why my father worked so hard and became self-made. It was very limited on what banks would give."  
But that's changed, thanks to a growing network of Hispanic-business support services. For example, today there are more than 200 Hispanic Chambers of Commerce in the U.S. Membership. These booster organizations aren't limited to Hispanic business owners, but are also open to larger "sponsors" and companies interested in doing business with minority entrepreneurs.
Founded 40 years ago, the Albuquerque Hispano Chamber of Commerce is the third-largest such organization in the country. It was named the top Chamber of 2014 by the U.S. Hispanic Chamber of Commerce.
"In Albuquerque, small business is the backbone of the community," says Katrina Soto, a chamber spokesperson. "We have very little manufacturing here; it's primarily retail shops." To best support these small businesses, the chamber focuses on four initiatives that encompass membership and marketing; conventions and tourism; workforce training; and education support for middle school and high school students. The organization also works closely with the nearby branch of the U.S. Small Business Administration.  
"When it comes to opening a business, you have to have your documentation," Soto says. "Say that Joe wants to open a restaurant. He needs a business plan, proposal, financials, marketing, and to show what makes him different. Banks want to make sure they'll get their money back. It's a hard process for everybody, but for someone maybe migrating from Mexico, it can be a little harder because of the language barrier."
To help guide Hispanic entrepreneurs through both the startup stage and ongoing management, Soto says the SBA now teaches business classes in both English and Spanish, and has translated much of its business paperwork into Spanish. Both the local SBA office and the chamber are fully bilingual, prepared to coach a budding small-business owner through the complexities of government requirements.
Albuquerque's business community may be responding to the Hispanic population. In Albuquerque at least, this particular minority may be becoming a majority. But there are business success stories even in cities where the minority population is still a minority.
Louisville: Hispanic B2B Stronghold
Hispanic-owned small business in Louisville appears to be thriving. And while the number of Hispanic-owned businesses may be smaller than in some other cities, the community appears strong, particularly for professional-services companies.
Louisville is a business-to-business town, often focused on wholesale and manufacturing sales. Not surprisingly, the Hispanic business community correspondingly may focus on B2B expertise, including insurance companies, security firms, engineering and construction, marketing and PR agencies, and more. In this business climate, being a minority-owned business can be a powerful asset, says Juan Messier, Fernando's brother, who serves as CFO of Messier & Associates.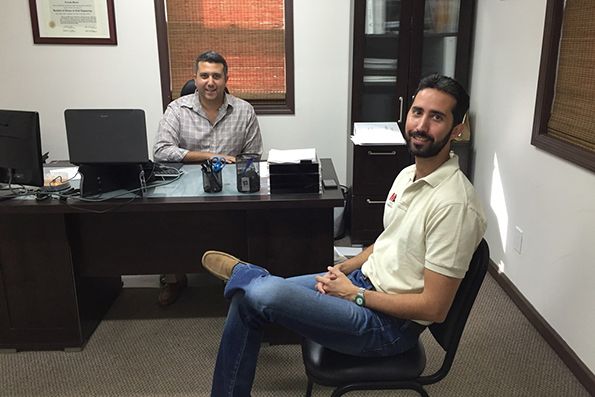 "Kentucky has a minority business enterprise program," Juan says. "So whenever there's a project with federal or state dollars attached to it, like designing a new plant or pump station, they have to comply with minority percentage guidelines. [But] they often fell short and couldn't find enough minority-owned companies to help them comply."
Juan was still living in Colombia when Fernando graduated from the University of Louisville and started working with a large Louisville-based company that was bidding on some of those contracts. Co-workers at the firm encouraged him to strike out on his own.
"So my brother created his own company in 2001 and became minority-owned certified," Juan says. The process, however, wasn't easy: Fernando faced a daunting startup and certification process that involved 55-mile drives to the capital in Frankfort, filling out 30-page certification documents and filing complicated "requests for proposal" bids. Fortunately, a seasoned small-business owner coached him along.
"There's some red tape, it's true," Juan says. "You need to learn all that to be able to play the game. The paperwork on a lot of these things is really what keeps you down." But getting through the hurdles was worth it. "Now when jobs come up," he says, "contractors sub out to us and get the minority compliance."
Juan himself earned a business degree in Colombia but moved to Louisville in 2005 to help Fernando run the growing company. "If you dream of having a good life and sending your kids to a good school, that's very expensive in Colombia," Juan says. "To earn that kind of money, there just aren't that many jobs there. The phrase 'land of opportunity' here is very true."
Fernando's mentor went on to help form Louisville's Hispanic Latino Business Council in 2006 with a few other business owners. One of those was Ben Ruiz, who co-owns Adhawks Advertising & PR with his wife, Sonia. "At the time, there were about 200 Hispanic-owned businesses in Louisville. Now there are about 300," Ruiz says. He helped start the Council in order to promote networking and also raise the visibility of local Hispanic businesses and workforce. "Louisville has lots of large corporations headquartered here, and they're very interested in hiring minorities or getting contracts with Hispanic-owned vendors," he explains. "It's a healthy environment for all minorities."
Ruiz, whose family moved to Louisville from Mexico City when he was 9 years old, says there's a distinct attitude among Hispanic business owners: This is about doing business for the long haul. "The term 'exit strategy'—I never hear that among Hispanic business owners," he says. "I've taken plenty of business courses where I've learned about it, but it's something that never really came into my mind. If you're going to start a business, you're doing it for life."
Chicago: Where Art and Business Inspire Each Other
In a neighborhood on the lower west side of Chicago, art is tightly intertwined with the small-business life. Pilsen was originally known as the "gateway to Chicago" when it was settled by Czech immigrants in the mid-1880s. By 1970, Pilsen and neighboring Little Village were overwhelmingly Mexican, and Pilsen had become an artistic destination, full of vibrant murals and mosaics. When the National Museum of Mexican Art moved to Pilsen in 1987, it solidified the area's reputation as an art center and helped define the direction that small business would take.
What's different here is that the person who greets you in a store and rings you up is most likely the owner. They aren't in it to become wealthy. They aren't in it to create a corporation. It's a 10-hour shift they put in every day, and they look at that with pride. It's the lifestyle they chose.
"We started the relationship from the get-go," says Eleazar Delgado, who opened Cafe Jumping Bean in 1994 and has been displaying a rotating gallery of local art on the walls ever since. "The relationship is important because it involves the community. Ninety percent of the people who exhibit here are [from] the neighborhood." The local artist community inspired Delgado to open the café in the first place, he says.
"All the independent coffee shops were on Northside, and there was nothing here for us," he says. Delgado, who is a Chicago native and second-generation Mexican, wanted to cater to local artists and provide a meeting space where they could camp out over a cheap cup of coffee and seek inspiration. He didn't make much money for the first few years (his business partner abandoned the venture), but now that Pilsen bustles with art lovers and museum tourists, Cafe Jumping Bean has become a popular stop. Cafe Jumping Bean illustrates the small-business "virtuous circle" in Pilsen—a business started to support the artistic community, and that community in turn helps keep the owner in business.
No Manches Clothing Co. has an even more overt business connection to the art world, working with local artist Robert Valadez to design a line of Latino-inspired clothing. One of owner Miguel Cambray's three business partners, Jesus Iñiguez, started the company in 2006. "There wasn't a clothing brand that reflected our native experience in this country," Cambray says. "There were Anglo brands like Polo, and African American brands like FUBU, but nothing by Latinos for Latinos."
Cambray and his business partners are all second-generation Mexican, and they built the company to support and reflect the Latino culture and experience in the U.S. No Manches is the exclusive clothing supplier to the National Museum of Mexican Art.
"From a business perspective, if you collaborate with the right artist, it's co-branding. And for the artist, it's a platform, so it's a win-win," Cambray says. "It's part of the Pilsen culture. If you don't collaborate with a Pilsen artist, then you become 'that business' that didn't collaborate with an artist."
Pilsen's businesses may be artsy, but they aren't fly-by-night, according to Alex Esparza, executive director of the Eighteenth Street Development Corp., Pilsen's primary small-business support organization. "What's different here is that the person who greets you in a store and rings you up is most likely the owner," Esparza says. "They aren't in it to become wealthy. They aren't in it to create a corporation. It's a 10-hour shift they put in every day, and they look at that with pride. It's the lifestyle they chose."
Esparza says he sees this pride in entrepreneurship carrying over to the next generation, with business owners like Jesus Iñiguez and Miguel Cambray. Tomorrow's Hispanic small-business owners will be armed with high levels of education, bilingual skills and entrepreneurial instincts. They will be supported by a network of organizations and corporations eager to provide new opportunities, and are already setting the stage for the bilingual marketing firms and global software providers of tomorrow. But they'll still have the roots of their entrepreneurial heritage.
"A lot of the Latinos in this area are the sons and daughters of people who owned businesses," Esparza says. "They have one of the most fundamental things it takes to be an entrepreneur, and that's the familiarity with opening and running a business. They were born surrounded by that."
Read more articles on market trends.
This article was originally published on October 2, 2014.
 Photos: Courtesy of Valley Fence; Courtesy of Messier & Associates (2)