As a young 20-something couple living in San Francisco, Angie Myung and Ted Vadakan had a fabulous time throwing parties and going to gallery openings that showcased the artwork of their friends. What they didn't have was money to actually buy the art. Like everybody else in their creative network of friends, Vadakan, a budding filmmaker, and Myung, a graphic-arts student, were struggling to make ends meet. On the side, the couple started thinking of ways to make art more affordable and accessible for people like themselves. They liked the idea of putting it on practical items that could be used on an everyday basis, and targeted wallets as their first experiment.
"It was more like a hobby at first," Vadakan says. "We wanted to make something that's easy and fun with art on it."
For their first project, they emblazoned their friends' designs on a few dozen vinyl wallets. Then they threw a party and gallery show to promote them.
The wallets sold out at $20 a pop—and the couple walked home that night in a daze.
"It was one of those magic moments in life when you have butterflies in your stomach and you feel like something big is happening," Vadakan recalls.
They called the company Poketo (pronounced Poh-keh-to) in a nod to both their original product and the way Myung's South Korea-born grandmother said the word "pocket." Soon, using money from their own savings, they were commissioning more artists to design stationery, ceramic mugs, and T-shirts. Startup costs were low as they built their own website and ran the business out of their studio apartment while Vadakan kept his full-time film and video job.
"It was gradual," Vadakan says. "We had one order a week, then it was one order a day and it started to build that way."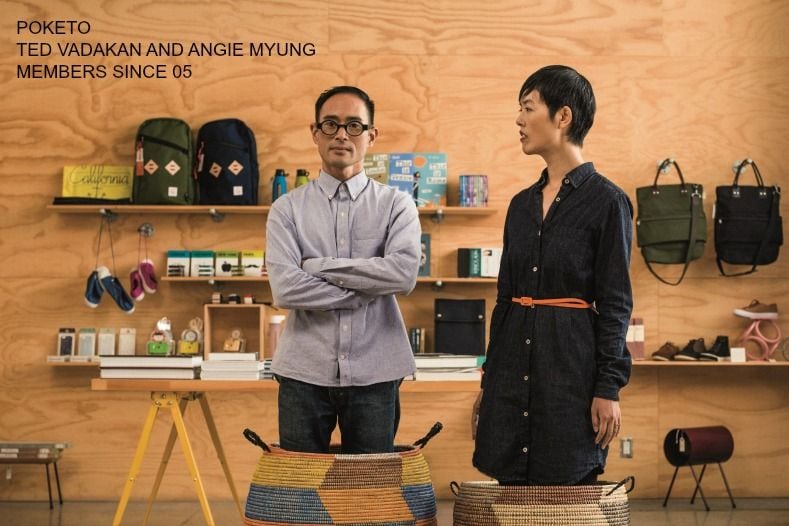 Poketo founders Ted Vadakan and Angie Myung
The couple moved Poketo from San Francisco to Los Angeles in 2005, where they thought it would be easier to expand and reach a more diverse market. They also broke into the wholesale arena, selling products to big-box retailers and national boutique chains. "We identified our favorite stores... then we would either call, walk in or send them a personal letter and a sample," Vadakan says.
They also hit retailer-only trade shows related to the fashion and gift markets, as well as direct-to-consumer shopping bazaars. "This is a way to test and market new products to the public while also generating income," he says. "You start building brand awareness to the public."
Poketo opened its first retail store in the burgeoning downtown arts district in 2012 and a second outpost in 2014 at The Line, a hip hotel in Koreatown. The limited-edition wallets are still for sale, along with Kenya-made cheeseboards, mixed-metal jewelry, geometric socks, glazed Japanese boulder mugs and whatever else strikes Myung's fancy. Myung is Poketo's primary buyer, while Vadakan handles brand collaboration and corporate partnerships and coordinates Poketo-sponsored events and art shows.
"Everything at Poketo I either have in my own life or would like to have," Myung notes. "My tastes are eclectic, but geared toward minimal and clean lines with pops of color. I find pleasure in sourcing from faraway places, relatively unknown designers and discovering pieces during my travels."
Neither Vadakan nor Myung entered the venture with any business experience, but they have always taken a "careful and measured" approach to spending and debt, according to Vadakan.
"We try not to spend more than we take in," he says. "We want to provide the best possible experience, make the best possible product and be happy doing the things we're doing. That is first and foremost what we focus on, then it's, 'Can we make this work financially?'"
One of the company's biggest challenges has been assembling a team that understands Poketo's vision of instilling art into everyday lives. "We challenge them to think of Poketo as more of a lifestyle than a brand," he says. "Our employees have creative projects on the side. They love to travel and explore, and they love art and design."
Poketo now has 15 employees who fill online orders, design and develop products, manage the stores and organize workshops and other community events. They hire mainly via word-of-mouth or their social media network, which includes Facebook, Twitter, Instagram, and a blog. Last year, Poketo held its first company retreat near Joshua Tree National Park, interspersing quiet desert hikes and yoga with breakout sessions that encouraged the company's staff to brainstorm about the future.
"We wanted to make sure the culture is in place and the vision isn't lost," Vadakan says. With that secure, he envisions opening more brick-and-mortar stores, not only in Los Angeles, but nationally. He also aspires to bolster the company's e-commerce business by promoting the company's unique products and lifestyle-related events.
"So much of what we do is niche, and we want to showcase that," Vadakan notes. "That's what sets a company and a brand apart."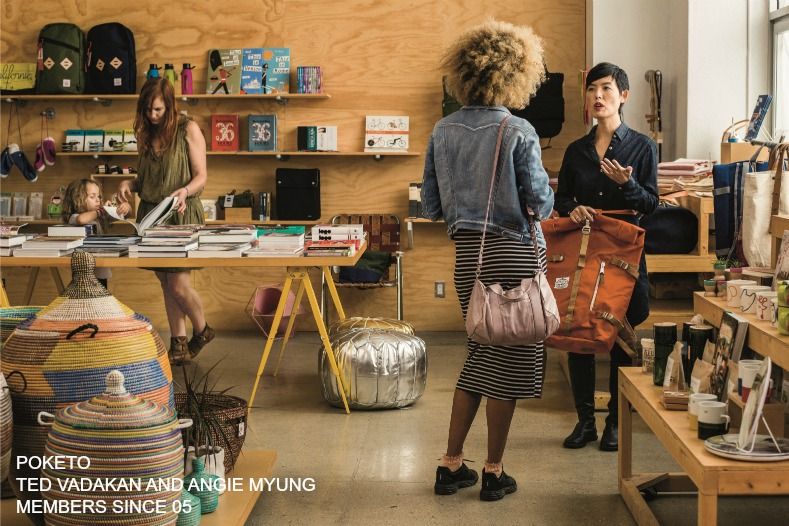 One element of Poketo that has remained strong since the start is the collaboration of its founders. Married since 2008, Vadakan and Myung have settled into a 24/7 work-life relationship that thrives, Vadakan says, in part due to a shared vision and aesthetic.
"We started Poketo pretty much right when we met," Vadakan says. "We're both very different people in the way we approach things, but because of that we're able to see the pros and cons of things and find compromise."
Their day together might include biking to work, meeting with their team to plan the day, lunch at an open-air taqueria or meeting with artists they've commissioned to design light fixtures, furniture or wind chimes exclusively for Poketo.
"It's one of those things where we're committed in life and business," Vadakan says. "You may have disagreements, but you work them out. That's our philosophy."
Photos: POKETO / TED VADAKAN AND ANGIE MYUNG / MEMBERS SINCE 05