Most small-business owners are, by default, turning into gadget types. You may not want to, but show me your briefcase, purse or backpack, and I'm betting it has its fair share of technology. Keeping all those things safe, charged and working is no easy task.
Here's a short list of tech gear I'm considering to make me more effective and profitable in 2013.
The Satechi Portable Energy Station is a mobile charging unit and your backup battery for small devices. It won't power your laptop, but it will keep your phone and another device (two USB ports) from dying. Satechi sent me a unit to evaluate, and it's sleek and not too heavy, at $49.95. I'm charging my Samsung S3 from Ting and my iPod while I type. 
I worry, just a little, about my iPad2. I've been using it without a case for a couple of years. It feels inevitable that something might happen to it. So the Griffin Intellicase looks like a good candidate for $59.99. 
But I also wonder if I could ditch my heavy laptop (as much as I love my Dell Latitude) on certain trips and just go iPad-solo. I'd need a keyboard, and the best I've found is from Kensington (the lock people). This faux leather case and keyboard works super well. I've tested a number of keyboards and have sent them all back. Not this Kensington KeyFolio Pro Case, though, because it rocks, even at $99.99.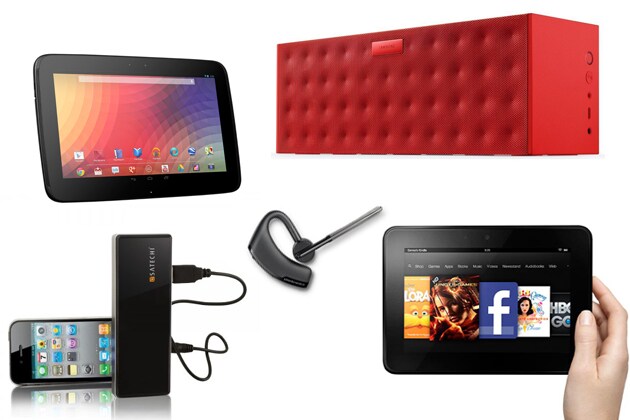 The Nexus 10 from Google is incredibly nice to hold and, for a high-end tablet, pretty affordable at $399. It's slightly larger than the iPad, and I prefer the overall notebook-shaped design. The back has a slight tack to it, so you don't get the feeling it will slip out of your hands. If I didn't have a laptop, I would seriously consider letting the Nexus 10 become my mobile device. It looks funny holding it up to the side of your head, though, for phone calls on Skype.
The Kindle Fire HD is a decent small tablet, at $199, if you want to read email, do some light surfing and watch videos—training videos, naturally, at work. If you've been considering a tablet, Amazon provides a solid device.
Besides keyboards, I've had many Bluetooth devices, including cell phone headsets, and none have impressed me. But I fell in love with the Plantronics Voyager Legend unit. It works super well with my loaner smartphone from Ting. I reviewed this new cell phone provider in my Forbes post: What Phone Should I Get? The Voyager did not work as well with my feature phone, but I fault my old, old phone for that.
The last device is purely fun, but it does have business potential: the Big Jambox from Jawbone. This Bluetooth-enabled speaker will double as a speakerphone for conference calls. It quickly and easily pairs with whatever device is nearby when you press the pairing button, of course. At $299.99, some friends have said it's too pricey. But it's sweet, according to my wife, who often sighs when she sees all the gadgets my son and I have lying around the house. We're testers …
What gadgets are you hoping to get for 2013?