With her glowing smile, upbeat attitude and professional demeanor, Ava just may be every employer's dream. "She works 24 hours a day, seven days a week and doesn't charge for overtime," her employer, airportONE, says. "She never gets sick and doesn't require a background check."
Ava, or, if we're being formal, Advanced Virtual Assistant, is part of a growing trend in staffing. Airports, museums, convention centers, clubs and even hospitals are using hologram and virtual assistants to provide customer service, and small-business owners are looking to get on board, says Patrick Bienvenu, chief operations officer at airportONE. "We've had a lot of inquiries from small businesses," he says of Ava. "We have about five to 10 years before you'll see them everywhere."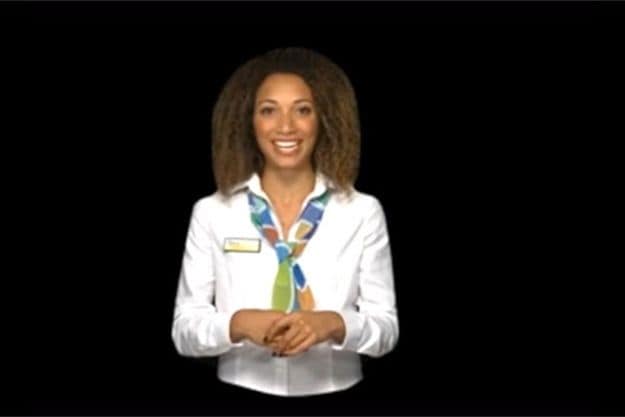 Brent, a borough in London, just made headlines last week for introducing receptionist projection Shanice as its civic center's newest "hire." Shanice comes equipped with a touchscreen to help her answer visitors' most common questions.
"The best thing is it's going to save us lots of money, without compromising our service," James Denselow, Brent's lead member for customers and citizens, said in a press release. "Nowadays we're constantly having to look at innovative ways to cut costs and they don't come more cutting edge than Shanice." Using Shanice rather than a human will save Brent £17,000 (around $26,000) annually.
Virtual assistants like Ava are becoming more than just a Jetsons futurist pipe dream. They may be a viable solution for businesses looking to cut hiring costs and boost employee productivity, experts say. The average salary of a typical full-time sales associate is $21,190 a year, according to Salary.com. But depending on the quality of the model, you can spend a one-time fee of $15,000 to $30,000, Bienvenu says.
"You may not be able to afford to have someone stand there and say basic information; Ava can hand this information in a cost-effective way," Bienvenu explains. "You free people up to do more important things where complex interactions are required."
"It's less expensive to have the hologram than it is to hire people and train them," says Janet Wagner of the University of Maryland's Center for Excellence in Service. "There's also the benefit that the hologram will deliver customer service consistently."
Ava has been used as staff support for high-traffic events and in major travel hubs like New York's John F. Kennedy airport. But how practical are hologram and virtual assistants for small businesses? That depends on the type of transaction and the type of customer, Wagner says.
"People think of customer service in how satisfied they are with it: They want it to be quick, they want it to be easy, [and] they don't even necessarily want to interact with a person," she says with a laugh. "If you have a simple transaction, the hologram is going to be a very satisfying experience for people. Their questions can be taken care of very quickly, unless you have someone very tech adverse.
"[But] you'd have to be very careful in how you use this [in] businesses where you're dealing with more complicated transactions [and with] people who really value human contact," Wagner adds. "They're not suitable for relationship-based interactions, [so] you may run into trouble when people have a problem of some kind."
Though the jury remains out on whether holograms are a practical staffing solution for small businesses, there's no denying the wow factor of these digital beings.
"It draws people in like you wouldn't believe," Bienvenu says. "It's a magnet. People see it and they stop in their tracks. You have that much more exposure, that much more of a chance to get someone out of the sidewalk and into your restaurant or business."
With credentials like that, who needs to see a resume?
Read more articles on staffing your business.
 Photo: Thinkstock