The next time you find yourself on vacation—be it in New Orleans, San Francisco, Vail or lesser-known cities like Mount Dora, Florida, or Port Townsend, Washington—keep your eyes out for a Spice & Tea Exchange location. One step into these shops and you're greeted with a full-on sensory experience. The smells of spices are intoxicating, the tea tastings will warm you and the sights of employees custom-blending spices may inspire you to go straight home and cook a meal for your family.
Thanks to experiences like these, the company has been growing at a rate of 35 percent year-over-year since it's founding in 2008, according to Amy Freeman, co-founder and CEO. Freeman works out of her office in Palm Harbor, Florida, with 50 corporate employees, and oversees the company's 55+ franchise locations.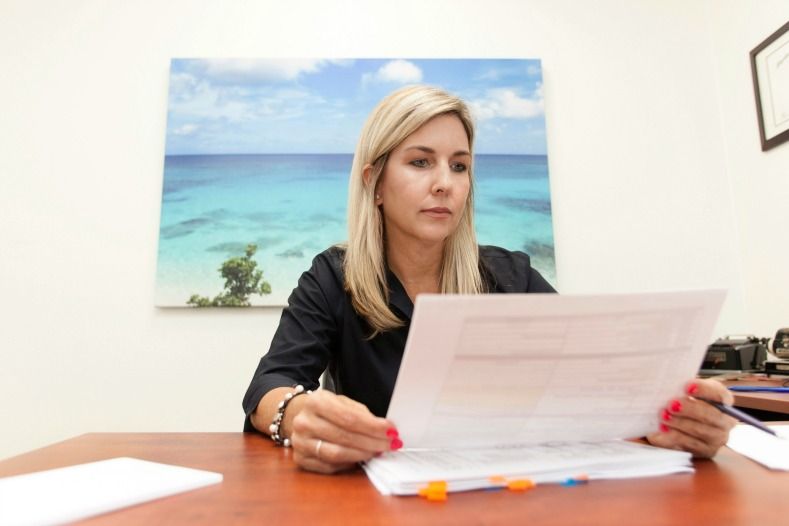 Amy Freeman, co-founder and CEO of Spice & Tea Exchange
Freeman is incredibly polished, shuttling between meetings, often jetting to multiple franchise locations on all sides of the country in the same week, and always stylishly dressed. To an outsider, she fits the picture of a person with an Ivy League pedigree, but Freeman's reality and background, in fact, couldn't be farther than a high-end, East Coast education.
Rewind the clock back to her childhood and times were anything but easy. Growing up in middle-class Michigan, Freeman's parents split when she was 12, and she moved in with her father and stepmother in rural Detroit. When that didn't work out, she relocated to Florida to live with her mother and stepfather—an arrangement that, too, wasn't meant to be.
I'm not looking to be on every street corner. But I'd say that within the next five years we would like to have 200 to 250 locations throughout the United States.
—Amy Freeman, co-founder and CEO, Spice & Tea Exchange
Homeless and broke, Freeman moved in with a friend and got a job at as restaurant hostess. She still didn't have enough money to eat and pay rent, so she quit school during her senior year and got a waitressing job at a fancy country club to make ends meet.
"I had to lie to get in there because they served alcohol," she says, "but in 18 months I was promoted to manager."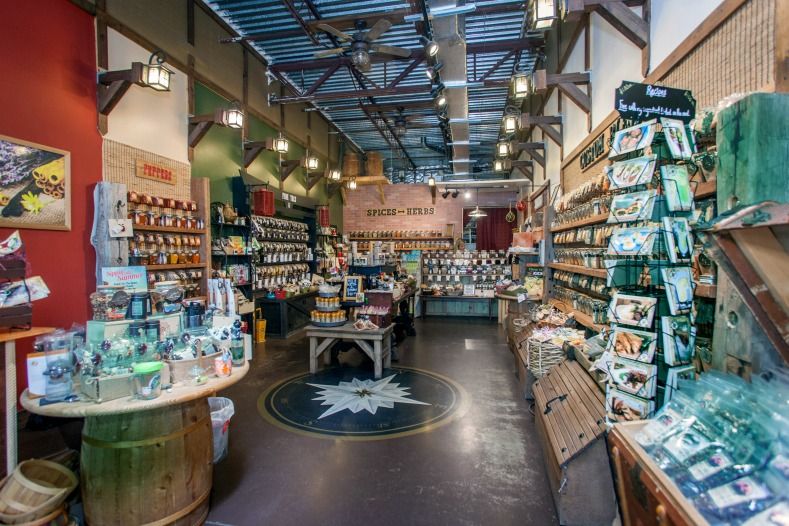 One of the company's more than 55 locations
The next decade was spent working at high-end restaurants, then sales roles at hotel chains, then as part-owner in a real estate company, all the while never telling anyone about her background.
"It was a hidden secret I carried around—something I never started to disclose until this year, actually," she says. "Looking back, I don't know if things would have been different if I'd been honest. I do know that it drove me in whatever I was doing. I had to be very good because I always knew that someone with an education could take my job from me at any moment."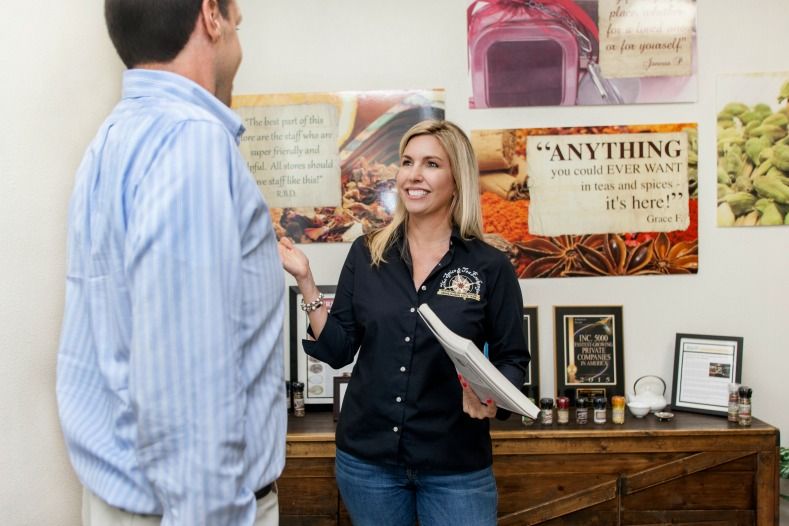 Freeman talks with Matthew Kessenich, director of finance for the company.
Freeman, based in Tampa at the time, and her business partners sold their real estate company in 2007, leaving her with a pocket of cash and no plans. Around that same time, her sister invited her on a girl's trip in St. Augustine. It was during that trip that she walked into a shop called Old Spice Traders. The scents of spices immediately took her back to childhood visits with her Hungarian, food-loving grandparents. She looked around the store, started scooping up packets of spices and then it hit her: This would be her next business.
She approached the shop's owners—Clay Freeman and Pete Eldridge—with a business idea and two weeks later had signed on the dotted line. The plan: to create a franchise-based brand focused on spices and teas. They changed the name to The Spice & Tea Exchange, signed their first franchise in August 2008 and Freeman assumed the role of president of sales and franchising.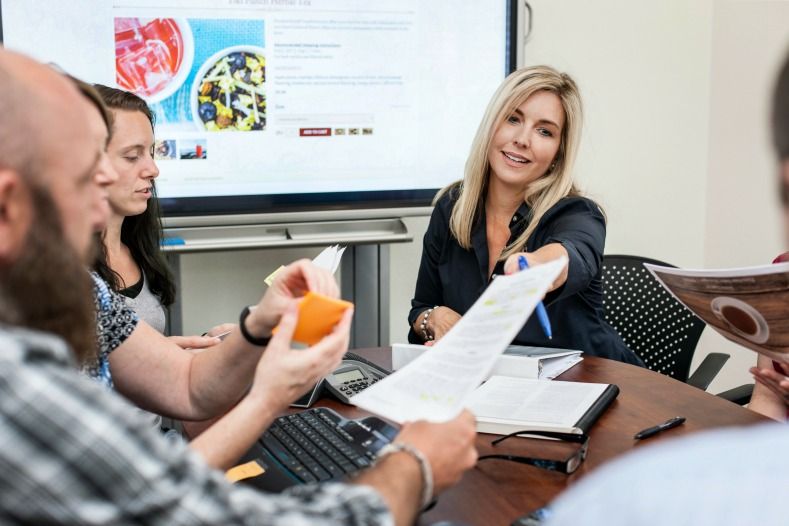 Freeman and her team in a staff meeting
How was Freeman so sure the idea would stick?
"In 2007, I could see that something was coming," she says. "People had so much disposable income back then; they were going out four or five times per week. But since I'd been in the real estate industry, I knew it was a bubble and it would come to an end really quickly, and when it did, people would need to recreate their meals at home. Our products would let them do that with very little instruction."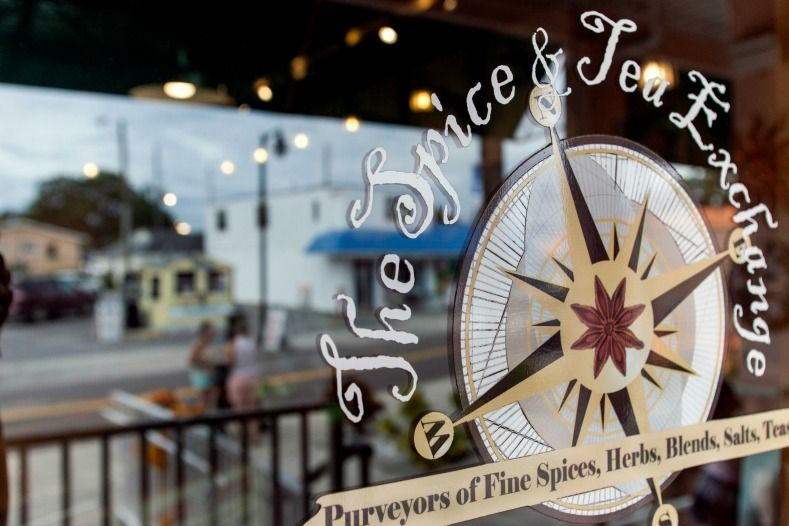 Over the next five years, Freeman hopes to increase to more than 200 locations.
Freeman's hunch was right on. They sold five franchises in 2008 alone and kept growing at more than 30 percent straight through the Great Recession. A few years after launching, she and her team established a product distribution center for all franchises, so all of them would get inventory from the same place and quality would stay under control. By 2011—around the same time cooking television programming was taking off, inspiring the masses to cook at home—business was skyrocketing and hasn't slowed down since.
She took over in June 2016 after Clay (her now-ex-husband) left the corporate side of the business to open a store as a Spice & Tea Exchange franchisee in Colorado, and says she sees huge growth opportunities ahead.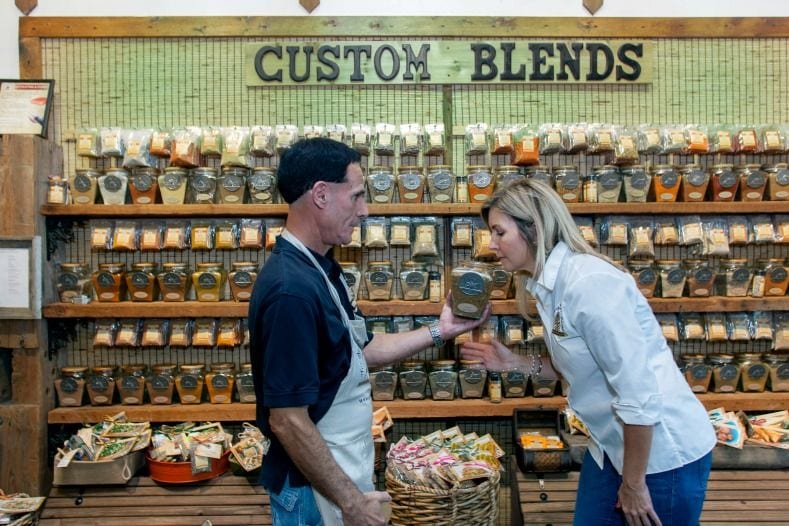 Freeman with sales associate Roger Saponara.
"Global spices and teas are on fire right now, especially for millennials who are adventurous about cooking," she says. "We are going to continue to grow. I'm not looking to be on every street corner. But I'd say that within the next five years we would like to have 200 to 250 locations throughout the United States."
Photos: Rafael Tongol