Jill Schimpff sounds a little out of breath on the phone. "We're up to our necks in candy canes right now," she explains. "What can I do for you?"
Schimpff pulls, molds and bends spun sugar all day alongside her husband, Warren, whose ancestors started Schimpff's Confectionery 123 years ago in Jeffersonville, Indiana. Christmas season is full-bore for the Schimpffs, who are busy hosting tours, greeting generations of family shoppers and shipping their iconic cinnamon red hots to former customers who miss home and the taste of their favorite childhood candy. 
Almost every town has a hometown favorite like Schimpff's Confectionery. Maybe it's a beloved hotel like The Peabody in Memphis, Tennessee, where families have been going since the 1930s to watch the live ducks parade down to the lobby fountain twice a day. Or Tasaka Guri Guri Shop, a tiny sherbet shop on Maui that's been serving only strawberry or pineapple ice cream flavors, made from a top-secret family recipe, to generations of customers for the past 100 years.
Most of these nostalgic institutions are small businesses that locals have been patronizing for so long that they help define what it means to be "home." They've retained their warmth, character and independence, knitting themselves tightly into the community. "It's a lot of fun because you know everyone in town," Schimpff says. "People know you well, and you know them well."
To celebrate this holiday season, here's a look at a handful of hometown favorites that have been serving their communities for generations. See why customers keep coming back, even as big chains and online outlets proliferate. 
Feels Like Home
The excitement is palpable in Kathy Burant Loan's voice as she talks about Brookdale Fruit Farm in Hollis, New Hampshire. "My parents would take us four kids to pick strawberries there when we were younger," she says. "They also had fresh corn, just picked from the field hours before. They'd bring it up on the tractor to the farm stand, and for my birthday every year, I had to have fresh corn from Brookdale."
Loan grew up in Hollis and moved to Southern California more than 20 years ago, but when she goes home, she always stops by Brookdale (she also took her own children when they were younger). "I just want to smell the mulled cider," she says. "Even if I don't buy anything, it makes me feel like I'm home." When Loan visits, she usually loads up on treats like maple syrup to take back home to California.
Brookdale Fruit Farm was started in 1847 by Edwin Hardy as a simple family farm. Each subsequent generation added a new element to the business, beginning with milk delivery and expanding to include a commercial apple orchard. Now in its seventh generation of family ownership, the farm's wholesale and retail operations are run by brothers Rick and Chip Hardy. The shop is currently divided into four sections: a farm stand selling fresh produce, a flower shop with silk arrangements, a greenhouse and a gift shop. Operations shut down from Christmas Day through April for a winter break.
When Loan turned 11, she got a job picking berries in the farm fields, earning 10 cents for every quart she turned in. At age 14, she started working in the farm stand shop, sorting apples, stocking produce, making floral and fruit arrangements, and manning the cash register.
"These guys go from sunup to sundown working their butts off," Loan says. "It's not an easy job." But the hard work pays off in building community and creating strong bonds with customers. For Loan, Brookfield was such a defining part of her childhood and youth that she simply can't imagine home without it. 
Four Generations of Families
Albert Fausel just recently brought the fourth generation into Placerville Hardware in Placerville, California, which his family purchased 56 years ago. Granted, the new addition is still a bit young, so Fausel frequently carries 5-month-old Ajay around in a sling as he works the shop floor. Fausel's 102-year-old grandfather also sometimes makes an appearance in the 162-year-old store, now the second-oldest continually operating business in California (the newspaper, next door, is the oldest).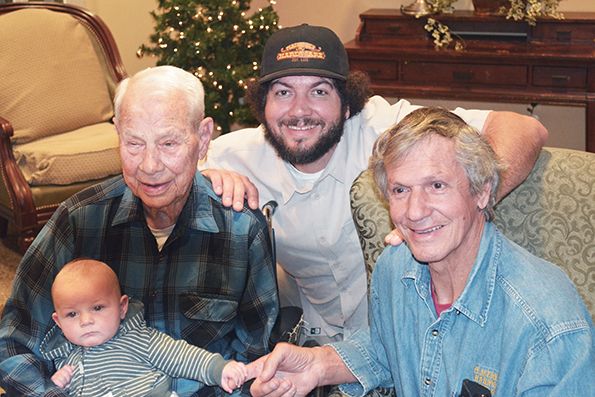 Like many later generations who now work in family-owned businesses, Fausel didn't initially plan to work at the hardware store. After college, he took a job installing freezer boxes in large grocery stores. "I was on the road a lot, and I don't like being on the road," he says "We have a family ranch, and my sister, mom and dad all have places out there, too. I just got burned out traveling so much, so I came home."
The hardware store was an important trading center during the California Gold Rush. In fact, there are still slots in the countertops that were originally used for receiving and weighing gold dust. "I have our old ledgers upstairs that date back with different family names and what they bought," Fausel says. "I see a lot of those families coming in here today—the Veercamps, the Varozzas. They're all still in town and still shopping here."
Like many longtime and beloved businesses, Placerville Hardware attracts its share of tourists, and Fausel has learned to balance that part of the business with everyday operations. "I have grandma bringing in the grandson to take pictures," he says. "But I also have people coming in who are in their first house or apartment asking how to fix a faucet."
In 2016, Placerville will host the World Gold Panning Championship, and Fausel plans to organize related events to highlight the store's gold rush history. But while tourists come and go, Fausel knows his daily shoppers are what will support the store for the next 162 years. "Some families are so box-store oriented that younger generations are starting to get away from us, or doing online ordering," Fausel says. "But when they need help, they still come here."
Food Is Memories
Susan Blystone was your typical broke college student when she got hooked on food from Avanti's Italian Restaurant in Normal, Illinois. Blystone lived in a dorm across the street from the restaurant during her freshman and sophomore years at Illinois State University (ISU). "The Sunday night meal wasn't included in our meal plan," Blystone says, "so we went there Sunday nights, and once you got started ..."
Three decades later, the cravings remain. Blystone, who still lives in the Bloomington-Normal area and works at the university, continues to visit Avanti's for its star attraction, the "Gondola" sandwich.
"The Gondola is not that great of a sandwich in terms of calories and nutrition," Blystone admits. "It's ham, cheese, salami, lettuce. The bread is kind of sweet and warm. You can also get it split in half with a boatload of melted cheese on it." The sandwich has so much nostalgic appeal that ISU alums who live all over the country now have Avanti's homemade bread shipped to them for Gondola parties. "It was the sandwich you had when you were a poor college kid," Blystone says. "Now I come back and I can order anything on the menu, but what I want is the Gondola."
Brothers Albert and Guido Zeller opened Avanti's in 1966 in Peoria, Illinois, and five years later, they opened a second location in Normal. Eventually Guido took over the Normal location, while Albert ran the original restaurant in Peoria. Guido's sons, Rich and Marcus, took over the Normal restaurant in 1995 and added a second location in Bloomington as well as an ISU campus sandwich shop.
Avanti's is known in the community as an avid supporter of the university—donating food to help fundraise for events and hiring countless students to work at the restaurant. Blystone's daughter, Carly, started working at Avanti's when she was in high school and still picks up hours when she's home on college break.
"We're known in this part of the country for having the highest percentage of the population that eats out on a regular basis," Blystone says. "We have every chain restaurant here that exists, but this is one of the few restaurants that's family owned in town. It's a mix of nostalgia, good food and reasonable prices." 
Reaching a Centennial
Kelly Tobe was born in California, but after her family relocated to New Albany, Indiana, when she was in second grade, her parents embraced the Schimpff's tradition. Tobe remembers visiting Schimpff's as a child, dressing up to go to lunch with her mother. They'd order Benedictine sandwiches—a filling made popular in Louisville, consisting of cucumber and cheese mixed together and dyed bright green.
"You spread it on white bread and cut the crust off," Tobe says. "People have them at weddings even. That was fancy—if you went somewhere and had Benedictine sandwiches."
Tobe even married into a family of Schimpff's fans. Her husband, Brenner, had grown up celebrating German Catholic Christmases in Louisville, where Schimpff's was an established holiday tradition that his parents eventually handed down to their 16 grandchildren.
"The Christmas ribbon candy and red hots were always at the bottom of everyone's stockings," Tobe says. "Those red hots are really, really strong and good—the girls love those." Now that the Tobes live in Richmond, Virginia, Brenner's mother sends Schimpff's hard candy to them at the holidays. 
Originally opened in 1891, Schimpff's has been in the same family ever since, although Warren Schimpff's father didn't follow the candy store line, which shifted to a different branch of the family. Warren, who grew up in Chicago and became a research chemist, was working in California when his aunt and cousin, who'd been running the candy store as it approached its 100th anniversary, died within months of each other in 1989.
"It was so close to the centennial," Jill says. "Warren's father and family had always dreamed of taking it into its 100th year." So she and Warren decided to take it over. "We're both preservationists," she explains. "It was either put up or shut up. We had the opportunity to keep this going, and we took it."
After the centennial, the Schimpffs hired a manager to run the candy store and stayed in California for another 10 years. When they retired, they decided to move to Jeffersonville and run the store themselves.
Which brings us full circle to the candy canes. Jill shares the ingredients of the family recipe—water, corn syrup, sugar, food coloring and flavoring. "The white part of the cane is pulled on a pulling machine or hook," she says. "Just as you beat air into egg whites to make them white, we pull air into the candy to do the same. Before we pull it, we snip off a bit and color it whatever stripe color we want. Today it's red for peppermint. Then you take a big loaf of white, put a stripe on top, and pull it out." 
As a former English teacher, Jill really enjoys running tours for the increasing number of visitors the store attracts. Along with tourists, families such as the Tobes bring in new generations for sweet treats. "They come in, and you hear them say, 'My grandmother used to take me here,' " Jill says. "You hear grandmothers say to their grandkids, 'Grandpa and I sat in that last booth, and that was our first date.'" 
Building a New Generation of Favorites
These beloved stores all have a few things in common. Most were fortunate enough to raise generation after generation of kids who wanted to take over, although some skipped a generation or skipped over to a line of cousins. And the younger generation often pursued another line of work first before "coming home."
They also create a welcoming atmosphere full of appeal for all ages of customers. A hometown favorite finds a way to feature attractions that draw in both young and old, and offer regular annual events to keep pulling families back year after year.
Finally, these business owners aren't looking for exit strategies. They're committed to anchoring their community for generations to come.
Local business owners who build strong relationships with their customers also help those customers build important memories—ones that draw those customers back again and again. As you welcome a new generation of shoppers this holiday season, it's important to remember that your business could be on its way to becoming a hometown favorite.
Read more articles on family businesses.