Lindsey Peers counts fashion model among the many jobs she held as a teenager in upstate New York and college student in Manhattan, but her playful personality always led her back to babysitting and camp counseling. Since the age of 19, her career has grown at The Craft Studio, a kid-centric spot on New York City's Upper East Side: She started out as a part-time employee, but now she's the owner.
Upon entering the high-ceilinged, paint-splattered, glitter-strewn space, guests to The Craft Studio walk through a small retail area. The shop is stocked with classic toys and trend-driven whimsical items from emoji stickers to temporary tattoos, all curated by Peers.
Now 32, with a husband from her hometown and a toddler who sometimes sits at the checkout desk waving to customers, Peers owns The Craft Studio. From her initial role as part-time employee, she has transitioned to oversee all buying, operations, product, brand development and day-to-day tasks.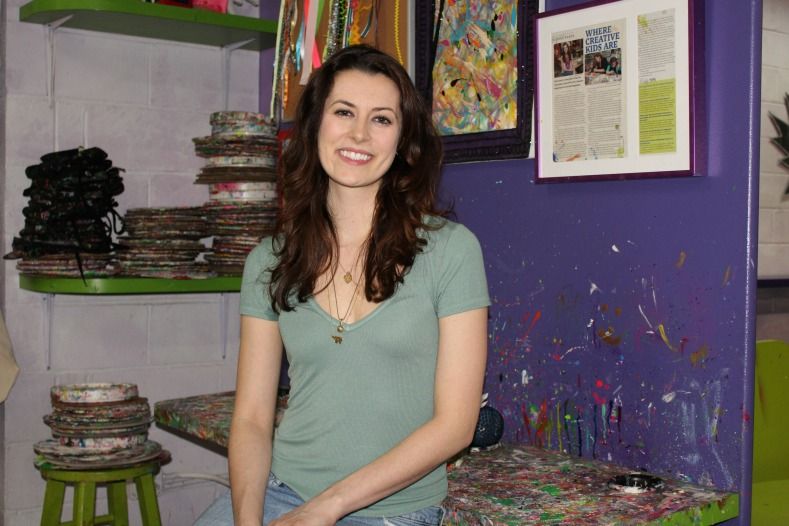 Lindsey Peers, owner of The Craft Studio.
On a typical weekday afternoon, beneath disco balls and an interior pink neon sign exclaiming "The Craft Studio," a child finds a quiet moment while painting to kiss her nanny on the cheek. The after-school crowd trickles in for walk-in craft time, when kids and their adults might make superhero capes or edible—even kosher—chocolate houses. In a large party room at the rear of the studio, shelves of white plaster sculptures wait to be colored.
Peers glides through the space, greeting children by name and asking if employees want anything from the coffee shop down the block. Energy is high, thanks in large part to her belief that everyone is a kid at heart.
"Sometimes even I forget how much fun this is," she says. "If I'm not here on a day when we host three birthday parties, I'll call in before the last one and have my manager put me on speakerphone. I say to my staff, 'Remember the first time you saw a kid do the limbo here? There's so much negativity in the world. When we're here, let's just have fun.'"
In order to grow, you have to step away. You have to choose what aspects of the business need you, and how you can make things run if you can't be there for weeks at a time.
—Lindsey Peers, owner, The Craft Studio
Just before graduating from college, Peers enjoyed her time working at The Craft Studio enough to ask Barbara Dansker, who founded the business in 1994, if she could develop and manage a new after-school program. In that conversation, Dansker surprised her by saying that she wanted to retire and Peers to take over. Peers hesitated, saying that she was in "no position to buy a business" and wary about taking on debt in addition to student loans. Dansker reassured her that they would work it out.
Over the next several years, Peers worked her way into ownership. In 2009, with the studio bringing in $500,000, she became acting owner through sweat equity. With weekly payments, she paid off the business over the next five years.
With six full-time staff members and about 20 part-timers, the studio brings in close to $1 million in annual sales. Revenue comes mostly from events and parties—including customized "to go" craft classes for corporations, schools and individuals—along with walk-in crafting fees and retail sales. During summer, when much of its clientele heads East to the beach, The Craft Studio offers in-home classes and drop-off camps at venues in the Hamptons.
Though Peers has received offers of investment to open new Craft Studio locations, she chooses instead to expand her reach through products and services. Rather than dilute her brand geographically, she plans to strengthen it through a craft-project-of-the-month subscription ("like a trip to the studio in a box") currently in development and event design for all ages, with an emphasis on bar and bat mitzvahs.
Founded in 1994, The Craft Studio is located in Manhattan's Upper East Side.
Since becoming a mom and bringing her daughter, now a toddler, with her to work, she realized that The Craft Studio could fill a void by offering "Toddler Mornings." While drop-in options for gym and music classes were plentiful in the neighborhood, art and craft opportunities for toddlers were less available. For $20 per child, kids and their caregivers can now make a mess using safe materials in a loose but lightly structured creative environment.
"Motherhood has made me a better entrepreneur," Peers says, by prompting her to delegate, develop more systems, and better define her own fingerprint on the business.
During her "maternity leave"—an exhausting two months of night-time payroll processing and other paperwork while her daughter slept—she continued to consult on custom event and party concepts, along with the studio's retail offerings. She stayed involved in those areas because she knew that her creative input was necessary for the company to thrive.
"In order to grow, you have to step away," she says. "You have to choose what aspects of the business need you, and how you can make things run if you can't be there for weeks at a time."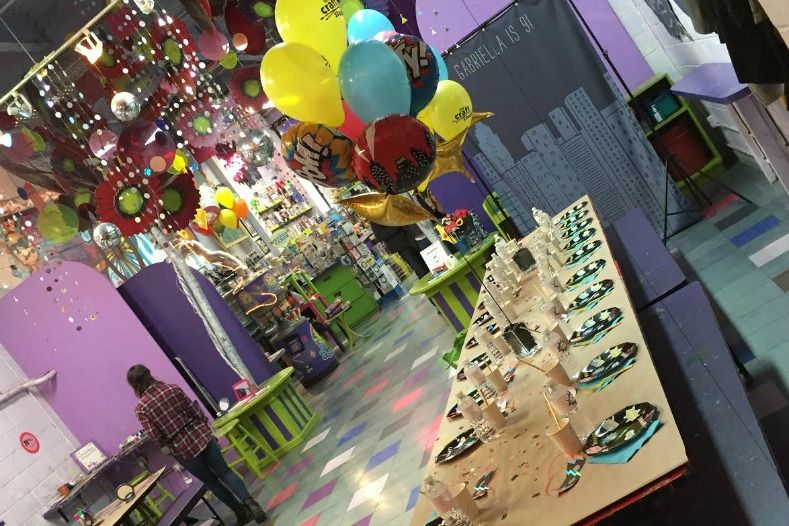 Some of The Craft Studio's younger employees attended classes and parties at the studio as children.
In the months leading up to her maternity leave, she directed staff to newly developed checklists for party supply inventories and event pricing and confirmations.
"Many of our part-time people are actors, dancers, and freelancers, so there's often a last-minute audition or change of some kind," she says. For employee scheduling, she turned to Doodle, a shared online calendar where staff members can input and update their availability. With company culture built around supporting life goals beyond The Craft Studio, she often attends employees' shows and performances around the city. Some of the younger employees who now work for her have been coming to the studio since they were three years old.
Along with adjusting for shifts in lifestyle, Peers has also had to adapt to New York City's continually rising costs. "Last November, our rent literally doubled," she says, citing real estate development for driving up rates in a once reasonably affordable pocket of Manhattan.
"I was terrified to sign the new 10-year lease with rent increases every year. I thought about leaving the space but chose not to, because it's perfect. We've had to raise prices incrementally, but our customers haven't blinked an eye."
At The Craft Studio, kids and adults often hear that "Perfect is boring" and "There are no mistakes in art." When running a business, not every day is cause for celebration, but Peers does her best to make it feel like one. With her comfort in the bright space and the mantras it inspires—not to mention the daily dance parties, pizza deliveries and ice cream cake—it almost looks easy.
Photos from top: iStock, Demi Moore / Courtesy of The Craft Studio, Courtesy of The Craft Studio (2)