If you need proof that it takes more than a cool idea and a couple of seasoned entrepreneurs to launch a successful startup, look no further than Poppin. Founded in 2009 by fashion mogul Chris Burch (his ex-wife is Tory Burch) and Bluefly.com founder Ken Seiff, Poppin brings high design, fashion sensibility and brilliant splashes of color into the ho-hum world of office supplies. Think orange pens, shocking pink notebooks, and aqua tape dispensers. It was a great idea. And it almost failed miserably, due to poor execution. 
According to current CEO Randy Nicolau, who bought out Seiff and some original investors in September 2011, the company was "working with a skeleton crew and just barely making payroll." Product quality was so inconsistent that it was either thrown away or donated. "The products were made in China and the color matching was off," Nicolau says. For instance, a white stapler made in one factory did not match the white tape dispenser produced at a different location. A longtime friend and business associate of Chris Burch, Nicolau, whose background is in advertising and marketing technology, jumped on the opportunity to help relaunch the company. He brought with him $6 million in venture capital money from firms that had funded his previous ventures. Here's how the new team pulled off the relaunch:
Get the right people on the bus. When Nicolau joined Poppin, the company already had a "world class" design team on board. But the company's supply was a mess. So he hired an executive from Staples who brought to the table deep relationships with factories in China, and was charged with ensuring product consistency. Next came a marketing officer recruited from 1-800-Flowers, and a COO from online retailer UncommonGoods. "The idea was to get senior management in place and let them build out their teams," Nicolau says.
RELATED: Richard Branson on How to Overcome Growing Pains
Don't compete; differentiate. Poppin sells office supplies and furniture, but the company is run like a fashion house. "No one else has tried to bring design and fashion across the whole breadth of products in this space," Nicolau says. The industry is crowded with players in vertical niches: Bic makes pens; Swingline makes staplers; Moleskin makes notebooks. "But when's the last time you saw a Swingline tape dispenser?" Nicolau asks. Poppin has 500 skus—everything from pens to desk chairs—in 10 different colors, and every product in a specific color category matches perfectly. Customers can shop online by color; Poppin's design team even recommends color combinations.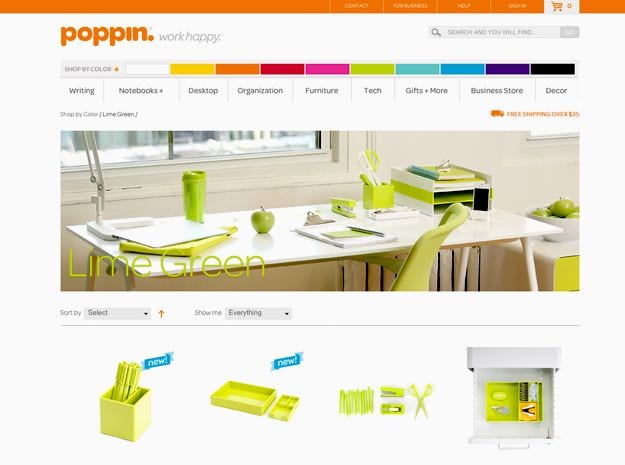 Eliminate the middleman. Because Poppin's products are sold only online and directly to consumers, the company can keep prices low. "Our prices are the same or lower than our competitors'," Nicolau says. "So would you rather have dull and ugly or designed and lovely?" Plus, he says, Poppin's products can't be cross-shopped on Amazon—the kiss of death for many retailers.
RELATED: How Virool Makes Millions from YouTube
Pamper your customers. "If we keep making our customers happy, everything else will take care of itself," Nicolau says. That's a big job. "Our customer is everyone," he says. And he means it. High school and college students, small businesses, stay-at-home moms and big companies are all flocking to the brand. The challenge is to keep every one of them happy. So every customer gets a handwritten note after the first purchase. Individual customers can "design a desk" on Poppin's website, and are guaranteed free returns if they're not satisfied with their purchase. And the company is using an additional $11.1 million in funding to build out showrooms for corporate clients, who account for approximately 60 percent of the company's revenue. Among Poppin's high profile customers: Warby Parker, Fab.com, LinkedIn, iVillage and Pandora.
Nicolau says he's now negotiating with retailers and that Poppin's products may be available in brick-and-mortar stores by next year. And the VC money will also help Poppin expand into mobile, build out a bigger Manhattan office and expand its direct sales force. While he won't discuss revenues, he notes that the company is cash flow positive and that "we're on the traditional hockey stick growth trajectory that you would expect from an e-commerce company." He's hoping the second time around will be a charm.
Read more articles on how to grow a business.
Photos from top: iStockphoto, Courtesy of Poppin