To understand if you're prone to have a negativity bias, consider these questions:
Have you ever brooded an entire weekend over an off-hand comment at a meeting where everything else had gone well?
How about when delivering a presentation? Do you find that you are fixating on the frowning person in the back of the room even though other listeners seem happy to hear you speak?
Have you ever experienced a setback that you couldn't let go even though you progressed in many other areas?
It seems that, by default, we may tend to brood over any negative events that happen during the course of a day even when everything else on that day is going well. Why do we often dwell on and recall negative events more so than the positive ones in our lives? Blame it on what psychologists call "the negativity bias."
What Is a Negativity Bias?
Before one can understand how to overcome negativity bias, they have to understand what it is.
"As the brain evolved, it was critically important to learn from negative experiences—if one survived them!" says Rick Hanson, Ph.D., a psychologist, Senior Fellow of the Greater Good Science Center at UC Berkeley and New York Times best-selling author of numerous books, including his latest, Resilient.
"Our ancestors could make two kinds of mistakes," he continues, "(1) thinking there was a tiger in the bushes when there wasn't one or (2) thinking everything was fine but actually a tiger was about to pounce. The cost of the first mistake was needless anxiety, but the cost of the second mistake was no more mistakes . . . forever."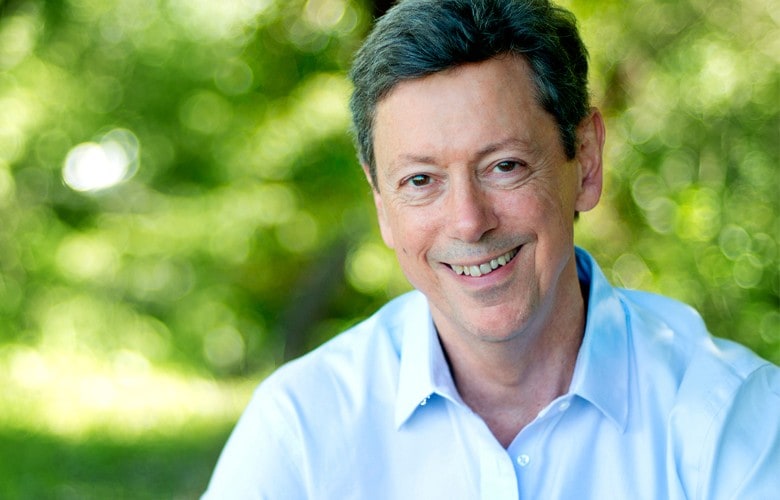 Photo credit: Rick Hanson
Our brain prioritizes negative experiences for memory, Hanson explains. Once-burned, twice shy.
The best way to shift your bias is to practice experiencing positive emotions. If you savor positivity, you'll be practiced at experiencing positive emotions in the future.
—Sarah McKay, Ph.D., neuroscientist
"Most positive experiences flow through the brain like water through a sieve," he says, "while negative ones get caught routinely. Scientists call this our 'negativity bias.' In effect, we have a brain that's like Velcro for bad experiences but Teflon for good ones."
Fighting Negativity Bias
Negativity bias is a way to keep us safe. However, dwelling on the negatives and ignoring the positives has many drawbacks for our personal and professional lives.
"When people focus their minds—thoughts and feelings—on negative aspects of an issue, person or problem, they compromise their cognitive functioning [or] intelligence, perceptual ability to scan the environment and emotional intelligence," explains Richard Boyatzis, Ph.D., a professor of organizational behavior at Case Western Reserve University and author of numerous books including his latest, Helping People Change.
"Oh yes," he adds, "they also compromise their immune system."
What all this means is that indulging in our negativity bias may not only hurt our health, but it can also cloud our thinking and make us function less optimally. It may prevent us from accurately assessing our circumstances—like when we're making critical decisions, for example—and may reduce our ability to handle issues with emotional intelligence.
According to Hanson, the effects of the negativity bias are "a growing sensitivity to stress, upset and other negative experiences; a tendency toward pessimism, regret and resentment; and long shadows cast by old pain."
These are compelling reasons for exploring ways to manage our negativity bias.
Getting a Handle on Your Negativity Bias
Dan Siegel, MD, has some tactics for how to react to negativity. Siegel is a clinical professor of psychiatry at the UCLA School of Medicine, and a New York Times best-selling author of numerous books, such as his latest, Aware: The Science and Practice of Presence.
First of all, advises Siegel, "intentionally focusing on a positive aspect of [an] experience, holding that perspective in mind for at least three or four breaths—about 20 seconds—can let the positive have more of a chance to stick and shape our frame of mind."
Photo credit: Dan Siegel
"One way to do this is with the emotions of gratitude, awe and compassion." Research shows, says Siegel, that these positive emotional states can be cultivated in our lives.
Let's take gratitude and awe as an example. How can we do this?
"Each night, write down three things you are grateful for," Siegel advises. "Take what scientist Dacher Keltner calls an 'awe walk' to let your mind be captured by something 'larger than your private, solo-self' such as the sunset, a tender moment of connection among people, a walk in nature."
Hanson adds that it's important to be mindful of the degree to which our brain is wired to make us afraid, to keep us on alert.
As he puts it, when we raise our mindfulness of both the inner workings of our brain and the outer mechanisms of fear promotion, we can be less prone to needless fear. We also wouldn't be "so vulnerable to intimidation by apparent 'tigers' that are in fact manageable, blown out of proportion or made of papier-mâché," Hanson says.
"Deliberately create positive emotion about the situation," advises Melanie Greenberg, a clinical psychologist, business coach and best-selling author of The Stress-Proof Brain.
"For example," she says, "if you have to give a speech, get excited about the ideas you have to share. If you are out in a new role, think about what you can learn."
Photo credit: Stephanie Mohan/Creative Portraiture
Another tip from Greenberg is to stop and notice if your thinking is fear-based.
"Are you expecting the worst?" she asks. "Deliberately think about what is the best that can happen as well. Also think about what is the most likely and common outcome of this type of situation."
For example, if you speak up in a meeting, people may or may not listen to you, but you are most likely not going to be humiliated.
Sarah McKay, Ph.D.—neuroscientist, author and director of The Neuroscience Academy—also reinforces the importance of intentionally shifting our focus away from negative emotions.
"The best way to shift your bias is to practice experiencing positive emotions," says McKay.
Photo credit: Sarah McKay
"If you savor positivity, you'll be practiced at experiencing positive emotions in the future," she says.
She says one way to do this is when you feel joy, happiness or contentment, "stop and take notice of the feelings. Savor the goodness. Enjoy wallowing around in the positivity."
Practicing in this kind of thinking can help strengthen our ability to manage the negativity bias!
A Special Note for Leaders
As a leader, a negativity bias may be particularly harmful. For one thing, a leader's mood can be contagious. Negative emotions such as frustration, anxiety,and fear can easily be transmitted from a leader to their team. The leader's negative emotions can loom large and discourage people, narrow their thinking and act as a dimmer switch for performance.
There are many actions you can take to manage your mood as a leader. You can:
lead by example and set a positive tone in meetings,
raise your awareness of your habitual moods,
ask yourself if you may be overly critical or judgmental of those who make mistakes and
work on eliminating some of your energy drainers, such as frequent interruptions, power struggles or fruitless networking.
Taking inspiration from these experts: The good news is that we aren't prisoners to the negativity bias. We can raise our awareness when our mind slips to negativity and take steps to manage our frame of mind so that we can harness the power of positivity for growth and success.
Read more articles on leadership skills.
Photo: Getty Images, Rick Hanson, Dan Siegel, Stephanie Mohan/Creative Portraiture and Sarah McKay.