The instant popularity of Instagram's iPhone app -- now with more than two million users -- and the cross-platform appeal of Picplz have inspired early adopter brands and small businesses to explore the business potential of this emerging trend.
On the Instagram side, you have big names like Starbucks, NPR and Brisk Iced Tea, as well as smaller players like Hatchcraft, Photojojo and Charity: Water. In Picplz's corner are the San Diego Chargers,Madison Square Garden, artist Trey Songz, DJ Neil Armstrong and the L.A. Lakers.
Here's a look at how brands are using mobile photo sharing services, like Instagram and Picplz.
Photo Ready
Mobile photo sharing has exploded as savvy application developers exploit the continually improving camera quality of newer handset hardware and tailor experiences that promote instantaneous sharing of stunning photographs.
Instagram and Picplz have done a stellar job at adding to the intrinsic emotional quality of photographs with filters that allow the everyman smartphone owner to point-and-shoot-and-share and feel like a professional photographer.
What, then, is the appeal for businesses? Those who are trying mobile photo sharing services are still figuring that piece out, but several are showing a willingness to test the receptiveness of their fans and the users of each service.


Want to read more about mobile marketing? Check these out:
Both Picplz and Instagram have responded to organic in-bound brand interest with business-friendly updates. Picplz now has an analytics dashboard that helps business users chart views, likes and comments for each photo. Instagram, on the other hand, has introduced hashtags, a community tagging feature that opens the service up to brand campaigns.
Pretty in Picplz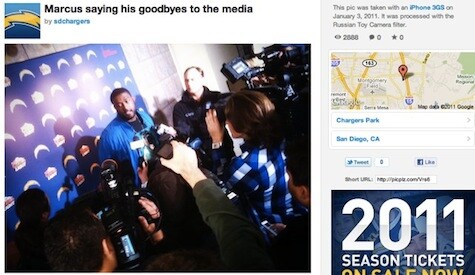 Under the leadership of Manager of Internet Services Joel Price, the San Diego Chargers have taken to Picplz. The team account includes a collection of photos, taken by Price, of team members, stadiums, staff members, travel highlights and behind-the-scenes shots of the team's offices.
"We get a lot of views, and the analytics are great," says Price, "but we don't get a ton of comments yet."
Recently, Price used Picplz to give fans a photo tour inside Charger Park, the team's home office. The effort received an enormous amount of positive feedback, he says, with several commenters pointing out how nice it is to feel connected to the team during the off season.
The Chargers have two primary objectives for Picplz: To better engage fans and to monetize photos through sponsorships. The former, says Price, is about bringing fans closer to the team, and in turn encouraging them to spend more on merchandise and tickets. The latter is a bit less tangible, though Price hopes the team can creatively engage with sponsors and potentially recruit players to post sponsored shots on Picplz.
Price consciously chose Picplz over higher profile competitor Instagram to connect with Chargers fans on Android, iPhone and the web, among other things. "Instagram feels like an advertisement for Instagram," he adds, pointing out that Instagram photos shared to the web are cloaked in Instagram branding.
Insta-Appeal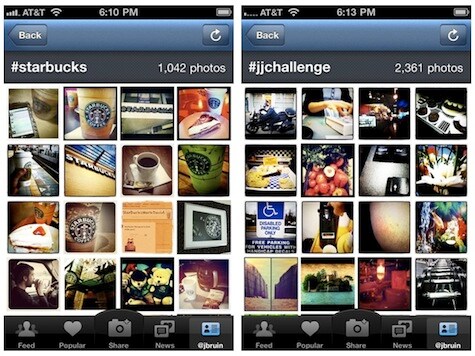 Starbucks, one of the first brands to set up an account on Instagram, is pleased with early results.
"We've been using Instagram for a couple of months and think it's a fun, different way to share photos of what's going on behind the scenes," says Product Manager Brad Nelson. "We've also found a lot of people already sharing Starbucks photos, so it's been a joy to look through those."
Indeed. Look up the #starbucks hashtag and you'll find more than 1,000 photos that users have tagged, all of their own accord, with the Starbucks label.
"While we are still exploring initial opportunities, we already have almost 5,000 engaged followers," says Nelson.
Instagram may be limited to iPhone users, but the two million member strong community appears especially responsive to calls to action. Take, for instance, a hashtag campaign from Instagram user @JoshJohnson and startup Hatchcraft. The two partnered and challenged Instagram users to tag their best Lomo-filtered photos with #jjchallenge for a chance to win a bamboo shadow box from Hatchcraft. More than 2,000 photos then poured in with the #jjchallenge hashtag.
"We had been doing these weekly challenges for about a month previous to the introduction of hashtags," says Hatchcraft founder Shane Rich. "The response was tremendous, as it made it easier to enter the challenge."
Future Potential
As these services mature, so too will the brands who use them.
Price would love to see Picplz introduce branding options at some point. For now, though, he's looking forward to the Chargers next season and plans to post more travel photos, share away game stadium walkthroughs and find ways to incorporate and reward fan photo submissions.
And Rich sees a future ripe for business potential on Instagram. "If any business is willing to get a little creative, put some time into connecting with the community, and have some fun with it, then they will be received well and their product or service will naturally begin to be seen in the same light."