In 1992, Cozy Friedman heard a story about a little boy—her friend's nephew—who needed a haircut. They went to an adult salon, where he began to cry, and they were asked to leave.
Friedman, who is now a married mother of two teenage sons, asked why her friend didn't take him to a place for kids—only to learn that kind of place didn't exist.
"Really?" Friedman responded at the time. "It should."
Today, she's the founder and CEO of Cozy's Cuts for Kids and SoCozy Haircare and author of Cozy's Complete Guide to Girls' Hair.
Inspired by her single entrepreneurial mother, who rose from used-car showroom secretary to a top saleswoman for Rolls-Royce, Friedman had been socking away a portion of her income to start her own company. She just didn't know what form it would take—until the kids' hair-care revelation set her on the entrepreneurial path.
"I did some research that confirmed my friend's claim, quit my job, went to barber school, got licensed and worked in a toy store and other kids' businesses as part of my education," Friedman says. "All the while, I was looking for a location for my salon. I couldn't find a landlord who would rent to me. No one understood the concept."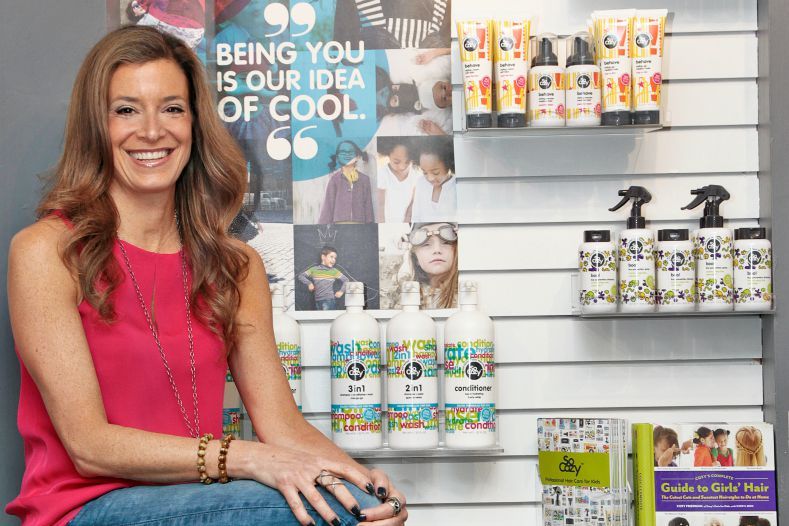 Cozy Friedman, founder and CEO of Cozy's Cuts for Kids and SoCozy Haircare
Over the two years it took for Friedman to find a storefront in her hometown of New York, she took a bookkeeping class, wrote a business plan and continued to work part-time for businesses focused on children. It was harrowing, she says, to quit a great job with nothing tangible to show for it, but she credits much of her current success to that extended time she had to research and clarify what she wanted.
She opened her first salon on Manhattan's Upper East Side in 1994 with personal savings and loans from friends and family, all of which she was able to pay back by the end of her first year in business. In addition to word-of-mouth, direct mail and a bold listing in the Yellow Pages for $1,000 proved most effective for marketing. With a line out the door, and revenue from that salon, she opened a second location across town. "I had to," she says, looking back. "If you had to wait an hour for a kid's haircut, would you be happy? We try our best to run on schedule, but if the boy needs a diaper change, the boy needs a diaper change."
From the start, Friedman focused on creating a kid-friendly atmosphere in her salons, adding little car chairs, balloons, bubble machines, video games and other entertainment. "Now that might sound kind of obvious," she says. "But when I did it, there was nothing like it at all. It was totally a new concept."
Friedman's instinct for innovation has also led to her company's booming SoCozy line of hair products for kids, first launched 12 years ago and reformulated last year to include three lines: Cinch (a three-in-one shampoo/conditioner/body wash and other products for daily use), Behave (styling products including mousse and gel), and Boo! (spray and shampoo preventing lice). This fall, the company will launch Boing, a line for curly-headed kids.
These products—manufactured in the United States and sold in 2,000 locations nationwide, including children's salons, pharmacies, specialty shops, and all Target stores, on Soap.com and HSN—feature custom packaging designed for one-handed use by parents who need to manage kids while working on their hair. The packaging's graphic design, inspired by the New York City subway map, is geared toward both children and adults—since parents are the ones who buy the product.
"For Boo! graphics, we riffed on designs by the street artist Keith Haring to make it fun and friendly," Friedman says, adding that one of the country's top fragrance houses creates gentle, sophisticated scents for their products, and that related costs have proven worth every penny. "Our custom scents and packaging are completely different than anything out there because I have a specific point of view I want to communicate, as well as ease of use."
Friedman's market research has led to two of her own salons, plus salon services like braiding classes for dads, along with the SoCozy line of products. It began informally, through conversations with parents, kids and her stylists. At the salons, she observed which products were more effective than others and noted their ingredients.
A few years ago, she met beauty-industry veteran Scott Gurfein through a mutual friend who knew that Friedman was looking to expand her brand and Gurfein was looking for a new project to sink his teeth into. The two met for more than a year before Gurfein became Friedman's partner in the product side of her business, which employs six people full-time. Her two salons employ another 25, some of whom have been with her since the beginning.
Through an online survey of existing clients and input from a market-research company they still hire on a project basis, Friedman and Gurfein gathered enough information to support a product relaunch with nationwide distribution. During that process, they discovered that parents were less concerned with the word "organic" than they were with eliminating particular ingredients like parabens, sulfates, phthalates, artificial colorants, wheat, gluten, peanuts and tree nuts.
"So when we formulated the product line, we went with what I call 'No Nasties' and included ingredients like keratin, silk amino acids, soy protein, kiwi extract, panthenol and fruit acid complex—all the things that are good for the hair and scalp, that nourish and strengthen," Friedman says. "Had we not done a more formalized study, I wouldn't have known that's what parents want for their kids."
By leveraging Gurfein's resources in the beauty industry and raising another round of financing from friends and family, SoCozy product sales grew from 200 stores, mostly in the New York region, to 2,000 locations nationwide. Next year, they plan to seek institutional investment for continued growth.
When Friedman began developing and selling products more than a dozen years ago, online resources for finding a manufacturer that could create custom formulations in small batches were scarce. Through networking at trade shows and reading industry publications, she found a lab in Canada that provided scientific background, patiently answered her questions and handled everything from label printing to product packaging. From her time in salons, she was a quick study, and her understanding of the chemistry involved deepened with the product line's relaunch, Friedman says.
"The reason we've struck a chord with parents around the country through our products is because we've been able to bottle the experience of going to Cozy's Cuts for Kids," Friedman says. "Coming to Cozy's for a haircut is like a rite of passage in New York. I meet parents who say, 'My son loves your shop so much that I have to cross the street before we pass it. He wants a haircut every day.'"
Photos: Courtesy of SoCozy
COZY'S CUTS FOR KIDS AND SOCOZY HAIRCARE / COZY FRIEDMAN / MEMBER SINCE 05