When Hogoè Kpessou launched her self-titled luxury handbag brand in 2020, she hoped that she'd earn enough money to put herself through school and finish her psychology degree. What she didn't expect was for the business to be so successful that it would redirect her career aspirations entirely. Fast-forward two years and her full attention is on her soon-to-be fashion empire, which is on track to make a seven-figure revenue this year. Impressive, especially considering she's only 24.  
Kpessou was born in Togo on the coast of West Africa, but emigrated to Florida with her family when she was six years old. Prior to launching her brand, Kpessou was "doing pretty much everything" she could to pay her tuition fees. This involved working multiple jobs, selling her own books and candles, and growing her social media following as an influencer on the side. It was this role as an influencer that gave her the idea to start her fashion brand – rather than using her platform to promote other people's products, why not market her own? 
Kpessou's first business move was to draw her handbag designs and find a company to make them into leather samples. "Because of how manufacturers work, I would have to buy a very large amount all at once, which I didn't have the money for, so I started with pre-orders," she explains. She taught herself how to code, created her website, and then, using her large social media following to her advantage, marketed her handbags on her own channels. On the first day, the collection went viral and sold out, enabling her to buy her first influx of inventory. 
I think that people are more inclined to support someone they realize isn't just a picture behind a screen but an actual living, breathing human being, as they are.
—Hogoè Kpessou, founder, Hogoè Kpessou
Kpessou feels that in creating her brand, she has found a way to "establish [her]self culturally within the Western fashion world." Hogoè Kpessou designs are rooted in Togolese heritage, displaying elements of tribal markings to honor Kpessou's family history. She explains that while West African culture is very dynamic, there's value in animal and insect symbolism, which was her inspiration for emblazoning her bags with bees and dragonflies. By fusing Western design with Togolese symbols, Hogoè Kpessou aims to create products with a sense of unity, where both cultures feel included. 
Not only does Kpessou celebrate Togolese culture through her designs, but she also uses her brand as a means to give something back to communities in her native country. A percentage of her sales are donated to her cousin's charity in Togo, which supports orphaned children, providing them with school uniforms and school supplies among other things. "The brand was helping me to get through school, so I'm doing the same thing for others back home," she explains. "It's growing seeds outside of something that just benefits me."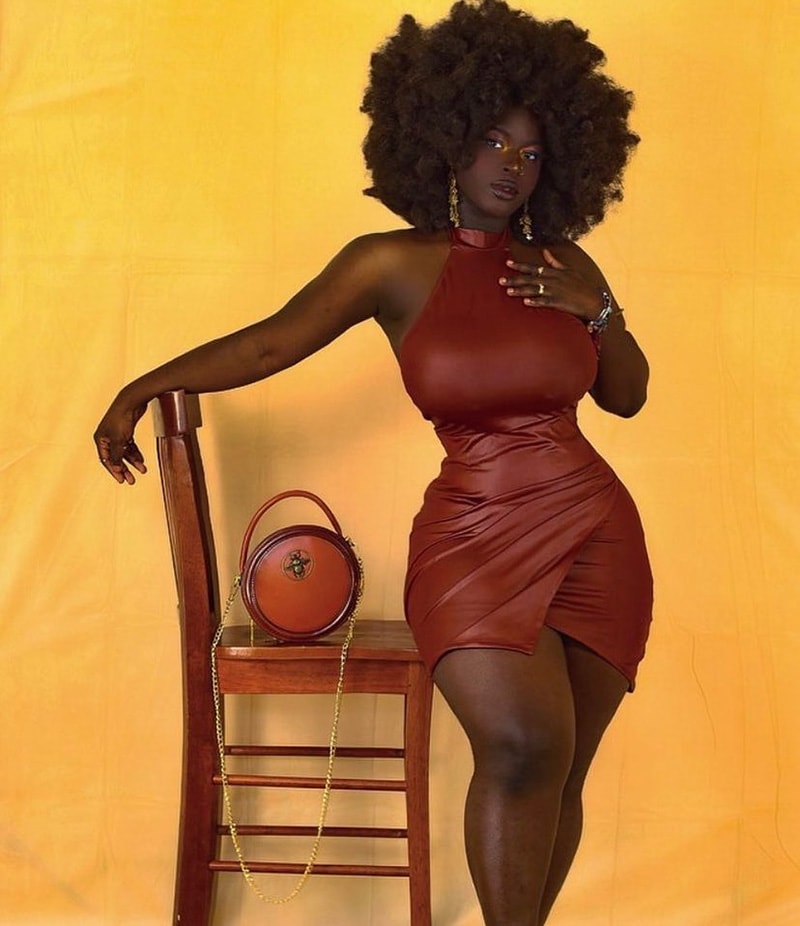 Interestingly, a rising number of people are shopping with brands that are socially conscious and that consumers want to support their values and ideologies. Kpessou agrees with this, noting that her Gen Z customers in particular are very socially and politically aware, which has a lot to do with how information is shared on social media. She talks about how they're more inclined to look into what a brand is affiliated with, expecting it to make a positive impact within and outside of its business. 
Kpessou is quick to say that social media has played the "largest role" in people discovering her brand, thanks partly to Gen Z re-sharing her content. However, brand awareness isn't the only way that social media has propelled the business forward. It's also created a space where Kpessou can cultivate close and authentic relationships with her customers by having conversations with her community and getting to know them. "I think that people are more inclined to support someone they realize isn't just a picture behind a screen but an actual living, breathing human being, as they are," she says. 
Kpessou believes that the personal relationships she has with her customers have been instrumental to the brand's success. At one point in the early days of her business, a courier lost her inventory. Kpessou quickly decided to phone or message every single customer to let them know what had happened and that their order would be delayed. By taking the initiative and being upfront and honest, she created a sense of trust and turned around her customers' experience. "Actions like that go a long way," she says. 
These days, Hogoè Kpessou's customer base is quickly expanding to include A-list celebrities. Kpessou says the celebrity interest the brand has received has not only opened it up to new audiences, but has also given it more "credibility and authenticity." Once again, she underlines the importance of trust between customer and brand, explaining that when people see a celebrity wearing her products, they know that her business is legitimate and feel more comfortable purchasing from it. 
So what's next for Hogoè Kpessou? Since launching, Kpessou's designs have expanded to include clothing, and activewear is in the pipeline. However, what she's most excited about is the prospect of bringing technology and fashion together in her latest bag, it's a fitting next move for this forward-thinking Gen Z entrepreneur.  
Photos: Courtesy of Hogoè Kpessou