There's no set formula for startup success. Some companies focus on design, while others focus on mastering industry research or one-upping competitors to make it to the top. In the case of Internet startup Klout, though, the focus is on users.
From day one, Klout's goal has been to "help people understand their influence and to [help them] leverage that influence," says founder and CEO Joe Fernandez.
The San Francisco-based company measures an individual's influence across the Internet and scores that user's influence on a scale of 1 to 100. Prior to Klout, no other company had tried to tackle the Internet influence space; as a result, Klout has become the de facto standard of online influence, defining the industry.
During late 2007, Fernandez was recovering from jaw surgery with his jaw wired shut for three months. Unable to talk, he turned to social media to communicate. "When social media became my only form of communication, it changed the way I looked at it," Fernandez says. "It was amazing to me that for the people who trusted me the most, I could tell them my opinion about anything instantly from my phone and it would have some sort of impact on them, just as what they were saying or thinking or experiencing would have an impact on me. Even more exciting was the idea that all the data was there to measure it."
Fernandez started building Klout during his recovery period. Since then, the startup has received massive press and a lot of investor attention, with $10 million in funding. It has also built quite a large audience and has assigned scores to more than 100 million people and brands. Even some of the world's largest brands use Klout, to identify and reward influential consumers in their categories.
Klout is all about data; it analyzes 2.7 billion pieces of content and connections per day, receives more than 8 billion API calls per month and has worked with more than 5,000 partners and developers.
We recently spoke with Fernandez about the journey he has taken in establishing Klout. Fernandez shared four key thoughts on how the company has maintained a focus on its users in order to learn and grow. Here are his thoughts on putting users first.
1. Get feedback from super users
The first step to connecting with and learning from users is to ask for and act upon their feedback. Fernandez recommends keeping your ears open for every single mention of your brand, both online and offline; great feedback can come from anywhere.
But for the really nitty-gritty details, go to your super users, the people who love your product and use it nonstop. At Klout, these users are part of a small, invite-only group called Klout Squad. They're the first to know about, experience and give feedback on new Klout features.
"We're creating a standard around something that's inherently subjective, trying to evolve the product and iterating really quickly," says Fernandez. "It's really exciting to have a group of people that may or may not agree with everything we do. They offer different perspectives and engage in intimate conversations around product and strategy and give us feedback. It's a key part of how we want to grow this business."
Klout also hosts Klout Chats on Twitter to engage with a larger audience of users regarding new features or important topics; Fernandez says that these Twitter chats attract 5,000 users on average. That's a lot of feedback to act on.
2. Be accessible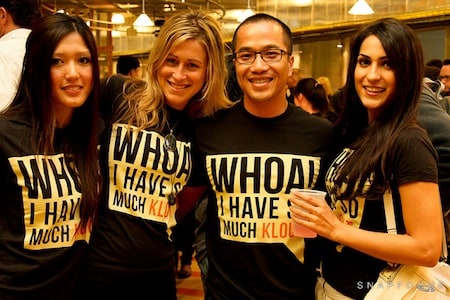 Klout users Han Ly, Nicole Mickelson, and Setareh Taghvaei mingle with Klout co-founder and CTO Binh Tran at a KloutUp in San Francisco.
Consumer feedback is important for all businesses. While it can be a challenge to connect with users, it's essential that your business overcomes all obstacles to engage with its customers.
Klout is very accessible online, having a very active presence on Twitter and Facebook for starters. But Klout received more than 1 million @mentions on Twitter per month, so sorting through the madness can be a bit of a task.
As a result, Klout makes it a point to host in-person events where Klout users can mingle with one another and get to know the company.
Deemed "KloutUps," these events give users and employees a chance to learn about Klout, face to face. "We leave more informed about what may or may not be good about our product, and they leave more informed about what our intentions are," says Fernandez.
"We're putting scores next to people, and it can feel really cold," Fernandez explains. "The more we can humanize our company and be accessible to the community, the better."
3. Show tangible value
Klout introduced Klout Perks earlier this year to offer exclusive products and experiences to online influencers. Users can earn exclusive access to new online services, invites to events and free merchandise, based on how influential they are in certain topics.
Klout Perks "makes the value of your Klout Score tangible," says Fernandez. "The idea that for just being who you are, for just being as passionable as you are for whatever topic, that brands want to recognize and reward you, is pretty awesome to me."
So far, the Perks program has been a hit in 2011: Klout distributed 300,000 Klout Perks to users.
If your service lacks tangible value for users, figure out a way to solve that problem. You'll keep users interested in interacting with your product if they can see the true benefit of staying involved.
4. Build trust by protecting user data
Klout monetizes its business through Klout Perks, but in the process, it maintains integrity and manages to keep 100 percent of personally-identifiable user data out of its advertisers' hands.
"One of the things that I'm really proud of, but that I think people don't really get about Klout Perks is that we don't actually give any data to the brands [that connect with users via Klout Perks]," says Fernandez. "It's really all about empowering the user."
Brands pay to connect with influential users, and that's the end of the brand's involvement. Klout strives to protect users' data by dealing with all of the administrative portions that may come up regarding Klout Perks, such as e-mailing eligible Klout users and shipping redeemed Perks to users.
After a brand's Klout Perk campaign has ended, Klout delivers a stats report to the brand, detailing aggregate counts of how many users the campaign reached, how much content was created around the brand as a result and what user sentiment amounted to.
In an age when most companies are happy to fork over e-mail addresses, usernames and other information for a pretty penny, it's always a pleasant surprise to see companies resisting the urge in exchange for building trust with their customers.
Images courtesy of Kenneth Yeung, Mike Henderson and Klout.