Small Business Saturday, a shopping holiday that encourages consumers to patronize independent brick-and-mortar businesses, has taken off since its invention in 2010. Pretty much everywhere you look around the country, communities are celebrating Small Business Saturday.
This year, I checked in with a few towns across the U.S. to see what they're doing to celebrate one of the biggest holiday shopping days of 2022.
Ketchum, Idaho
This collective spirit helps to extend the value of shopping small and is a beautiful example of how our tight-knit community supports one another.
—Susan Nieves, co-owner, Independent Goods
Where is it? It's about a two and a half hour drive from Boise and next door to Sun Valley, which is known for its skiing.
Are there small, independent shops in Ketchum? There are all sorts of places to visit, like Ketchum Kitchens, which has anything you'd want for your kitchen, along with Chapter One Bookstore. NourishMe is where you'll find natural, herbal, and holistic medicines. And maybe when you're done shopping, you can grab a burger at Lefty's Bar & Grill. 
Small Business Saturday in Ketchum: Ray Gadd, the director of marketing and PR at Visit Sun Valley, says that on Small Business Saturday, many people are focused on the upcoming ski season. Which is all the more reason he hopes shoppers patronize Ketchum's independent stores, many of which are holding Small Business Saturday sales.
"Ketchum is a unique ski town with extensive history and a strong sense of community," Gadd says. "Vast views of the surrounding seven mountain ranges offer the ultimate adventures and great relaxation escapes. It's a small but mighty town that has a lot to offer locals and visitors."
SBO Spotlight: Husband and wife Susan and Mark Nieves own Independent Goods, a retail store in Ketchum focused on handcrafted items. A champion of small businesses herself, Susan Nieves sells gifts and "small batch products" made by local artists and small independent companies. She says that Small Business Saturday has been a big help in directing traffic to her store.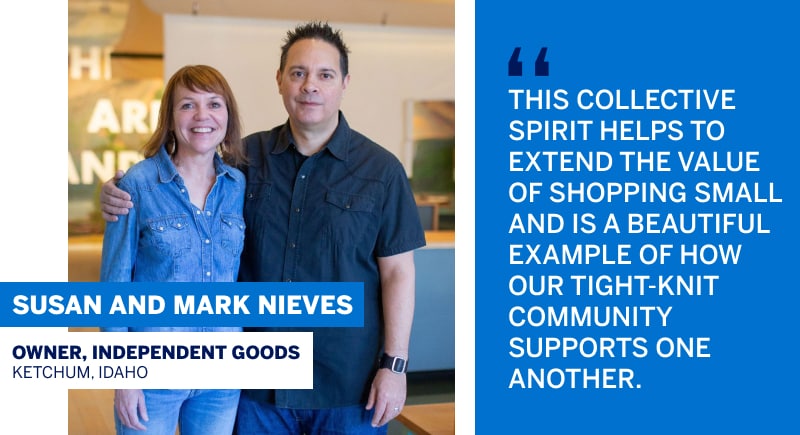 "As a way to welcome and thank those shopping during Small Business Saturday, Independent Goods offers free beverages and cookies to those visiting our retail store," she says.
She adds that local businesses often promote each other, especially on Small Business Saturday, on social media.
"This collective spirit helps to extend the value of shopping small and is a beautiful example of how our tight-knit community supports one another," Nieves says.
Dunwoody, Georgia
Where is it? 31 miles north from the heart of Atlanta, as the crow flies. The city – which was only just incorporated in 2008, though people were living here as early as the 1830s – is known for being a shopping destination. 
Are there small, independent shops in Dunwoody? The town is full of boutiques and restaurants. You could visit, for instance, Emily G's Jams of Love, where you can buy jams, like pear honey or roasted red pepper. Spruill Gallery & Gift Shop is much admired for its fine art and gifts, crafted by local Georgia artists. E. 48th Street Market is an Italian neighborhood grocery where you can buy freshly baked bread to go with the aforementioned jam. 
Small Business Saturday in Dunwoody: "Small Business Saturday in Dunwoody is a big deal," says Stephanie Freeman, president and CEO of Dunwoody-Perimeter Chamber. "It's a day for residents and tourists to shop locally and enjoy the unique shopping districts we offer. Whether it's visiting Dunwoody Village and shopping at locally owned retailers then enjoying lunch at a local pub, or venturing into Perimeter Center to shop at locally owned boutiques, we have something for everyone."
SBO Spotlight: Amanda Scoles is the owner of Under the Pecan Tree, a jewelry and gift shop in Dunwoody that has been in business for seven years.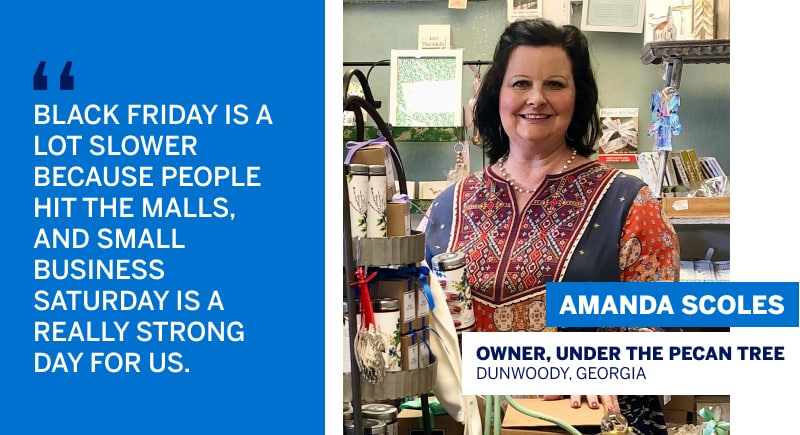 Scoles says that Small Business Saturday has been a big help for business owners like her. "Black Friday is a lot slower because people hit the malls, and Small Business Saturday is a really strong day for us," Scoles says.
Scoles says that her store offered special discounts for Small Business Saturday last year and that they will again this year. She also adds that "with the economy the way it is, we make a conscious effort to stock gifts that are useful and a little practical, like teas with pretty packaging and soaps, so people can get a practical and still beautiful gift for the holiday season – and won't just be getting gifts that are going to go on shelves."
Aspen, Colorado
Where is it? In the middle of Colorado. Like the aforementioned Ketchum, it's known for its skiing. But people also come here to shop and hike and fish and mountain bike and simply drink in the scenery.
Are there small, independent shops in Aspen? There's Meat & Cheese, a restaurant that sells – well, it's in the name. There's Odd Molly, which traffics in women's fashion, and The Little Bird, a consignment shop. Explore Booksellers has been around for about 50 years and is in a restored Victorian home on Main Street, and you could buy your dog or cat a treat at the Rocky Mountain Pet Shop. 
Small Business Saturday in Aspen: The small city is festive, as you can imagine, with a lot of decorations, and depending on the weather, there may be snow, which should put anyone in the holiday mood. In years past, there have been various businesses with Small Business Saturday sales, according to Sarah Reynolds Lasser, senior director of business development for the Aspen Chamber Resort Association (ACRA). This year looks to be no different.
"ACRA will be highlighting Small Business Saturday to encourage visitors and locals to buy local and support local small businesses," Lasser says. The organization will be promoting the day through a digital ad campaign in Aspen's local papers, the chamber members' communications and on social media channels.
SBO Spotlight: Cynthia Jankowski has been a resident of Aspen for 16 years and worked at a local jewelry store for 10. Earlier this year, however, Jankowski purchased the store from the owner, gave it a new name – The Aspen Hive – and opened for business on June 1st.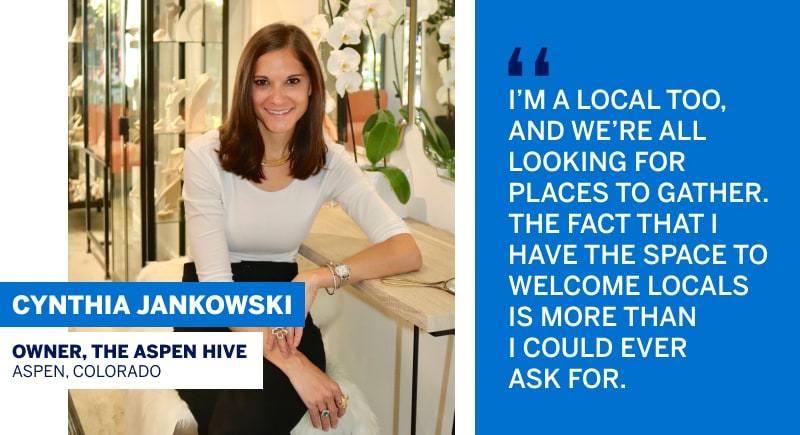 Her business is a mom and pop store, Jankowski says, but really it's a mom and daughter store, since she runs it with her mother, Krystyna, who lives on the east coast and does a lot of the buying.
Jankowski says that right after Thanksgiving, it isn't yet the tourist season, and the extra foot traffic on a shopping holiday like Small Business Saturday should be a help to her new business.
Jankowski says that she'll be offering jewelry for 20% off on Small Business Saturday. If you stop by, you'll likely find refreshments – "I'm trying to get someone I know to make strudel," Jankowski says. You'll also be greeted by her sidekick, Holly, a rescue dog she found at the Aspen Animal Shelter.
You'll also meet a business owner who simply loves what she is doing. "I'm a local, too," Jankowski says, "and we're all looking for places to gather, and the fact that I have the space to welcome locals to is more than I could ever ask for."