Sometimes the most disruptive innovation is wrapped around the most ordinary product. Think Warby Parker, Bonobos and Harry's. Each of these companies makes everyday products (eyeglasses, men's clothing and men's shaving products, respectively), keep quality high and prices reasonable by cutting out the middleman, and deliver an appealing brand message directly to consumers.
Last year, serial entrepreneur Philip Krim began wondering if the same business model could be applied to mattresses. Several months later, he and four co-founders launched Casper (tagline: "The Mattress Reimagined"). The product, manufactured entirely in the United States, is made with a combination of latex foam, memory foam and polyurethane foam. It compresses for shipping into a box that can easily be left on your front porch.
E-Commerce Roots
Krim's fixation with reinventing the mattress—not a predictable pursuit for a young entrepreneur—isn't entirely random. When he was a sophomore at the University of Texas at Austin back in 2003, he started an e-commerce company to avoid getting a traditional summer job. "I found manufacturers that had excess inventory that they were willing to ship directly to consumers," he explains.
To his surprise, one of the most popular products on his college-era website, called The Merrick Group, was mattresses. "1-800-Mattress pioneered the concept [of selling direct to the public] by selling through the Yellow Pages," Krim says. At the same time, a well-financed competitor started running TV ads for air core mattresses, which triggered more online searches in the category.
To supply an interested public, Krim found a private-label version of his competitor's product and started selling it online with great success. As the mattress business expanded, The Merrick Group became primarily a mattress company, which Krim grew to more than $10 million in revenue over the next 10 years.
But as the company matured, Krim's interest waned and he moved to New York City to focus on a new venture, Vocalize Mobile. "It was an SEO play to help local businesses improve online visibility through technology," he says. He sold The Merrick Group last summer.
Dramatic Pivot
Unfortunately, Vocalize Mobile had trouble gaining traction, and Krim began noodling around with ideas for a new business. In January 2013, he started brainstorming with other entrepreneurs in his Manhattan co-working space who were equally disenchanted with their current ventures.
"We started talking about how bad the mattress-buying experience was," Krim recalls. So he, along with Neil Parikh, T. Luke Sherwin, Gabriel Flateman and Jeff Chapin set out to build the most "outrageously comfortable" mattress they could, Krim says.
But, Krim adds, "we knew we had to compress the bed in order to make a viable business. If you can't compress it, then the shipping costs become astronomical." So the team began testing different types of foam from suppliers, brainstormed about how they would build the inner core of the mattress, and considered various materials to create the best look and feel for the bed.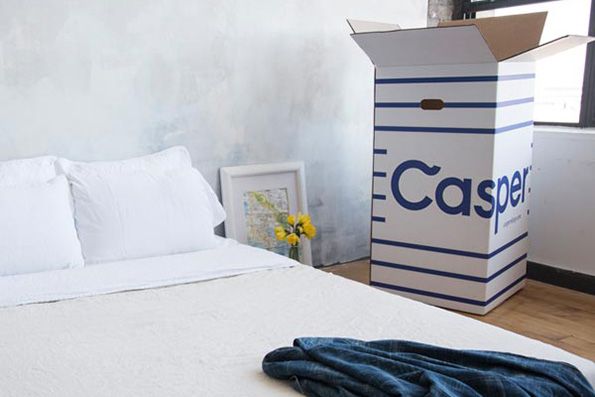 Chapin, a veteran of the prestigious design firm IDEO, labored over digital designs until the team hit on what they thought was a winning formula: a bottom layer of high density polyurethane foam, an inch and a half of memory foam in the middle, and an inch and a half of latex foam on top. According to Krim, the bed's unique construction gives it just the right amount of "sink" (thanks to the memory foam) and "bounce" (provided by the latex foam).
Creating the Brand
With a $1.85 million seed round of capital led by Lerer Ventures, the team started crafting its brand message and lining up suppliers. They hired a branding consultant and held focus groups to help them choose a company name, but the name "Casper" came from a source close to home. "One of our co-founders had a roommate named Casper," Krim says. As for the brand message, Krim says, "We wanted to build a brand that celebrates sleep, but we didn't want to be prescriptive. Good quality sleep leads to a better, more productive life."
As is fairly typical in the American mattress industry, the partners found companies in the U.S. that would supply materials and construction services: Cutting and sewing would be done in South Carolina and Chicago, the latex was sourced in Pennsylvania, and a contract manufacturer of mattresses in Newnan, Georgia, provided the memory foam and did final construction. Because the company bypasses distributors and keeps shipping costs low, it's able to price the mattress competitively—from $500 for a twin to $950 for a California king, including shipping. "If you found a product like ours at retail, it would cost $2,000 to $4,000," Krim says.
Since customer service is an important part of the company's brand message, there's a 40-day, no-questions-asked return policy. If a customer doesn't love the mattress, the company will pick it up and dispose of it or recycle it for free. The mattresses went on sale this spring, and Krim says that returns are a fraction of what the partners had allocated for. Sales for the first two months are roughly equivalent to Krim's projections for the entire year.
Krim also notes that Casper frequently surprises customers with gifts, such as a set of sheets for someone who's upgrading a size, or flowers on a birthday. "With the first 200 or so beds that we shipped, we included a leather bound book of bedtime stories that we had found at The Strand [bookstore], and we handwrote thank-you notes in each book," Krim says.
In an $8 billion industry that's dominated by such recognizable brands as Select Comfort, Serta, Simmons and Sealy, Krim and his team are hoping that both the mattress construction (on which the company has a provisional patent) and their customer-focused brand message will help differentiate Casper from the crowd.
The company's biggest challenge? Meeting demand. "We need to get production ramped up," Krim says. "It's a good problem to have."
Read more articles on startups.
Photos: Thinkstock, Casper