Operation Window Seat on NOTCOT changed my life. How cliche, right? Claiming a blog changed my life? 
Well, hear me out. We all talk a lot about perspective shifts, and often these are mental and emotional. Operation Window Seat literally changes your perspective -- on the WORLD.
Operation Window Seat started the moment I stopped staring at the little entertainment screens and I started looking out the window. It is a series of posts that have become surprisingly successful and addictive to write/shoot -- it's even made flying more exciting! It has made me crave window seats and daylight takeoffs and landings. 
As you fly around the globe, it's easy to get into a routine of watching movies, doing work and catching up on sleep. As the Internet slowly creeps on to more flights, this aerial sanctuary of sorts slowly fades away, but for now, it still exists when traveling internationally, and even on many domestic U.S. flights. 
It's far too easy to obsess about everything from the tiniest work related problems and issues -- "Is Joe doing a good job? Is Mary going to get those files sent out?" -- to larger problems -- "Is it time to sell?" -- to even simpler things at home: "Did I leave the stove on?" Over time, all these little problems can be easily obsessed about and grow infinitely until they take over your mind!
Change those habits and take the first step: look out the window.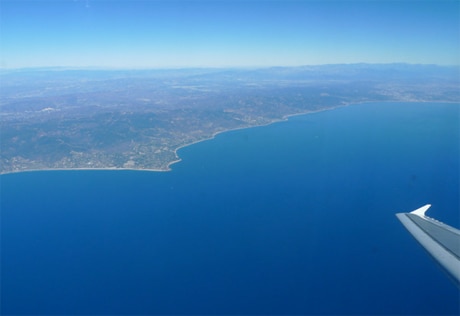 1. We're SO TINY! 
There's a lot more out there to be excited about, explore, think about. (Above is the California coastline heading from LA to SF) As you take off, look out the window, and you'll see how tiny your house, city, and the people are. There's something calming about that. If they are that small, how big can your problems possibly be?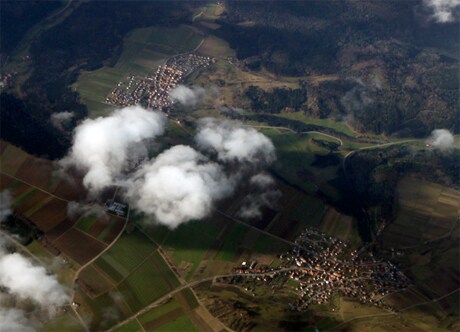 2. It's SO different. 
Here's the view of small towns in Germany. Literally SEEING how different the landscapes are reminds you that as global as we are, our worlds really are different (based on where we come from and how we live). And looking down on the various cities, towns and villages, do you ever wonder if people in those tiny houses may be your customers, readers, clients? Or if they could be?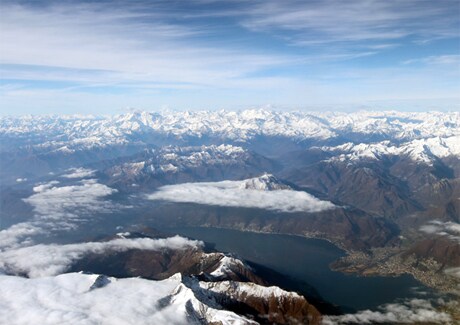 3. Nature is amazing. 
I don't care if you're 3 years old or 93, the alps (and the rockies, and the grand canyon, and so many more) will never cease to amaze. They are so grand and stunning and no matter how many times you fly over them, they will grab your attention. Your company can learn from them and hope to do the same.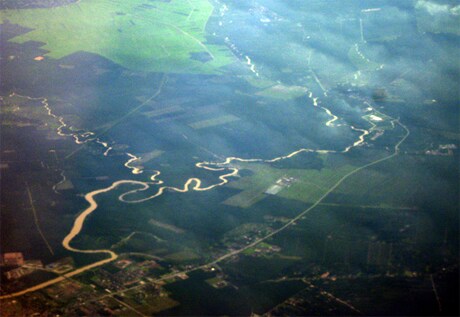 4. Step back to see the patterns. 
Sometimes you're just too close. Pull yourself out of the situation physically and mentally to get a better picture, and a whole new set of patterns may emerge. Looking down at these rivers in India, the twists and turns make sense looking at the landscape, but imagine how different things look when you're floating down it.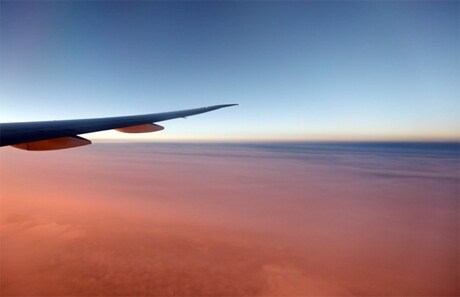 5. OUR world is Other Worldly. 
Everyone is always looking for an escape, a peek into another world... more often than not, we're sucked into screens (television, cell phone, computers, the entertainment portals on planes even!) Don't forget how other worldly our OWN world is, particularly as you float above the clouds at sunset or sunrise.
Face the facts, there's something downright magical about flying. And as soon as you appreciate how amazing that is, and the perspective/sanctuary in the sky it can give you -- versus thinking of it as a means of commuting between business meetings around the globe -- I guarantee the perspective shift and moment of zen you can have in the sky will help you, your business, and finding that hypercritical work life balance as a small business jetsetter!
One of my favorite things about
Operation Window Seat
on NOTCOT? How many people have contacted me either with pictures of their own, or those who feel like arm chair travelers, flying along with me through the posts! So where will your next flight take you... and will you let it change your perspective on live, business, and more?