Despite a growing boom in online shopping, physical retailers can still effectively compete with e-commerce apps and websites. While it's often assumed that online retail solutions' speed, convenience, and ubiquity can be hard to top, there remains ample room to innovate and reimagine the shape of physical retail stores and their interactions with customers. The key to staying relevant, and staying competitive, is the need to deliver more personalized customer service, more custom-tailored products and services, and more user-friendly interactions. It's also important to consider how technology can help you save shoppers time, effort, energy, and cash – and effectively reinvent both front- and back-end operations from top to bottom.
To Improve In-Store Experience, Innovate by Learning to Iterate
For tomorrow's retailer, innovation doesn't always mean having to reinvent the wheel. More often, finding ways to stay top of mind and one step ahead of the curve is often simply a case of constant reimagining, repositioning, and reinvention.
For example, consider the many neighborhood stores and small retailers nationwide who continue to successfully compete with big-box merchants by stocking products larger chains don't, or catering to the needs of niche communities. There are also countless local vendors who quickly found ways to bounce back from the pandemic simply by switching to curbside pickup or instituting home delivery options.
While modern shoppers appreciate more connected experiences, that doesn't mean they're exclusively looking to shop digitally or with online retailers. In fact, while many customers are looking for more mobile and connected retail interactions, these touchpoints can often simply serve as a gateway to tech-enabled curbside pickups or help drive interest in branded in-store pop-ups.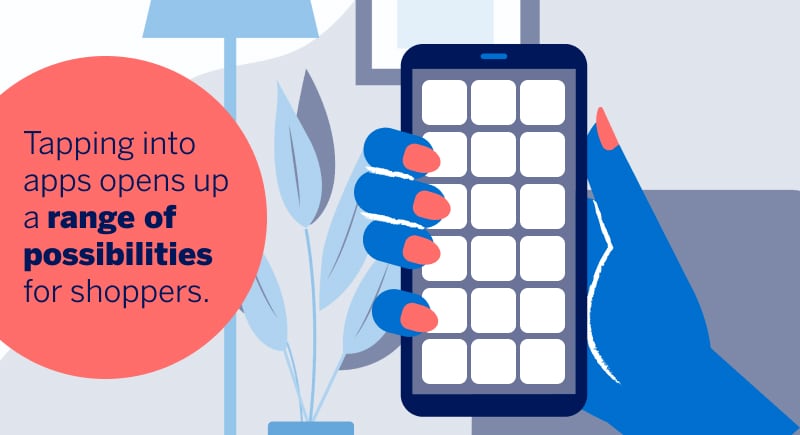 It's important to put a premium on streamlining in-store experiences and reducing friction (steps customers must take to find items and complete purchases), but not all technology upgrades need to be consumer-facing, especially in the wake of ongoing labor and supply chain challenges.
The key to staying relevant, and staying competitive, is the need to deliver more personalized customer service, more custom-tailored products and services, and more user-friendly interactions.
The Advantages of In-Store Experiences
How can retailers more effectively compete with online shopping apps and sites? It may help to consider the advantages of in-store experiences:
1. Location
A brick-and-mortar store has a closer proximity to customers, allowing for more immediate and impulse-based shopping, and greater insight into what products, services, and solutions resonate on a local and regional basis. Local retailers also remain among the most popular places to sample goods and services of all kinds.
2. Convenience
Stores can offer same-day pickups and drop-offs, as well as the ability to grab an item on-demand or return it with having to jump through extra hoops, which can often prove a significant time-, effort-, and energy-saver for shoppers.
3. Trust
Online shopping often remains fraught with questions surrounding seller legitimacy, product quality, and returns or exchanges. As a result, physical retailers still remain among the best places to research products, get queries answered, and trust when it comes to ensuring safe and reliable transactions or returns.
4. Service
Rather than rely on customer relationship management software, artificially-intelligent analytics tools, and call centers to guesstimate shoppers' interests or solve problems, store employees can leverage face-to-face interactions and personal one-on-one relationships to better serve audiences.
Technology That Works for Retail Businesses
In today's increasingly technology-enabled world, one way to stay competitive is to reimagine in-store experiences in ways that play to both technology and local retailing's strengths. For example, many retailers are turning to the following strategies to offer enhanced service: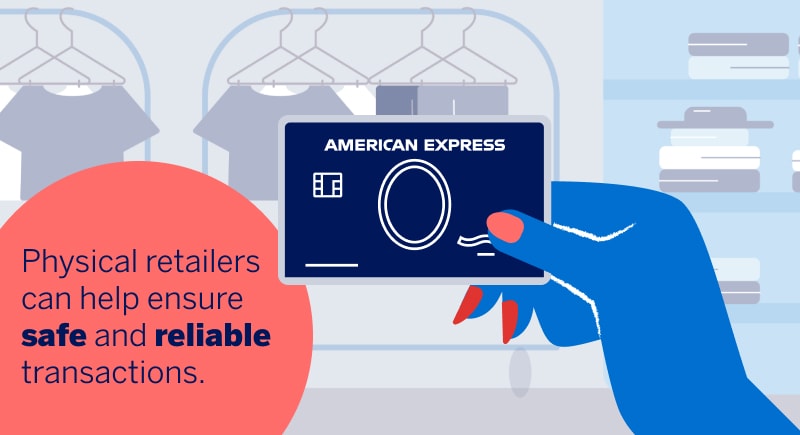 1. Touchless Transactions
Cashier-less shopping experiences can let you pick up goods, put them in your bag, and pay bills automatically and digitally just by walking out of a store without ever having to interact with a human.
2. AI and Machine Learning
Smart inventory modeling and logistics tools can determine which products to stock, to what extent, and when to order to better meet customer or restocking needs on-demand. Predictive technology can track purchasing patterns and predict which items are trending around the world and where – even before customers themselves realize it.
3. Cloud and Online Apps
Apps for smartphones, tablets, and PCs allow shoppers to schedule appointments or deliveries, access exclusive perks and discounts, or unlock goods for pickup from computerized kiosks and storage lockers. Some are even starting to roll out virtual apps that you can use to scan product UPC codes and receive digital coupons or simulate how clothes fit before purchasing them in-store.
3. Tech-Enabled Pop Ups
Deploying time-limited pop-up and boutique retail experiences can help target pedestrians at highly-trafficked areas and transform retailers into virtual showrooms where you can order personalized pursues, shoes, or even cars on-demand.
4. Extended Reality Experiences
QR codes can let customers access product insights, pricing information, and other multimedia content on-demand. Some retailers are even partnering with geolocation-based advertising providers to send offers and promotions to your mobile handset when they detect that you're in close vicinity or nearing a competitor.
Other fun innovations include:
Mobile Point-of-Sale Solutions: Handheld connected devices which enable employees to quickly and conveniently check you out, or check inventory levels and product locations, from anywhere in the store.
Interactive Displays: Digital signs that can track your movements through a store and offer customized prompting (for example, pointing you towards umbrellas and raincoats when it's raining outside) or touchscreen kiosks that can process orders, let you access videos/photos of products, or offer other helpful information as needed.
Augmented Reality (AR)/Virtual Reality (VR)/AI-Powered Assistants: Artificially-intelligent software personalities ("Hi, my name is Dana – what can I help you with?") and interactive tools and simulations (such as opportunities to test drive new vehicles) that you can engage in using a mobile device or high-tech headset.
Curbside Sensors for Pickup: Sensors that can auto-detect when customers have arrived at a parking spot, authenticate their order, and automatically prompt an associate to bring purchases to their vehicle.
Digital Shelf Labels and Intelligent Video Systems: Goods-tracking technologies that can keep store owners and customers appraised on inventory levels and locations, stocking situations, and in-store security situations in real-time thanks to continuous scanning capabilities.
Low-Tech Innovation: Clever and Resourceful Ways to Boost Sales
From robot helpers that can more rapidly process customer service requests and transactions to drones and self-driving cars that can deliver purchases straight to your doorstep, the future of retail in-store experiences looks bright. But while technology-based solutions are becoming increasingly available in cost-effective, prepackaged, and pay-as-you-go formats, finding ways to get ahead in tomorrow's business world doesn't always require having to make high-tech upgrades. There are just as many low-tech ways to increase your fortunes here as well. For example, many retailers are also:
Finding clever and cost-effective ways to partner with other brands inside and outside of the retail space to create unique and original collaborations.
Capitalizing on breaking social media trends and news stories, as well as on-demand production and delivery capabilities, to quickly turn around goods and solutions designed to piggyback on their rising popularity.
Identifying catchy and engaging ways to reuse, repackage, and rebrand existing goods, services, and solutions to feel more timely, unique, and relevant to modern audiences.
Looking for niche and underserved communities that they can better serve (and provide a local community home for) than mass-market online retailers.
Leveraging social networks and online video-sharing sites to cost-effectively create original and eye-catching content and spread the word with audiences.
Using search engine optimization techniques and search engine advertising methods to track what shoppers are searching for and build content designed to enjoy greater visibility and rank higher in online results.
Creating special time-limited deals, promotions, and offers designed to better speak to local markets and create a greater sense of immediacy and urgency behind any outreach effort.
Producing goods using parts, ingredients, and labor from local communities, and playing to customers' growing passion for shopping locally.
Offering food, home accessories, craft goods, and novelties targeted at local customers' immediate neighborhood, general region, and community.
Investing in community-building forums, such as live events, fan gatherings, and online message boards to boost audience loyalty and encourage more conversation and feedback.
Looking to do in-kind trades of goods, services, and solutions, or acquire oversold items at discount prices, to cost-efficiently boost their stock and provide shoppers with more variety.
Getting Ahead Isn't About Having More Resources, But Rather Being More Resourceful
As you can see, despite growing consumer demand for digital-first shopping solutions, there's still ample room for retailers to succeed in the future by investing in more innovative physical retail locations and forward-thinking in-store experiences. Although technology will play a pivotal role in the ongoing reinvention of customer experience, so will old-fashioned cleverness and ingenuity. Retail brands hoping to get ahead in the future not only need to provide shoppers with greater convenience, heightened value, and more contextually-relevant and personalized interactions. They also need to find ways to rethink the fundamental customer experience that they offer to better meet the needs of a fast-changing marketplace and rapidly-shifting audience demand.