Now you see it, now you don't. On Oct. 31, 2011, Facebook removed the Discussions tab, which promoted brand interaction with users via a message board platform, from Pages. With barely a month's notice, an app that still had 22 million viewers participating according to AppData, simply vanished without a trace.
The response to fill the gap left by the retired Discussions tab (which met an unceremonious end along with fellow auxiliary app "Reviews") from Facebook has been increased attention toward wall activity. In short, every user interaction a brand makes with a singular customer must be kept on the wall. While this move coincides with the company's change to public Page walls and closely monitored Friend Activity back in September, the transition isn't analogous.
For example, what if a company used its wall for branding and public relations and the Discussions tab for customer service inquiries? The two streams of communication collide on a wall, creating a perfect storm of social media woes.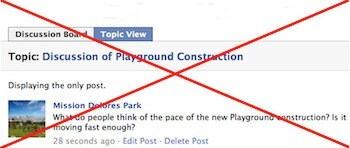 "Discussions was clearly one of the ways that companies were definitely taking advantage of a new channel to have conversations about the brand," says Robert Howard, founder and CTO of social media and community management solutions firm Telligent. "They want those discussion capabilities not only from what the wall does, but the richer discussions they were used to with Discussions."
So, if your customer outreach technique relies on Discussions, what's the alternative? While Facebook assures that its engineers are diligently working on future technologies that will fill the tab's vacuum, an immediate fix is not readily available. Instead, Howard suggests embracing a personally created forums app to fill the void.
"You get all the benefits of an integrated application from within Facebook," Howard explains, "but all the commenting and moderation that you'd expect to happen with a community application."
Howard adds that all of the data within this app is proprietary to the owner, meaning that Facebook will not be able to cull metrics from customer service discussions done on the website. This might be a smart investment for companies looking to garner their own user data without cutting through social media red tape, making for a worthwhile venture for those interested in just who they are engaging via outreach platforms.
"Companies are really starting to think more and more about the value of the data they are creating," Howard says. "What we're going to see happen in the next few years is the integration of community platforms that allow companies to use the channels they want and keep all the data."
Whether you pony up for a personalized tab or wait it out on the wall, it's safe to say Pages are undergoing radical changes to reshape how brands interact with their fans.
Do you miss Discussions, or is it a worthwhile loss?