Last week I introduced The 9 Elements of an Ironclad Business Modelwhich is based on the Business Model Canvas forming the heart of the co-created book, Business Model Generation. Now it's time to challenge the ironcladness of your business model.
The word "disruptive" is bandied about when referring to surprising new entrants into an industry, new players with new technology, and sudden competition coming from unlikely sources. But once you have the as-is Business Model Canvas completed, there are two things you can do to mitigate the element of surprise when it comes to your business model being disrupted, in addition to keeping a constant vigil on the external social, economic and market forces out of your control that can potentially disrupt your business.
First, you can assess the strengths, weaknesses, opportunities and threats to your current business model. Go through each of the nine elements, and evaluate them as objectively as you can:
Value proposition
Is your value proposition well aligned with customer needs? Could someone offer a better deal? What other jobs could you do on behalf of customers?
Customer segments
Are you continuously acquiring new customers? Could the market become saturated? What new segments could you serve?
Channels
Are your delivery channels efficient? Are your channels in danger of becoming irrelevant? How can you improve channel effectiveness?
Customer relationships
Are you easily replaced by a competitor? Are any relationships deteriorating? How can you tighten Customer Relationships?
Revenue streams
Do you have strong, predictable, diversified revenue streams? Are any streams likely to disappear in the future? What other things would customers be willing to pay for?
Cost structure
Are your operations cost-efficient? Are any costs threatening to outpace revenues they support? Where can you reduce costs?
Want to read more on business plans? Check these out:
Key partners
Do you have the right partners for your Value Proposition? Are you too dependent on certain partners? Could other partners or greater collaboration with current partners help you focus better on your business?
Key activities
Are your Key Activities difficult to copy? Is there a possibility of Key Activity disruption? Could you standardize some Key Activities?
Key resources
Is it difficult for others to replicate your Key Resources? Could your resource supply be possibly disrupted? Which Key Resources could you better exploit?
Second, you could become the disruptive innovator. One way to do that is to apply the Blue Ocean Strategy (coined by authors Kim and Mauborgne in their book by the same name) to your business model. The strategy is all about creating new and uncontested market space by increasing value through new products and services, while at the same time reducing the burden of unwanted features or services.
You use a simple tool called the Four Actions Framework, and put each of the nine elements of your business model through it:
1. Eliminate
Which factors that your industry has long competed on can you eliminate?
2. Reduce
Which factors should be reduced well below the industry standard?
3. Raise
Which factors should be raised well above the industry's standard?
4. Create
Which factors could be created that the industry has never offered?
For example, take the case of how Cirque du Soleil redefined the traditional circus, whose Value Proposition was comprised of multiple tents, animals, barkers, clowns, souvenirs, concessions, loud carnival music, star performers, thrill and danger. The traditional circus Customer Segment focused on families; the Revenue Stream was based on cheap ticket prices; a Key Activity was animal training and care; Key Resources included animals and star performers; the Cost Structure was all about animal acquisition and maintenance, as well as paying high performer salaries.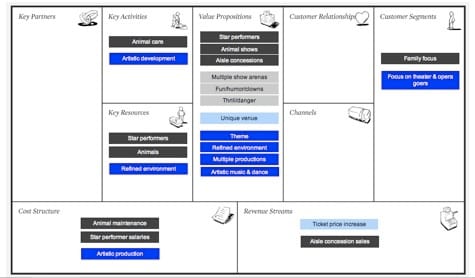 The Cirque du Soleil Value Proposition was opposite in nearly every way: it eliminated star performers, animals, concessions, circus, clowns, thrill and danger. It created a sophisticated theme, refined venue, ensemble performances in a single tent. They replaced the family-focused Customer Segment with theater and opera patrons. Ticket prices were dramatically increased, which provided an entirely new Revenue Stream. Along with the Key Resources and Activities related to animals and star performers went their associated Cost Structures, replaced by artistic development, complex show production, and the design of a unique venue and refined environment.
When you think about it, the oh-so-scary "disruptive innovation" is really just a fairly straightforward reimagination of the nine basic elements. But then again, hindsight is always 20-20, and never creative or transformative.