Mentor-Protégé programs are great teaming vehicles for learning the ropes of government contracting. For many, the mentoring experience helps prepare Protégés to become viable government suppliers.
A Mentor acts as a trusted counselor, providing technical, managerial, financial or other guidance and helps shape a business that could serve as a subcontractor in the future.
In some cases, federal agencies offering Mentor-Protégé programs provide participating Mentors with reimbursement of program expenses or credits toward subcontracting goals.
All small disadvantaged businesses can be Protégés, although the Small Business Administration (SBA) program is limited to 8(a) Certified firms and the Department of Veteran Affairs (VA) program is limited to Veteran-Owned firms.
A Mentor must possess favorable financial health, including profitability for two years; possess good character; must not appear on the federal list of debarred or suspended contractors; and be able to impart value to the Protégé through practical experience gained as a government contractor.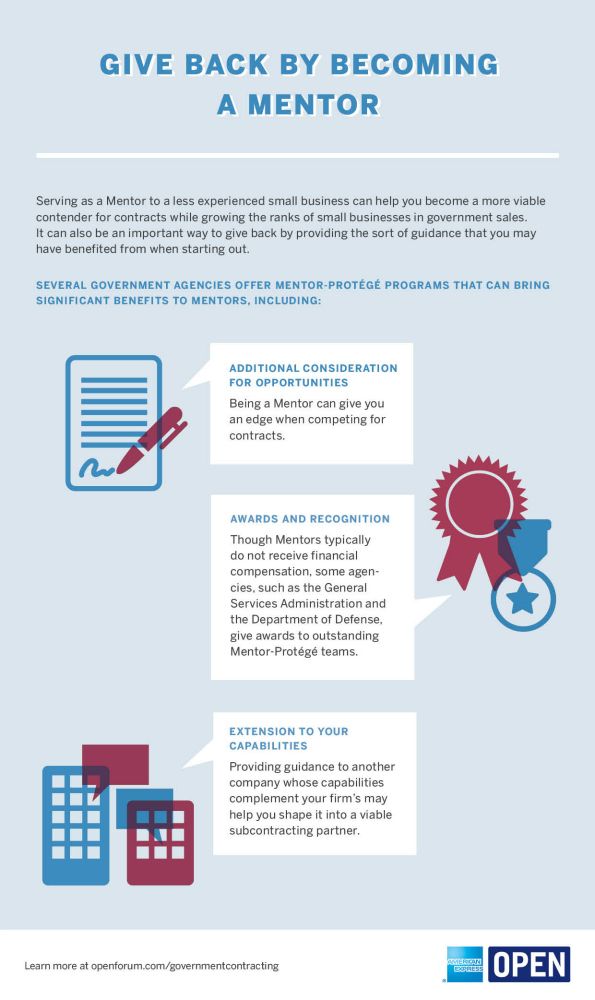 Participating in a Mentor-Protégé program is a major commitment of time and resources for the Mentor and Protégé alike.
Here are tips to help ensure a positive working relationship:
• Define expectations.
Both parties should clearly articulate and document specific goals, measurement milestones and resource commitments.
• Evaluate resources.
Look at what type of assistance the Protégé will receive from the Mentor. For example, if the Mentor company plans to help with financial management, learn who at the firm will provide these resources, exactly how they will do it and when they will do it.
• Consult an attorney.
Have your attorney review the Mentor-Protégé agreement to ensure it doesn't contain any conflicts of interest or adverse conditions.
• Track milestones.
Most government-sponsored Mentor-Protégé programs require an annual review to verify that the agreement is meeting both parties' expectations.
• Keep track of resources provided and the resulting outcomes.
• Communicate regularly.
Establish an open and honest dialogue with your Mentor. Share any concerns early on to avoid misunderstandings.
• Be open and accepting of constructive criticism from the more seasoned Mentor.
Some Federal Mentor-Protégé Programs:
Each program is different, so make sure to fully understand eligibility, requirements and how each program is operated.
• Department of Defense (DoD)
• Department of the Treasury (USDT)
• Environmental Protection Agency (EPA)
• Department of Homeland Security (DHS)
• National Aeronautics and Space Administration (NASA)
• Federal Aviation Administration (FAA)
• General Services Administration (GSA)
• Small Business Administration (SBA)
• Department of Veterans Affairs (VA)
OPEN Forum: Government Contracting is a program designed to connect small business owners to government contracting opportunities, which are an often-overlooked revenue stream. To learn more about how to take advantage of this $500 billion opportunity, visit www.openforum.com/governmentcontracting.
Photo: ROCKPAPERROBOT, JESSICA BANKS, MEMBER SINCE 2009