I hate to admit it, but I've been victim to workplace sexual harassment. About four years ago, a former colleague made a comment about what he imagined I looked like in a bikini. The remark was made in passing and he most likely forgot about it five seconds later, but I remember it like it was yesterday. I recall going back to my office feeling angry and trying to avoid him for the rest of the week.
That was just one incident. Back in college, I worked at a few restaurants where back-of-the-house workers would tell sexual jokes and make suggestive comments—often directed at me.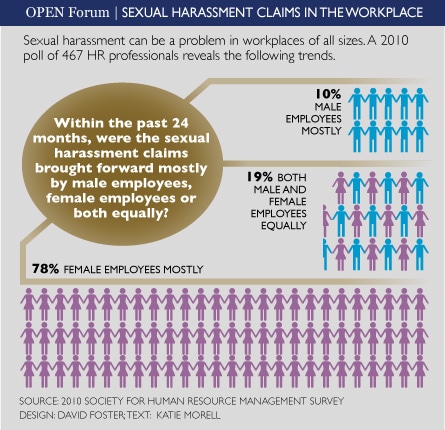 Unfortunately, I'm not alone. Sexual harassment is incredibly common and small businesses are not immune. In fact, intimate settings are where comments and actions can really slip under the radar—where HR heads aren't watching over the moves of every employee.
Harassment can manifest in many forms, but according to Bill R. Knowlton, attorney at The Foster Group, PLLC, a firm dedicated to employee law, in Tempe, Arizona, there are two major claim categories.
"The first is the obvious—unwelcome advances, butt grabbing, porn sent over e-mail, inappropriate jokes," he says. "The second is what's called a hostile work environment claim. An example of this would be if you had a supervisor that engaged in consensual sex with a subordinate and got favorable treatment because of it.
Want to read more about monitoring employee behavior? Check these out:
"If another employee, not in the relationship, got upset about not getting preferential treatment, they could file a hostile work environment claim. This is incredibly common."
These claims are serious business. So serious, in fact, that they can sink a business if proven.
"The potential liability for an employer is substantial," says Knowlton. "Millions have been awarded to employees who make $30,000 per year."
Employer retaliation claims are even more common than straight sexual harassment claims. These claims are filed when an employee informs an employer of alleged harassment and either nothing is done to remedy the situation or negative action is taken against the complainant.
"Lets say you have an employee that complains about sexual harassment in the workplace," Knowlton says. "You assume the person is fibbing and see them as a problem employee anyway, so you give them two weeks notice and a month of severance.
"Now you have a big problem. The moment an employee comes to you with a complaint, that person is protected. If you have an employee that complains that you retaliated against them after they complained of assault, that gives them entrée to make a second claim—a retaliation claim against you, the employer. These claims have no caps."
Ok, now that you are sufficiently freaked out, here's what to do:
Institute a zero-tolerance policy
Even if you only have one subordinate, make sure to have an employee handbook that spells out your sexual harassment policy.
"Your policy should be understandable for your average employee and explain what is expected, what is prohibited, how to bring concerns forward, and how the complaints will be handled," says Fran A. Sepler, president of Sepler & Associates, an HR consultancy in Minneapolis, Minnesota.
Don't have an employee handbook? Search online for boilerplate policies, pick up a legal help handbook, or call a local attorney for some help—the money is well worth it.
Check out this resource on writing an employee handbook:
Create Your Own Employee Handbook: A Legal & Practical Guide, by Lisa Guerin J.D. and Amy DelPo
Respond with care
The minute an employee comes to you with a sexual harassment claim, drop everything and listen.
"Don't debate, interrogate, or act cynically [regardless of how you feel about the claim]," recommends Sepler. "Consider the complain a gift and thank the person for coming to you. Let them know you appreciate their trust in you and that you will take their concern seriously."
Investigate and document
Get all the information you can and document everything—immediately.
"The promptness of jumping on this can't be understated," says Beth Schroeder, principal at Silver & Freedman, a law firm in Los Angeles. "Anytime an employer gets wind of a problem, they need to do a prompt and thorough investigation."
For this part, it may be best to bring in a third party, she says.
"There are a lot of out-of-work HR professionals that wouldn't charge an arm and a leg," Schroeder says.
If you'd rather do the investigation yourself, check out this book:
The Essential Guide to Workplace Investigations: How to Handle Employee Complaints & Problems, by Lisa Guerin, J.D.
Act
Immediately after the claim is brought to your attention, tend to the complainant.
"Make sure they feel safe," Knowlton says. "You need to specifically address their concerns. If, after your investigation, you find that something did happen, take immediate action against the perpetrator.
"This can range from workplace counseling to separating employees to termination. If someone pinched someone else's butt or solicited an improper advance, fire them. I always air on the side of termination. Make sure you always have your employee's best interests at heart."
If you don't find merit in a harassment claim, Knowlton recommends gathering your team together for a sexual harassment policy training, just to review.
Additional resources:
The Sexual Harassment Handbook, by Linda Gordon Howard
Sexual Harassment on the Job: What It Is and How to Stop It, by William Petrocelli and Barbara Kate Repa