There are 900 million people logging into Facebook each day. If you're a brick-and-mortar business owner or someone tasked with promoting one, you may be wondering how to turn all that virtual traffic into actual foot traffic. Fantastic question! A lot of it has to do with using ad targeting in Facebook. I sat down with online marketing expert John Mackin, growth leader from the Florida-based agency Curaytor to get the skinny on how local businesses can harness the power of Facebook advertising and ad targeting. Mackin gives some insight on getting started and understanding Local Awareness Ads, and also offers tips that may help you reach more locals that could potentially turn into customers.
Considerations for Facebook Advertising: The Must-Knows
"Facebook ads are a powerful tool that let local merchants compete with businesses of any size," says Mackin. While budgets might differ, local businesses have the same tools at their disposal in Facebook's advertising platform as businesses 100 times their size and revenue. You may be able to start with a smaller budget and have a noticeable impact right out of the gate with your marketing dollars thanks to Facebook ad targeting.
As local merchants get started with Facebook advertising, Mackin advises keeping a few things in mind:
Timing: Mackin advises running local-specific ads Thursdays through Sundays, the biggest shopping days of the week. This can help you focus your Facebook advertising spend wisely right out of the gate.
Ads are a bridge: They're a way to bridge the distance between the time your customers spend online and the time they spend in your store. More awareness means a greater potential for foot traffic.
Have patience: You're likely not going to score a knock-out, winning ad right out of the gate. Go into Facebook advertising willing to have a trial-and-error period, and be comforted that the bigger brands are having the same kind of trial-and-error period, too.
With those tips in mind, let's have a look at Local Interest Ads, a savvy marketing tool you can use that's designed with local businesses and their needs in mind.
Facebook ads are a powerful tool that let local merchants compete with businesses of any size.
—John Mackin, growth leader, Curaytor
Getting Started with Local Interest Ads
Simply put, Facebook's Local Awareness Ads is an ad targeting tool that lets local merchants reach Facebook users within a certain geographical radius of their location. Now you can take advantage of how much your customers love their mobile devices and Facebook. Local Awareness ads allow you to choose from a wide variety of calls to action. Among the options are "get directions," "like page," "learn more" or even "call now" (which is only shown to audiences using mobile).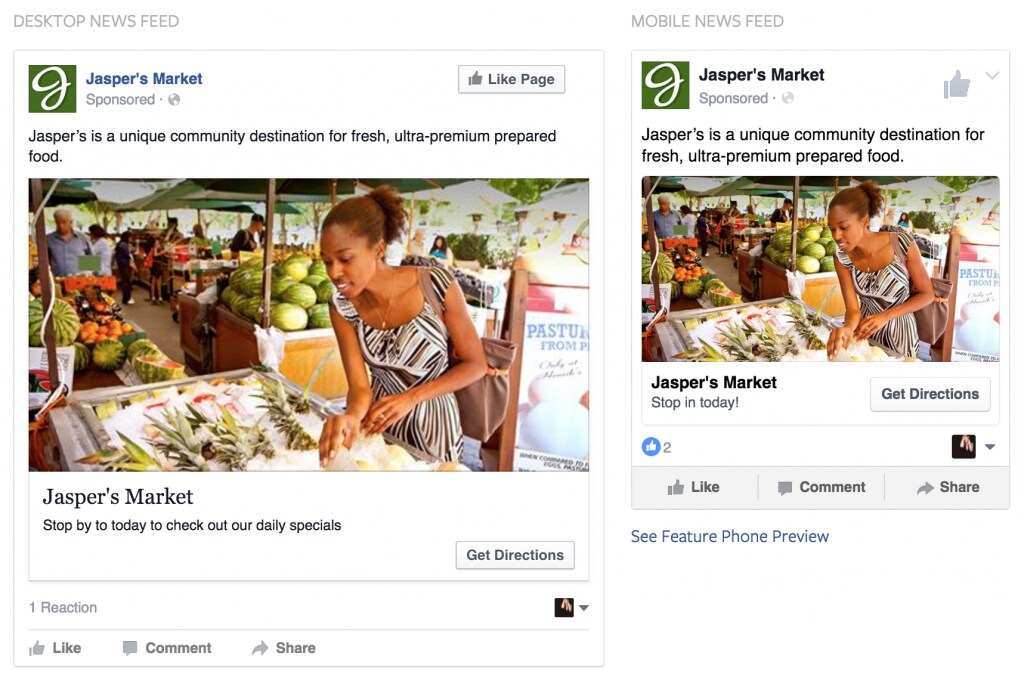 From Facebook Ad Guides, Local Awareness
A simple search for "Facebook Local Awareness Ads" will take you to Facebook's technical guide to get you started. What follows are Mackin's best recommendations for a smart start on using Local Awareness Ads in Facebook advertising:
Efficacy: Mackin says he has seen Local Awareness ads work best for businesses with lower financial thresholds. For example, a restaurant with a $7 happy hour special will probably have better results than one with a $79 prix fixe dinner.
Advertising Radius: Choose your advertising radius wisely. For example, if you're located in a walking city like San Francisco, New York or Chicago, you may want to draw a smaller radius. People tend to shop close to home or work. If you're located in a suburban market, you can go wider since most people will be driving from point A to B (you). Mackin advises a 1-3 mile advertising radius for most businesses using Facebook ad targeting.
Ad Targeting: Local Awareness Ads let you target people by interests, but Mackin advises caution. Use no more than one to three interests when building your ad. Why? The more interests you choose, the lower your ad reach will be (read: you'll reach fewer people). Try going a bit wider with age range—a few years older and a few years younger. (Unless, of course, you sell merchandise with an age purchasing threshold like alcohol or run a bar/nightclub.)
Clear Call to Action (CTA): What do all great Local Awareness Ads have? A headline that packs a punch. Tell ad viewers exactly what you want them to do or what you're offering them. Hands down, says Mackin, ads with a clear CTA perform better.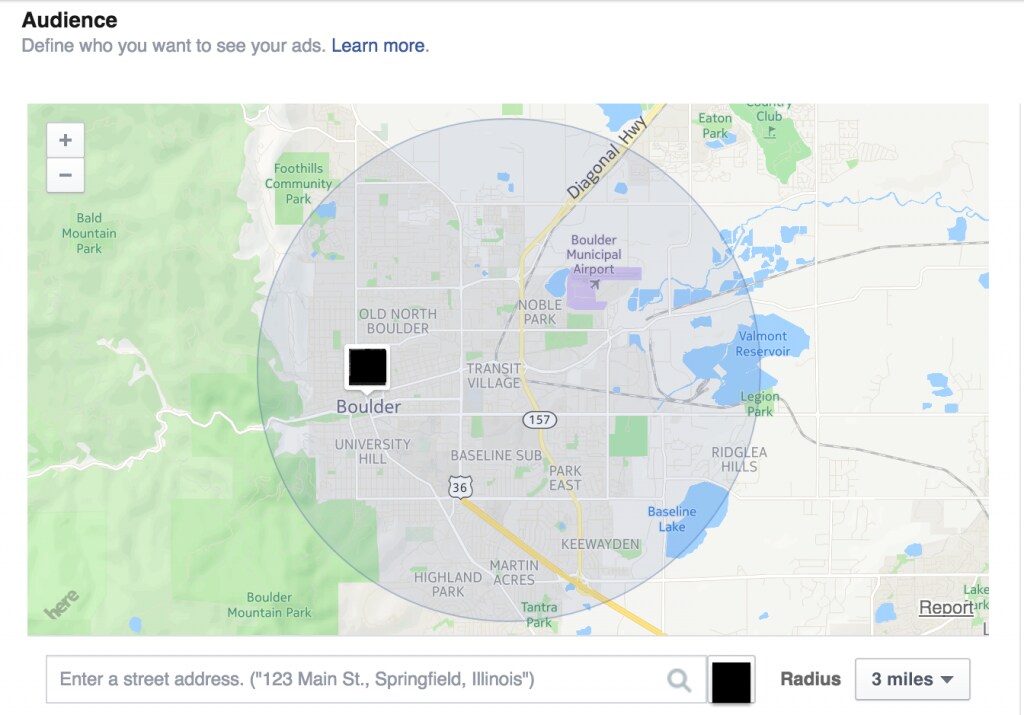 From Facebook Ad Guides, Local Awareness
Other Facebook Advertising Options for Local Businesses
Facebook offers everything from Sponsored Posts (where you can promote a page of your website) to traditional sidebar ads to draw visitors to your website. While these may be effective for bringing more eyeballs to your online brand and, eventually, your location, here are a few tips to keep in mind as you explore some of Facebook's wider options for advertising.
Sponsored Posts: Make sure to have an eye-catching image and limit the text overlay on your image. Facebook only allows images in any ad to have text as 20 percent of the image. Also, if you're a saucier brand, keep in mind that profanity of any kind will keep your ad from launching.
Ads for Website Traffic: Facebook wants to keep people on Facebook. This means they're going to charge a premium for ads that take people off Facebook, like to your website. There's nothing wrong with driving traffic to your website from Facebook, but just know it'll come at a premium compared to ad actions such as generating more page likes or promoting sponsored content.
All in all, Local Awareness Ads and the more mainstream Sponsored Posts and sidebar ads are Facebook advertising tools that may put your smaller, local brand in contention with the behemoths with massive advertising budgets. By starting smart using Mackin's advice and having a little patience for the testing process, you may be able to find a formula that works for your brand. Happy ad building and best wishes when building new relationships with your new customers!
Read more articles on advertising.
Photo: iStock