Negotiating is something that every entrepreneur, at some point, will face. Whether you're securing investors, signing a new client contract, or trying to woo that star employee, no matter your industry, it's an often-overlooked practice that can have a big impact on your business. And expert dealmakers know it's more art than science. In this world, Billy Leroy is something of a Renaissance man.
Leroy has spent a quarter-century buying and selling everything from a 3,000-year-old mummy's head to vintage war memorabilia. His Billy's Antiques & Props was a fixture on New York's legendary Bowery for years, and these days he hustles around the globe, as star of Travel Channel's hit reality show, Baggage Battles, now shooting its fourth season. So, needless to say, he's been through just about every type of negotiation you can think of—and not all of them pleasant.
While you may not be talking down the price on vintage Louis Vuitton trunks in a Parisian basement like Leroy, the fundamentals of negotiating—and what helps people land favorable deals—remain virtually the same across industries, he says. Human nature, a key component of any negotiation, is pretty constant. With that in mind, we recently asked "Bowery Billy" to share some of the tried and true tactics he's picked up over the years.
1. Look the part.
"Appearance matters. It's how you want to appear to whoever you're dealing with. Do you want to appear as the down and dirty salesman? Do you want to be the polished dealer? Overly theatrical? Regular guy next door? Hipster? It depends what you're selling. If you're selling ladies underwear, you don't want to have dirty fingernails. It's all very theatrical on the first impression."
2. Haggle authentically.
"If you want to knock someone down on price, you have to believe what you're saying about the deal—the pros and cons. The characters that used to come into my tent have survived on the streets of New York and they know when someone is BS-ing. How does that relate to the corporate world? They use a lot of tactics similar those guys on the Bowery, but they're not as good, because they didn't learn it on the streets."
3. Stick to your guns.
"It's absolutely important for the person you're negotiating with to know that you're trustworthy. If you make an offer and back away, you lose all credibility. I never do a 'backward deal.' A backward deal is when you say you're going to take it and then think about the price. If you say you're going to take it, you have to take it. This happens a lot with amateurs. If you make an offer, you have to stick to your guns. You have to be very conscious of what you have in front of you and what you want to pay for it."
4. Use reverse psychology.
"How do you get something you want for half the price? Say I see an antique selling for $1,000, but I only want to pay $500. If you blurt that out, the owner is probably going to call you a jerk and throw you out of his shop. So the first thing I tell him is, 'I have cash, but you're probably going to refuse the deal anyway.' You're already giving him an out to refuse, so he doesn't get upset—he already knows it's going to be a lowbrow offer. I tell him, 'I'm going to give you a deal you can refuse.' Everything is done on the up and up, it's charming, it's light. You're sugarcoating a lowbrow offer: Please say no! What you don't know is how much he really paid for it or if he's got bills piling up. He just might accept it."
5. Set a limit.
"You should absolutely ask yourself what you're willing to pay. And you obviously need to know how much it is ahead of time. You've got to imagine making that deal at that price and be comfortable with what you paid. If I buy an antique and see it on the shelf and say, 'I can't believe I paid that,' it wasn't the right deal. You have to do your homework."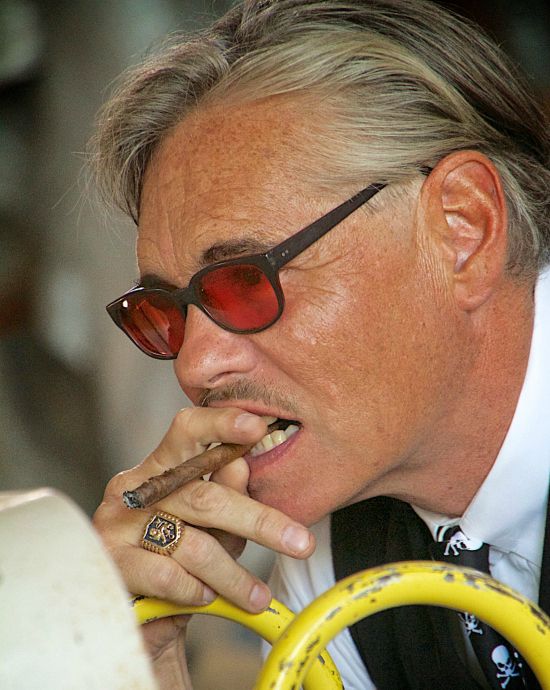 6. Know when to walk away.
"What motivates me to walk away is when I've encountered a stonewall on price. If he's just going down 5 or 10 percent and is being difficult at that point, I know I should walk away. There's always another deal. When I walk out of that store, I light up a cigar and say, 'There's another deal tomorrow.' As a dealer, I'm not attached to any deal."
7. Set expectations.
"The first thing to make very, very clear to someone you're going to have a long-term relationship with is this: Every deal stands on its own. You don't want him saying, 'Well, last time...' Every deal is a separate entity."
8. Sweeten the deal—at your own risk.
"Giving stuff away to help land a deal can be tricky. When you're throwing stuff in, you better know what you paid for the throwaway. It's usually good to throw in something that doesn't cost you a lot but is enough to help make the deal happen. Luckily, in the antiques business, every piece is different, so every price is different. But if you're dealing with the same product, you can make up any loss from the giveaway in volume. It's better to have a lot of customers than to turn away business. And you can tell prospective customers that others are spending more, and when they get to this point, I can give you that price."
9. Build trust.
"Trust is very important—on both sides. If you bounce a check with somebody, you're out. If you say you're going to order X and you don't, then you're out. Building trust is actually more important than making the sale. It's better to lose the sale and keep the trust than lose the trust and keep the sale."
Rod Kurtz is the editor-at-large at OPEN Forum.
Photos from top: Shutterstock, Todd Crusham / Courtesy of William Leroy