Marketers plan to increase spending on e-mail and social media marketing more than any other tactics in 2011, according to a recent survey.


As marketers find opportunities to build audiences, conversation, and conversions with clever cross-promotion between the two mediums, e-mail and social media tactics are becoming increasingly popular and intertwined.
Incentives Drive Clicks and Conversions
Dingo, a pet food company in Ohio, used Constant Contact to create a promotion that rewarded customers with a $20 coupon if they signed up for the company's newsletter and "Liked" its Facebook Page, with the catch being that the page needed to get to 5,000 fans (from a base of around 300) for the promotion to kick in. Mike Halloran, the owner of Dingo, says it reached its goal within three days, as pet owners found out about it in the Dingo newsletter and forwarded it to their friends and "Liked" Dingo on Facebook.
Mark Schmulen, General Manager for Social Media at Constant Contact, says that Dingo's campaign illustrates a growing trend among customers. "Of all channels, e-mail marketing and social media go hand in hand better than any other," he said. "Getting your customers to share your message with friends is the most effective way to grow your business."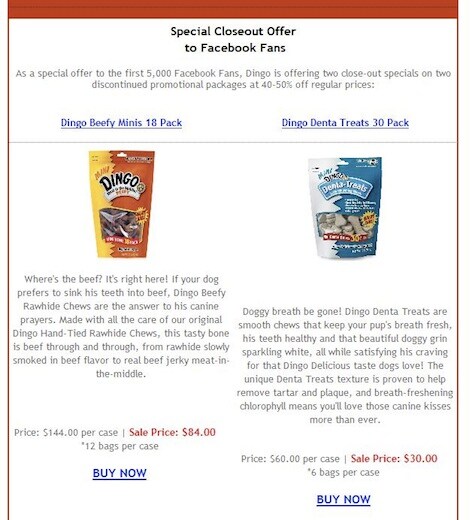 Gary Levitt of upstart e-mail marketing provider Mad Mimi sees a similar trend. He cites one of his customers, bag and accessory retailer Timbuk2, as a great example of how to integrate e-mail and social. The company's strategy is "to use a Facebook application to handle [contests] rather than setting up and optimizing a landing page of its own."


 Want more tips on marketing optimization? Check these out:
The company's e-mail newsletter -- which has more than 100,000 subscribers – recently featured a promotion to win a free bike, helmet, and messenger bag to fans of the company's Facebook Page. So far, the opportunity has driven more than 6,500 clickthroughs to the giveaway, versus just nine clicks (yes, nine) to the company's prompt that encourages e-mail subscribers to become Facebook fans.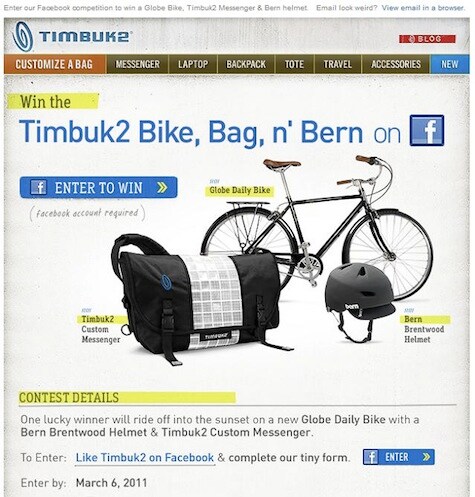 Promotion Works Both Ways
These promotions can also work the other way, however. Shoe retailer Crocs not only promotes social media through its e-mail newsletter, but also promotes its e-mail newsletter through social media. For example, the company will inform its Twitter followers or Facebook fans about a special offer that's only available to newsletter subscribers. The company also lets Facebook fans sign up for its e-mail newsletter from an app that's built into its page, something that Andrea Stow, senior global eMarketing manager for Crocs, says has resulted in a "gigantic leap in our e-mail subscribers."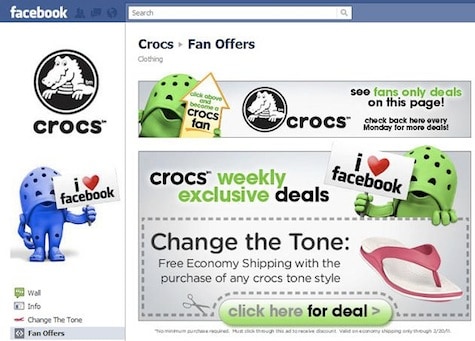 Stow continues, "Our strategy is understanding and knowing that there might be duplicates [subscribers to multiple mediums] -- but the more customer touch points, the better conversion we'll have." Jeff Rohrs, principal of ExactTarget's Marketing Research and Education Group, the company that powers Crocs' e-mail marketing, adds, "What I really like that Crocs is doing is they realize they don't have to abandon the channel -- it's not an either/or scenario. You work them all together and you end up with more subscribers, fans, and followers overall."
That reach, says Stow, gives Crocs the ability to stay in touch with customers year round -- important for a company that only expects its average customer to buy new shoes two or three times per year at most.
E-mail Will Only Get More Social
Although companies like Crocs, Timbuk2, and Dingo are still relatively early movers in the integration of e-mail and social media -- Schmulen believes only 10 percent of Constant Contact customers are using social media to its full potential -- the pace of evolution in the space is only going to accelerate.
Both Constant Contact and ExactTarget made big bets on social last year with their acquisitions of NutshellMail and CoTweet, respectively, and both now speak of a next wave of innovation built on more precise targeting based on social data. To that end, Constant Contact acquired BantamLive in February, a deal that Schmulen says will let his customers "see who's talking about [them] and who the actual influencers are." Similarly, Plaskoff of ExactTarget says his company is working on tools that leverage user profile data through Facebook's open graph API.
Says Schmulen, who was also a co-founder of NushellMail, "What we're seeing today [is the] social call to action [becoming] the primary call to action inside of newsletters." Expect that trend to continue as marketers start to realize the benefits of doing so and technology providers continue to integrate e-mail and social tools into one package.