Starting a business entails the fine arts of focus, decision-making, and waste elimination. You want to be spending your time on the things that matter most and eliminating those that don't from your schedule.
But entrepreneurs all too often make the unfortunate mistake of eliminating healthy eating from their lives. The ease of pasta and pizza can become massively tempting for the time-stretched founder.
Luckily, though, there are entrepreneurs among us who have our appetites and health in mind—founders of startups like Plated, Blue Apron, and PlateJoy, which, in their own ways, deliver healthy meals right to your doorstep, so that you can reallocate cooking time to things that matter most to you, while also not neglecting your health and taste buds. With each service, raw ingredients in perfect measurements show up to your door, ready to be cooked, fresh on the stove. No microwaving or shortcuts, and you've got a meal in typically under 30 minutes.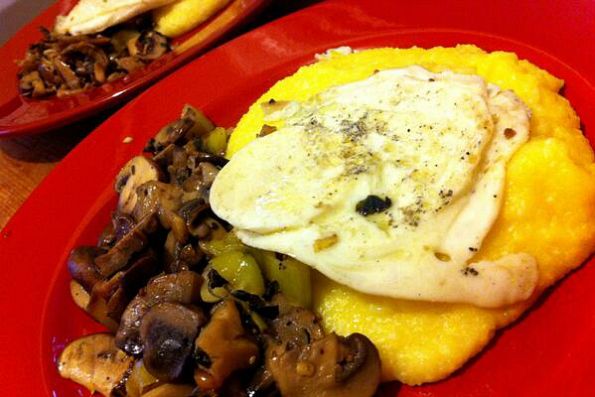 Plated, one of the leaders in the space, presents users with a weekly selection on delicious, chef-designed meals, available for delivery from $10 per plate. Some recent dishes included mushroom chicken, shrimp tacos, and poached salmon, all of which are designed to be cooked in less than 30 minutes. I recently ordered two plates of Plated's mushroom ragout, composed of parmesan polenta and topped with a fried egg and sautéed mushrooms and peperoncinis (pictured above). The shipment included an easy-to-follow recipe and all of the items necessary, except for what Plated deems "pantry items," such as salt and pepper.
Focusing on dietary restrictions
Plated serves delicious meals, but it doesn't cater to vegetarian users like myself, or others with food allergies. If you're in that boat, check out Blue Apron, which typically features three meat and fish recipes, alongside three vegetarian recipes each week. So, if seared trout or jerk-spiced chicken aren't your thing, then heirloom potato-pepper hash or West African vegetable-and-peanut stew may be more up your alley. Blue Apron recipes have an average preparation time of 35 minutes.
For those with even stricter dietary concerns, there's PlateJoy, which can cater to dietary restrictions such as gluten-free, dairy-free, vegetarian, no red meat, and paleo. The site also allows users to choose their preferred milk type, including almond, soy, lactose-free, and the various cow options (1%, 2%, skim, and whole). What's even more impressive is that PlateJoy delivers all types of meals, from breakfast, lunch, and dinner to snacks and desserts. Breakfasts and lunches are built for preparation times under 10 minutes, while dinners are designed to take less than 30 minutes to get ready.
Delivery right to your door
Each of these startups take a different approach to delivery. Plated and Blue Apron ship refrigerated boxes with all the core ingredients at various times per week. Plated orders can be placed up to noon on Mondays and are delivered on Tuesdays each week to its service areas in the Northeast and Midwest. (Check availability in your area.) So, your game plan there could be to order three to four meals for the week.
Blue Apron, on the other hand, services the eastern and western coasts of the United States, and offers four delivery day options (Wednesday through Saturday), alongside a few other delivery windows, including evenings and delivery on Monday or Tuesday, that are specific to particular zip codes.
PlateJoy, though only currently available in the greater Boston and San Francisco Bay areas, offers the greatest level of delivery flexibility, delivering ingredients seven days per week during any two-hour time window that works for you, thanks to its partnerships with Whole Foods and Stop & Shop Peapod delivery trucks.
As an early-stage tech entrepreneur and graduate student at MIT, I know what it's like to be so busy that dinner, let alone a time-consuming, healthy dinner, seems like a waste of time. But, it's the fresh fruits, veggies, and proteins that keep us running, so don't miss out on your nutrients! Factor in time to cook, and when possible, utilize resources like Plated, Blue Apron, and PlateJoy that enable you to cook satisfying meals, even when you're time-deprived.
Erica Swallow is a tech and lifestyle writer, technology entrepreneur, and MIT Sloan MBA candidate. Follow her on Twitter @ericaswallow.
Photos from top: Thinkstock, Courtesy of Erica Swallow