New hires learn the ropes of a new company in a variety of different ways. Some methods are formal, others are informal, but either way, the new employees are provided the important and essential information they need in order to be a productive member of the team.
It's extremely important to understand exactly what employees need to know in order for them to become valuable team members. But companies must also learn when an employee needs to know the information and what the best method is to convey that knowledge.
One crucial aspect of the "knowledge and information" we're referring to is company performance standards—the things a CEO comes to expect from everyone working at the company. And the best way to evaluate the performance of your employees is based upon established company standards. It's only logical to evaluate new hire performance based upon what has been communicated to them during the interview, orientation and onboarding process.
Here are some best practices and stories from companies that evaluate performance based upon the expectations that are communicated early on.
Conduct on-the-job training
We have a tendency to forget how valuable on-the-job training can be. Just because it doesn't take place in a classroom doesn't mean it's not good training. Linda Varrell, president of Broadreach Public Relations, uses this approach to guide an employee's first day. "We have an initial meeting with the new hire to go over their job description, introduce them to the entire team, go through office procedures and processes and take care of any logistical set up needed."
It takes two to three months for a new hire to become fully productive at Broadreach. Varrell says that since Broadreach is a small firm, supervisors have their own clients to focus on, so employees must anticipate problems and be prepared to work on their own. "Our new hires need to be able to figure things out with a certain degree of independence and anticipate any questions or issues that may arise. Although our new hires are in close contact with their supervisor on any task or project, we want them to go through a process of understanding any task/issue at hand, trying to solve it through their own means, and then asking their supervisor for help. This helps them become stronger critical thinkers and allows supervisors more time for their own work."
That's why having an in-the-trenches process works for Broadreach. Varrell explains.
"We have a 'dive right in' mentality with new hires, giving them client-related assignments right at the start. The supervisor is responsible for making sure the new hire has all the information or tools to complete the task, explains the end result goals and then basically lets them go for it. The new hire works on it and then presents the completed task to their supervisor. At that point, the supervisor asks questions to encourage more creative thinking, corrects any technical or procedural errors, has the new hire explain their thought process and then sends them back for round two if necessary. Although longer and more involved at the start, this training process helps a new hire become more effective and efficient faster because they have to be responsible for their work and they have to learn how to figure things out. This also helps the company quickly see if a new hire isn't going to fit because not everyone can successfully work with that level of independence and responsibility."
Create formal training programs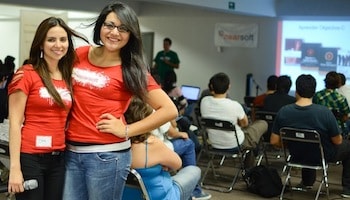 After just explaining that good training doesn't exist only in classrooms, it's important to note that there's plenty of great formal training programs being used. Erika Walker, human resources manager at BestEssayHelp, a professional writing and research company, explains the training program she has created for new team members. "A training process for new hires usually lasts around a week and is a copy of the regular support-team member shift featuring useful tips on handling communication with the customers and writers. It also involves the discussion of the commonly occurring crisis situations and possible problems when the new hires are presented with several ways of solving each possible problem."
Once a new hire completes training, Walker says it takes about a month for new hires to work on their own. "It usually depends on the personality of the new support team member as well as the amount of orders coming in. I would say that in about a month's time new hires are able to work on their own almost without any tips or suggestions from the rest of the team. But they are always more than welcome to ask questions or seek help, as other team members will always be there to help them."
Walker added that after new hire training, BestEssayHelp uses customer conversion rate indicators to measure how the employee is performing. "Basically, customer conversion rate is the number of customers who place the order, out of all those who registered on the website. Every customer is assigned to a specific support team member, which helps to evaluate the performance of every supporter. Being a customer support team member is a very challenging job, as the supporters represent the company and make the first impression. That is why we have to ensure that they work efficiently and make a long-lasting, positive impression on each and every customer."
Samantha Lambert, director of human resources at Blue Fountain Media, a website design, development and marketing agency, shared the details of their orientation/onboarding process. "We use new hire beads. Think Mardi Gras in our bright company colors, orange and blue. On the first day of employment, HR greets new hires in reception and places the beads around their neck (Hawaii style). We ask that all new employees wear their 'new hire beads' until they have passed the evaluation with an 85 percent (not your average passing score). Wearing the shiny beads not only shows/tells our seasoned employees who the newbies are and initiates frequent introductions, but it gives them an immediate goal to study Blue Fountain Media's intranet and internal processes so that they may graduate from new hire status and focus on client projects."
Lambert says the amount of time it takes to onboard a new hire varies, but a good average is three months. During that time, employees attend orientation, complete a new hire evaluation, attend biweekly meetings with their supervisor and learn the processes/guidelines/general info about how the company operates.
Assign tasks and look for proven results
Ian Aronovich, CEO of GovernmentAuctions.org, a company that compiles and provides information about government auctions of seized and surplus merchandise, says the best way to evaluate new workers is by giving them large responsibilities. "You need to see how much of an independent workload your incoming workers can handle. The first couple of weeks that a worker is at our office is going to be their biggest test. Once they have proven themselves to be a person who can multi-task and manage everything that is thrown at them, we give them an incentive plan."
On the surface, this might sound like sink-or-swim, but Aronovich explains what they look for. "At our company, we need people to be responsible for all aspects of their position. He or she must be on time, get work done in a timely fashion, help others when needed, stay late or come in early if there is extra work to be done and be willing to go the extra mile for every task that is put in front of them."
The method has worked well for GovernmentAuction.org, says Aronovich. "We hired a person for general office work about two years ago. This person soon became adept at business development and we decided to make her the company's affiliate manager. Over time, she garnered a whole new crop of members for our website, and the affiliate program is thriving under her diligent work ethic. Our method molds people into the position that they are most comfortable filling. For her, she was a business-savvy individual who helped us grow by adding a new aspect to the company."
Offer coaching to enhance performance
While every company will have a different approach to setting expectations, training for knowledge and evaluating performance, all organizations need to recognize the importance of ongoing communication. Varrell shared that, at Broadreach, weekly meetings take place to see how new employees are doing. "After 90 days, we work out a Personal Development Plan, identifying areas of development and ways to achieve success. It is different from an evaluation in that the employee tells us what they need to work on and what tools, training and resources they need. We really focus on having our employees (and interns) take full responsibility for their careers and success."
It's very easy to forget what it's like to be a new hire, but putting a solid information sharing process in place will set your new hires up for success. And that's what evaluating performance is all about -- creating a mechanism for employees to get the information they need, when they need it, in the most effective means possible.
Image credit: iStockphoto, mableen