Last weekend, nearly 3,000 people traveled to Portland, Oregon for the third annual World Domination Summit, a gathering of remarkable people from all walks of life, and from 30 countries. The group is united by a love of independence, as well as a focus on pursuing big dreams while also making the world a better place. 
I'm fortunate to serve as the host for this gathering (the ringleader of the circus, as I sometimes call the role), but I'm the first to say that I'm learning along with everyone else. Here are a few of the biggest lessons learned from the event.
Focus on Community
I've attended a lot of conferences recently, and have been impressed at how well many of them execute. I also noticed the key to this success is a "focus"—not every event can be good at everything, just like a busy entrepreneur can't do it all himself or herself.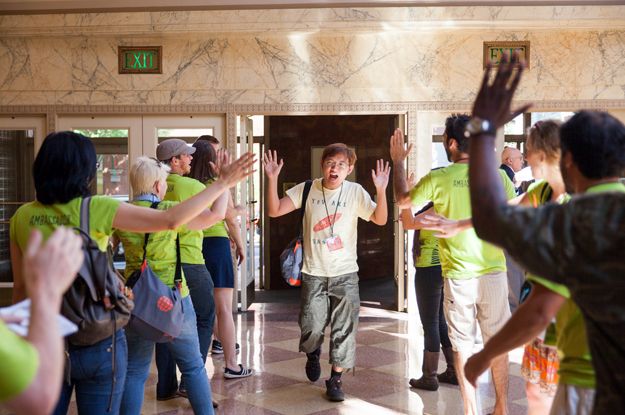 After producing WDS for two years, we feel confident that we've found the area we want to focus on, and that is community. Our goal is to encourage people to make new friendships, to get to know one another, and to break out of their usual circles. Everything we do, from putting on a Guinness World Record-breaking attempt to enabling attendees to compete in an "Unconventional Race" around town, is executed with a focus on this goal.
(In case you were wondering, the record-breaking attempt was a success. We put more than 600 people in the Willamette River and had them form a human chain for more than 30 seconds.)
Learn to Mix It Up
To keep people as engaged as possible, we really mix up the format, and don't keep them in the theater all day. After the morning session, we send people out into the city for lunch, workshops, meetups and a "choose your own adventure" opportunity. Instead of bringing them back right away, we give them almost four hours to do their own thing.
Afternoon sessions delve into practical skills including blogging, photography, travel hacking and book writing. Many attendees host their own activities as well, drawing a crowd through our closed mobile platform.
Balance Education with Inspiration
People want to be inspired as well as educated. Our speakers challenge the audience to follow big dreams and change their lives, but they do so in a practical way, outlining the steps they took to achieve their own dreams and create the career they wanted. As much as possible, we try to balance inspiration with education, teaching people a process they can follow—with plenty of real-world examples and case studies.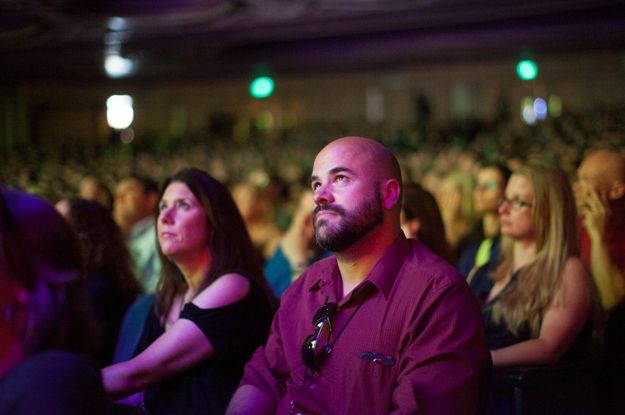 Among others, this year we heard from Chase Jarvis, Gretchen Rubin, Tess Vigeland, Donald Miller, Darren Rowse and Jia Jiang. Each of them shared their own story along with tips for those who hoped to forge their own path.
The New Networking 
Because WDS is a non-commercial event (we don't pitch anything to attendees, our speakers volunteer their services, and we don't accept sponsors), we ask that our attendees refrain from self-promotion as well. Many of them have their own products, books, courses and other things that they offer for sale on their websites—but preferably not directly to people at the event or through social media that references WDS.
However, a funny thing happens: Even though WDS is a no-promo zone, we often hear reports of lots of business happening later. Networking isn't about pitching yourself; it's about building real relationships. If you take the time to care about other people, and you offer a great product or service, sooner or later you will see sales come as a result.
Introverts Can Dance Too
We want to provide a welcoming space to all kinds of people, including those who don't usually attend conferences. Even as it grows in size, WDS has always been introvert-friendly, with a "Highly Sensitive Person Lounge" and a hammock hang-out zone.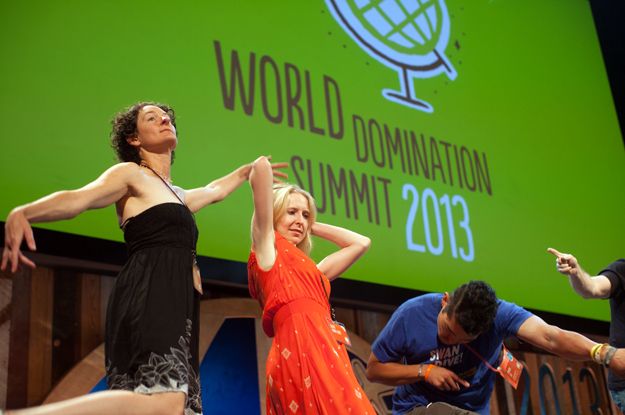 But we also have parties … big ones. For our Opening Party we rented out the Oregon Zoo, and for our closing party we took over downtown Portland by leasing Pioneer Courthouse Square from 6 p.m. till midnight. A good time was had by all—and even people who don't normally dance jumped in with everyone else.
Read more about leadership.
Photos: Courtesy of Chris Guillebeau