Facebook users have shown that they're more willing to interact with content in their news feeds than straight up advertising. To make the most of that trend, Facebook has created Facebook Offers, a fairly new opportunity to promote webinars, e-books and other content opportunities through the news feed. Paired with email lead capture, it can be a low-cost way to get in front of lots of targeted folks on Facebook.
With Facebook Offers, you can deliver deals to your fans' news feeds each day without having to use an outside website like Living Social or Groupon. These offers can spread quickly when your fans share them with others in their networks. Anytime someone clicks and claims an offer, a notification shows up in their friends' news feeds. That gives more people an opportunity to claim your great offer for themselves.
It's easy to set up a Facebook Offer:

Sign into your Facebook account. On your page, look at the top left side for "Offer/Event" next to Status and Photo and click on it.
Choose "Offer."
Create your offer.
Create a Compelling Facebook Offer
Now that you're set up, it's time to create your offer. First upload an image to run with your offer. Make it a picture of the product you're offering. If the offer is for a service, you should include a relevant picture. For instance, if you're offering a free oil change, use a picture of a mechanic working on a vehicle.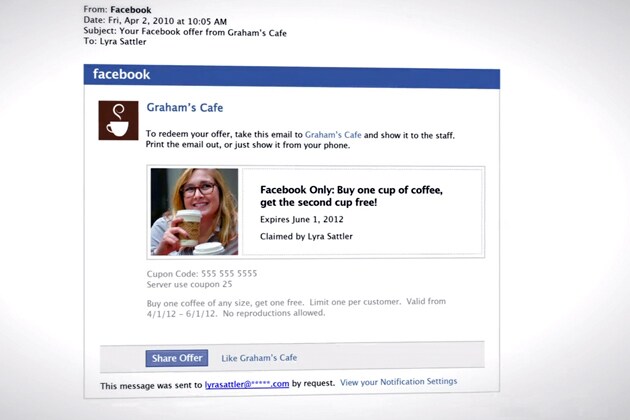 facebook.com 
After you've your image loaded, come up with a headline that will get fans' attention. It should be a call-to-action that encourages them to click and claim the offer right away. It could say something like "Click to claim your free oil change!"
Next, you need to decide how many offers you'll make available. The last thing you want is to have thousands of people claiming an offer for a product when you only have 100 on hand. The same goes with providing a service. If you offer a free consultation and have over 2,000 people asking for one at once, how quickly will you be able to get to them all? Limiting the number available will create a sense of urgency for people to hurry and click on the offer before it's gone.
You might, however, consider using this tool to offer free e-books or enrollment in an upcoming webinar. If all you do is capture email addresses, it may still pay to advertise offers if you know you can convert subscribers into buyers at some point.
Now, set an expiration date for your offer as well as the terms and conditions of the offer (one per household, etc.). The last step to creating your offer is to set a budget. You set your budget based on the estimated reach of each offer, and to make it easier on you, there are several drop-down options to choose from, for example $5 to reach an estimated 95 to 176 news feeds. (There are also more advanced options using Ad Tools.)
Finally, review the offer, then click "Post" to add the offer to your timeline. Once you post it, it will appear in your fans' news feeds.
Even though the offer will pop up on news feeds, that shouldn't be all you do. Start talking about it on your blog. Tell your newsletter subscribers. Post status updates and send out tweets. If you have a physical location, tell your customers when they come in to go like you on Facebook and claim the offer.
Redeeming the Offer
All your offer recipients have to do to claim your offer is click on the "Get Offer" button. A box will appear telling them that a message is being sent to their email address (from Facebook sign-in). They have the option to either print out the offer or just bring their smartphone to the location to redeem the offer.
This is actually one of the things I like most about Facebook Offers; your offer is delivered to their inbox, making it harder to forget.
Facebook Offers are great for any type of business to get more customers and to attract more repeat customers as well.

Looking for more marketing tips and advice? Check out these marketing articles.

Photo: iStockphoto