As the demand for highly specialized digital talent increases in coming years, it will be even more important for companies to convey their wants, needs and culture through their websites and other digital touch points—job descriptions are no exception.
Here are our top tips for writing job descriptions that effectively communicate your company's available positions and the requirements for applicants. We also searched the Web for some examples of well-written job listings.
Essential details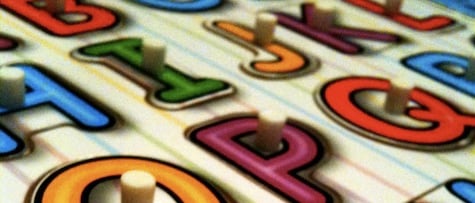 General guidelines on what to include in job descriptions have evolved over the years, making it simpler for employers to write them and for potential applicants to read them. Here are nine essential details to include in your company's job descriptions:
Job title and summary: Develop a job title for the position you're looking to fill—the title and level should accurately reflect the work that the employee will perform. Once you've defined the position, write a brief description of the purpose and an overview of the position's main responsibilities. One to three sentences should suffice.
Key responsibilities: List all of the essential functions of the position. This includes between five and 10 responsibilities. Begin each with a present-tense, action verb—"Research social media trends." Be transparent about how frequently a task will be performed or what percentage of the employee's time will be spent with each task.
Department and supervisor: Include details on who the person would report to and where that person falls within the company's structure.
Skills and qualifications: List all qualifications that are mandatory, along with those that are preferred. These should include skills, years of experience, certifications, licenses, education level and necessary technical proficiencies.
Company overview: While it is ideal that a candidate would already know essential details about the hiring company, it is helpful for potential applicants to have a description of the company at hand.
Location: Include details on where the position is located. If travel is necessary, note what percentage of time the employee will spend traveling and where he or she will be traveling.
Type of employment: Be clear about whether the position is full-time or part-time. If the position is an internship, note whether it will be paid or unpaid—be sure that the internship follows the six federal legal criteria if it is unpaid.
Salary range and benefits: If your company is open to publicizing the position's salary range and benefits, include those details within the job description.
Recruiter contact information: There are plenty of job listings on the Web without contact information. Include contact information so that potential applicants can apply and ask questions.
Here are a few formatting tips for improving your descriptions: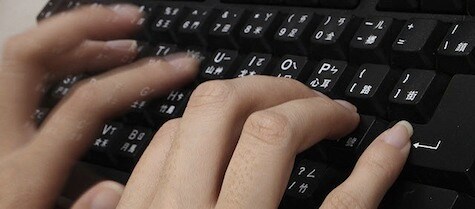 Bullet point when possible: Make your job description easier to skim by using bullet points within the responsibilities and qualifications sections and anywhere else that makes sense.
Be specific: While brevity is a much-appreciated art, it's also important to be as specific and transparent as possible in your job description.
Use direct language: Steer away from fuzzy descriptors, such as "sometimes" or "often" when describing duties. Opt for organizing job responsibilities by hours or percentage of time spent on each.
Embody the company's personality: When putting the job description together, choose a writing style and words that match your company's ethos. The goal is to attract people who are right for the position and the company.
Learn from the best
1.  Meetup: Embody your company culture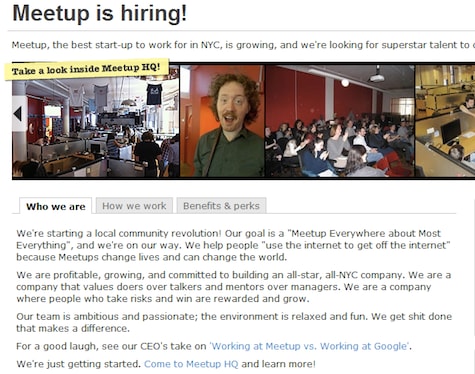 The team at Meetup focuses on its people, which is quite evident on the company's blog and recruitment page.
The business's hiring page includes a personality-filled company description, including its goals, product function, values and what it's looking for in job candidates.
2. The New York Times Company: Be available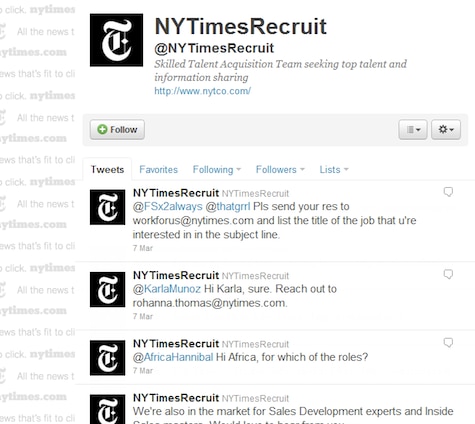 The New York Times Company recruiting team does a great job at being available and reaching out to job applicants. The @NYTimesRecruit Twitter account, run by the company's talent acquisition team, actively responds to questions and tweets job search and career-related articles that followers may find of interest.
3. Facebook: Publicize benefits and perks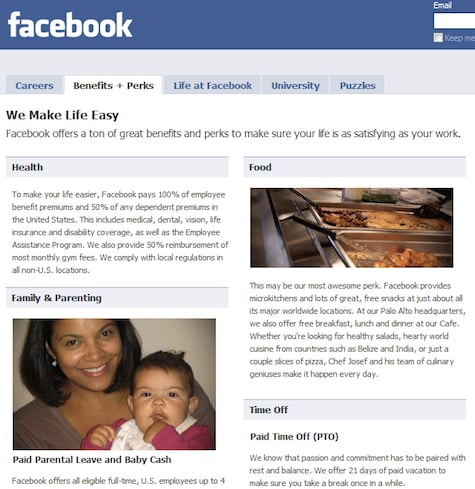 Facebook's career's page thoroughly explains the company's benefits package and its other perks, such as laundry service, discounts, transportation reimbursements and speaking opportunities.
4. Google: Explain your various locations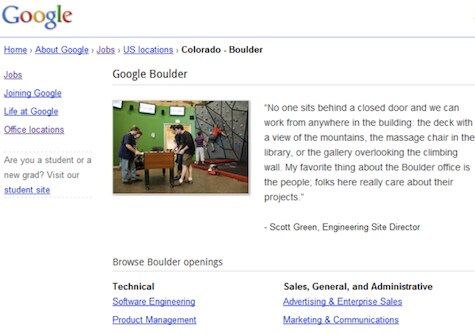 Google's recruitment page features an "office locations" tab where interested candidates can explore the company's offices by location using Google Maps or a list of locations. Each office page features contact details for the office and a list of open positions at that office, along with photos and a description of what it's like to work in that location.
5. Twitter: Bullet point and be specific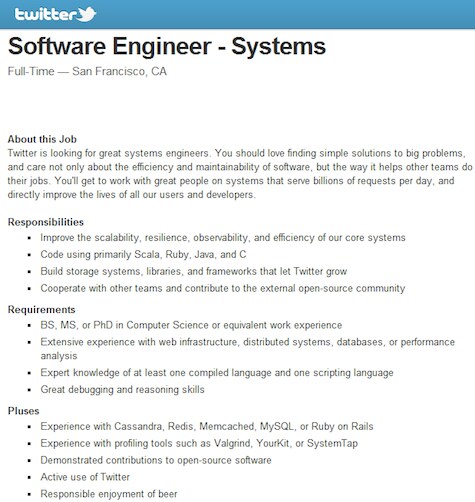 The company's job listings are specific and to the point, without lacking information. All job descriptions include sections for "about this job," "responsibilities" and "qualifications," and others even include a "pluses" section, which outlines preferred (but not necessary) qualifications, such as being an active Twitter user and responsibly enjoying beer.