It's been a whirlwind few years for friends and fashion designers Kelsea Slade of K.slademade, and Mary Lai of her eponymous brand, MARYLAI. Since winning The Ones to Watch™ handbag-design competition at the MAGIC trade show in 2014 and 2013, respectively, Slade and Lai have continued to grow their accessory businesses, earning accolades and opportunities along the way.
The two first met at last November's OPEN Forum: CEO BootCamp event. There, they had the chance to co-interview legendary fashion and lifestyle designer Diane von Furstenberg. Ever since, Slade and Lai have traded advice and best practices, from one competition winner to another, as both look to take their brands to the next level.
Lai recently sat down with Slade to discuss her growth over the past year and to hear her advice for business owners looking to make the most out of a trade show experience like MAGIC.
Mary Lai: Trade shows can be hectic and overwhelming. How can this year's competitors and other business owners make the most of the opportunity to be at MAGIC and hit the ground running when they get back to their studio? 
Kelsea Slade: It wasn't just about the competition, it was about the relationships I made while competing with other designers, interacting with attendees at MAGIC and speaking to past contestants like you. Even though we didn't compete in the same competition, we've forged that relationship. 
While I was competing, it was about grinding and working really hard, but it was more important and valuable for me to interact with people. At the end of the day, that's why you're there. After the competition ended, I had a ton of business cards and made a ton of connections that have helped me. 
Being conversational with people was really good. There is very little time to talk about what you do, so taking advantage of every moment and interacting with people to create those relationships was so important. Not even at booths, but eating lunch or traveling to and from the show, that's when you start making the most valuable connections. 
Mary Lai, winner, 2013 The Ones to Watch™ competition
How did competing in The Ones to Watch™ competition at MAGIC 2014 help grow your handbag business? 
As a business owner, it was great for my growth as a person. It was a huge boost in confidence to be invited and to ultimately win the competition. Being able to perform in front of all those people attending MAGIC was something I never thought could happen. And then, the opportunity to interview Diane von Furstenberg at CEO BootCamp in the fall was another reassurance that told me I'm doing exactly what I should be doing. 
As a small-business owner, I'm constantly questioning what I'm doing, so it was awesome to compete at that level and it really allowed me to step up my design process to make something I wouldn't normally make. It propelled me to do more and be more confident with my designs. 
What is your favorite part of owning and running your own business? 
I love being my own boss. I love creating. I have a lot of women who I have bonded with over my products. It's a reflection of who I am, so I like putting that out there. It's personal and feels really special to provide a product for someone that they can wear and enjoy, and come back and buy more because they love it. It's an intimate experience and I really like it. It's also really scary and makes you feel vulnerable. But I've found that it's good to be vulnerable and put yourself out there. 
What part of running your own business presents the biggest challenge? And how do you tackle that challenge head on? 
The biggest challenge for me is addressing my weaknesses. I'm creative, but I'm not really good with the back-end of things—the numbers that go into making a business run. For three years, I was trying to do everything. I realized I needed to hire experts to do those things, like accounting, that I'm not an expert in, so I can focus on the parts of the business that I love. 
What advice would you have given your younger self when you were starting your line?
Hire someone for the back-end part of your business and let yourself thrive as the creative. It took me a long time to realize I needed an accountant and a manufacturing partner. Having people that are smarter in those areas than I was made a huge difference for my business. I was spinning my wheels for three years trying to figure everything out—and when I brought people on board who were experts, it was a game changer for my business.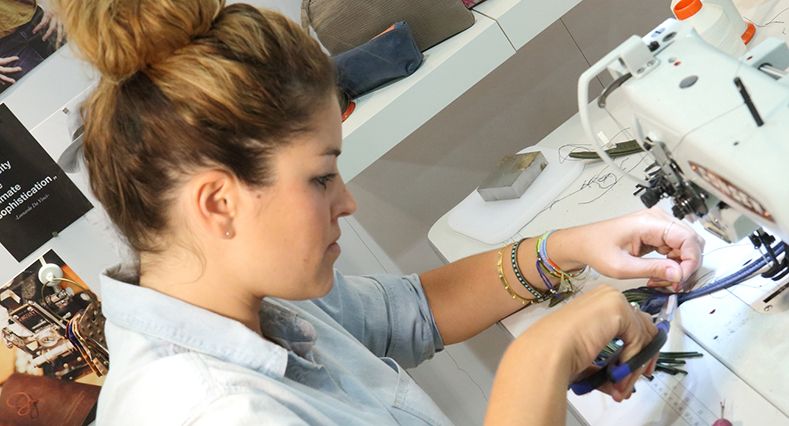 Kelsea Slade, winner, 2014 The Ones to Watch™ competition
Who do you look to for advice or guidance as your company grows?
Individuals who have grown their business from the ground up. I also reach out to people in the industry and go on websites like OPEN Forum for advice and guidance. I have a friend that designs jewelry and we'll talk for hours about social media, blogging and design. I really value the conversations and connections with people who will sit down with me and talk about how to tackle the challenges that come up.
Did you need to change your approach to building your business and brand after attending an industry-leading trade show?
Going to MAGIC was a good eye-opener for me. I'm from a small town in southern Indiana where I don't get a lot of exposure to the fashion industry. MAGIC gave me firsthand experience with the industry and what goes on behind the scenes.  
Being exposed to other companies at MAGIC reminded me of how small I am, but that I could be that professional, too. It made me want to up the level of professionalism in my business. After I got back from MAGIC last year, I hired photographers and stylists to do a professional photo shoot. I updated my site and look book. It made a huge difference and now I'm gearing up to shoot for my fall designs and look book. 
How do you continue to stand out and evolve your business and mission? 
That's definitely a question I've had to wrap my head around. The truth is there is nothing new out there, everything has already been done, but I think my business is unique because my perspective is unique. I don't live in a large city with access to all the latest trends, so I have my own vision from my small town experiences. And that makes my products stand out. 
My focus on American-made products is also unique, as I'm not going overseas to make my accessories. On the one hand, that doesn't allow me to make as much profit on my product, but it allows me to stand by what I believe in.
What is next on the horizon for your business?
I am currently only online, so I'd like to have a storefront. I've been working on what that looks like, where the perfect location is and branding, etc. The plan is to have K.slademade products, but also have other American-made products that I currently feature on my site. 
Photos from top: Shutterstock; courtesy of Mary Lai; courtesy of Kelsea Slade