When Inson Wood was an undergraduate studying abroad through Cornell University's College of Architecture, Art and Planning, he found himself sipping Chianti and Barolo in a 16th-century courtyard in Rome. Inside the Palazzo Massimo, he listened to his professional hero and professor Colin Rowe wax poetic on a range of subjects, from Medici family history to the philosophical heart of his famous 1947 text, The Mathematics of the Ideal Villa.
Given that seminal experience, it's no wonder that Wood—now a self-described "Renaissance man" and sole principal of Inson Dubois Wood, a 10-person New York-based architecture and interior design-firm founded in 2005—now takes junior employees of his own on trips around the world to interact with clients. In the last year alone, they've worked on projects in Thailand, China, France, Spain, Germany, Sweden and Italy.
"Many designers prefer to meet one-on-one with clients, so I'm somewhat unconventional in my push to include as many team members as possible, from interns to designers and draftsmen," says Wood, who focuses mostly on residential design but has a growing list of commercial projects. "Employees give more and gain more once they have a deep grasp of client intentions. The end result is a designer who is an adept listener, and an entire team that's responsive to the goals of a project."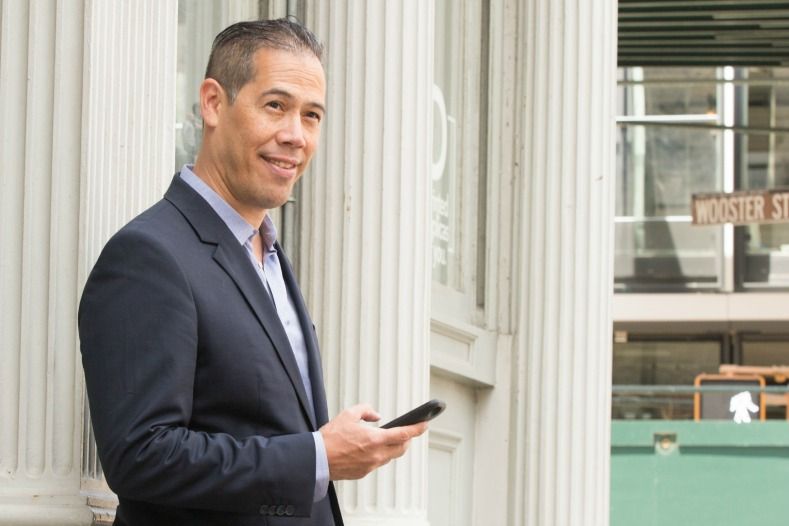 Inson Wood
With a management style motivated by the mutual benefits of a mentor-mentee relationship, Wood thrives on advising—and being advised by—a younger generation. Though 90 percent of new clients discover the firm through personal referrals, according to Wood's estimate, a surprising number of projects have resulted from a Facebook strategy inspired by some of his freshest recruits. From these Millennial employees, who value openness, transparency, and a constant flow of information, Wood has learned to embrace the notion that there is no such thing as privacy in the digital age. "My brand is my lifestyle, so I'm willing to share as much as possible with potential and current clients," he says. "It's not all glamour—sometimes it's standing in the rain watching my kids play soccer, or a simple acknowledgment of laborers working on a job site—but these simple images support that I'm an open book and a fully transparent brand. People know I am a caring father attending my kids activities, and that I'm involved and conscientious on all levels."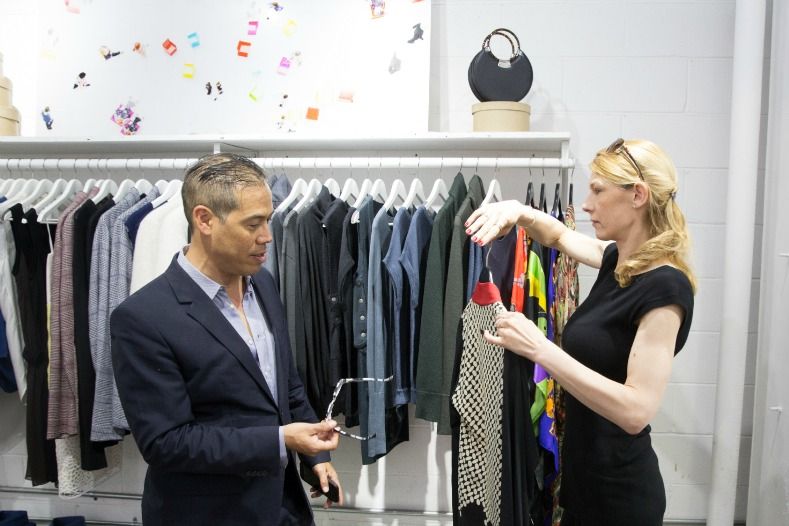 Wood with Daniela Zahradnikova, co-creator of Space Sixteen.
In addition to fluency in social media, critical thinking and creative problem-solving skills learned at top universities, new hires have also arrived with technological capabilities that go beyond industry standards, according to Wood. "One employee was proficient in a 3-D software I had never heard of, so I took a chance and purchased the expensive software," he says. "The result was one of the most creative and collaborative designs we have ever created. The client was stunned by our totally innovative forms for everything, from custom furniture to designs for a futuristic house cast in concrete and wrapped in curvilinear solar panels."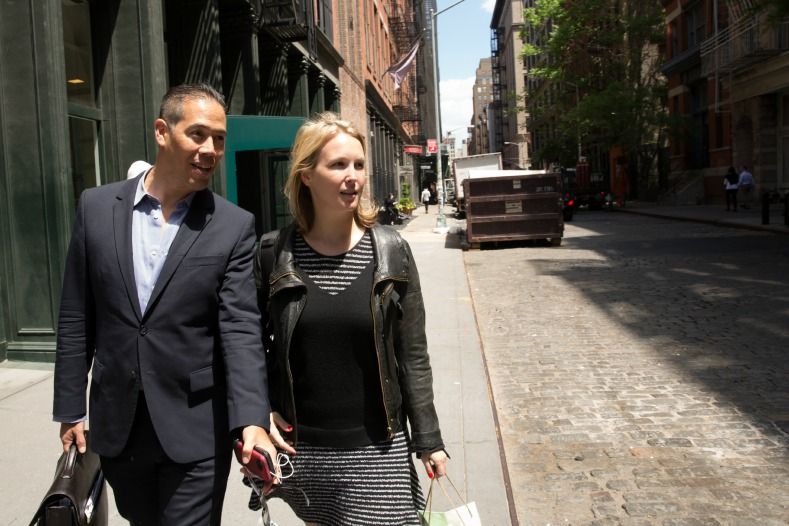 Wood with one of his clients, Sophie Elgort.
By involving young team members in as many aspects of design projects as possible, Wood nurtures a well-rounded staff through exposure to design development and presentation, project planning, vendor sourcing, client interaction, site supervision and even financial budgeting. While acknowledging that employees have individual strengths in certain areas, he believes that helping them to develop on many levels will lead to a healthy, interconnected whole staff.
"A holistic approach to design produces compositions that feel like an orchestra in harmony—no successful venture is a one-man show," Wood says, citing the firm's solution for a client who wanted a stone version of a fully integrated, custom bathroom vanity-sink with zero appearance of a drain.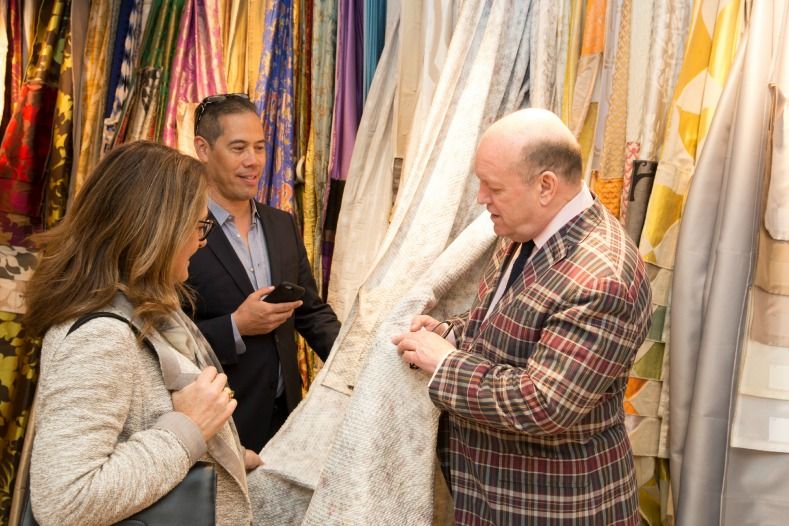 Wood and client Camille Knoll (left) discuss fabrics with Christopher Hyland.
In that case, an intern came up with the idea of abandoning stone and other organic options like ceramics and wood for the project, suggesting in their place a beautifully seamless, non-porous synthetic. The team was able to construct the entire vanity-sink from this material with a removable slab, making the drain invisible. With the confidence gained from this experience, the intern eventually developed a whole line of waterproof, organically shaped and scratch-resistant furniture.
Members of Wood's team can find themselves meeting with clients in pre-war Upper East Side townhouses, modern glass homes in the Hamptons or opulent Greenwich mansions. On a recent Friday in Manhattan, flanked by a small entourage of assistants armed with cell phones and tablets to take notes and document client inquiries, Wood began his workday by helping a young artist-socialite scout for furnishings. From one of his so-called "secret sources," a packed midcentury modern boutique in SoHo with below-market pricing, it was onto a neighboring high-ceilinged showroom featuring contemporary heirloom-quality hardwood American furniture.
The next stop, with another client uptown, was a high-end Italian furnishing company in the Architecture & Design Building, followed by a lesson in textiles from the legendary Christopher Hyland at his showroom in the Decoration & Design building.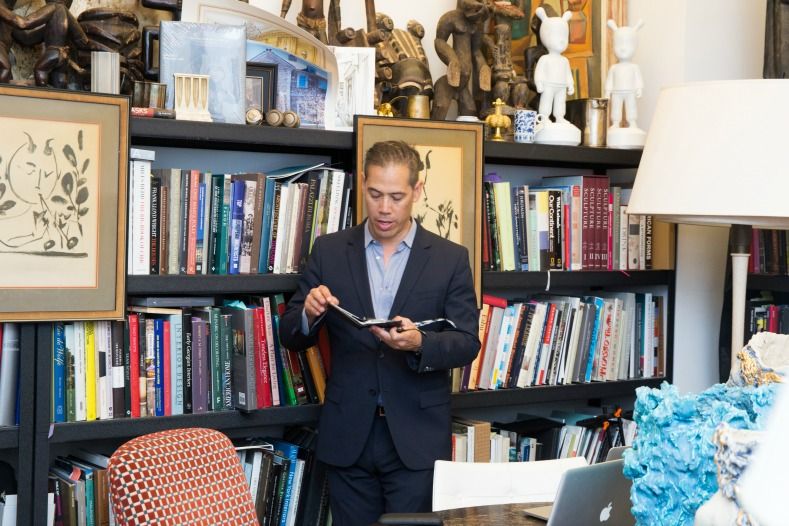 Wood in his New York City office.
While there's no such thing as a typical day for Inson Wood and his team of up-and-coming designers, he makes a point of leading by example. Whether listening to him expound on arcane aesthetic theories or watching him stretch out, fully clothed, in a luxury showroom bathtub to elicit a laugh from a client, his proteges absorb that same lesson he learned as a student in Rome decades ago: Follow the mentor, and one day, you might find your way to an ideal villa.
Photos: Christopher Lane
INSON WOOD / INSON DUBOIS WOOD / MEMBER SINCE 04