Despite the sound of eight wheelers hurtling overhead on the Gowanus Expressway, Sunset Park in 2014 isn't exactly known as the hub of industry it was a little over a century ago. In 1895, developer Irving T. Bush put the Brooklyn neighborhood on the map when he built an impressive manufacturing, warehouse and distribution complex along the Hudson River. With more than 6 million square feet of industrial floor space, Bush Terminal, as it was known then, became a major hub of activity worldwide with thousands of people working within "a great industrial city within a city." However, the shift in America's economy from manufacturing to knowledge-based jobs in the 1950s led to a slow but steady exodus from Bush Terminal, leaving only a few manufacturers occupying the massive space for decades.
It's ironic then that the same shift in the business world that led to the complex's decline may be responsible for the building's renaissance in 2014. Now known as Industry City, the historic building's new owners are keeping existing old-school manufacturers who still call the building home, while attracting a new type of business owner, says Andrew Kimball, CEO of Industry City.
"The reality for the market is that people are starting really small," Kimball explains. "And because it's cool to make things again, you have this creative class" in need of space. Tapping into that group of makers, the new Industry City is "actively cultivating a vibrant tenant mix that fuses today's burgeoning innovation economy with traditional manufacturing, artisanal craft and both green and clean technologies."
With 400 tenants and a lively network of artists and supporters, Industry City has become a community for makers who keep one foot in the past, with many companies eschewing fast-paced production in favor of handcrafting their wares. Knowing that there can be someone just down the hallway with expertise your company needs to grow has also created synergies, with businesses past and present working together whenever they can. OPEN Forum spoke with three of those businesses to learn how they're bringing their old-school passions into the new economy.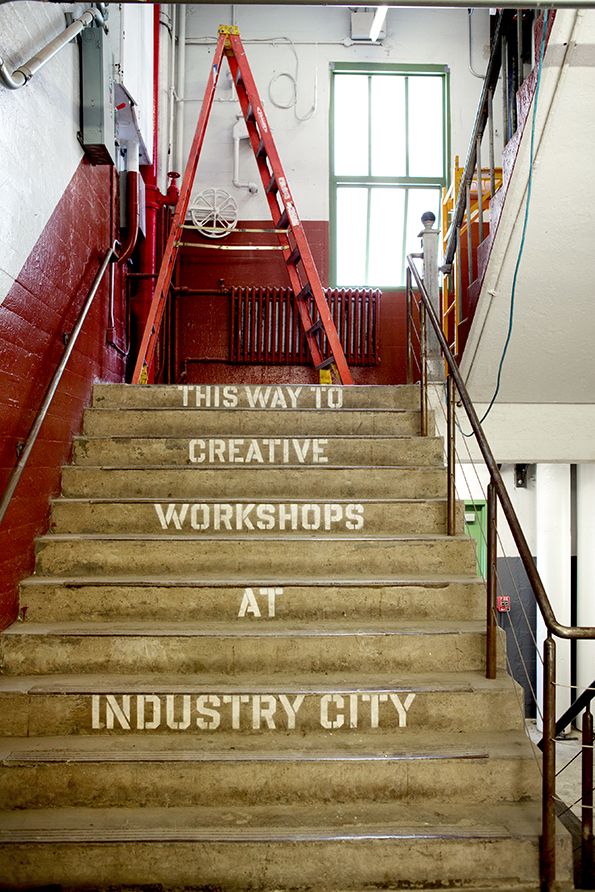 Barrow's Intense Ginger Liqueur
"I like making my friends happy, and now I just seem to have more friends," says Josh Morton, the owner and founder of Barrow's Intense Ginger Liqueur. Morton's business has been three years in the making, but it was only a few months ago that he was able to legally sell his liqueur made of 100 percent pure ginger. After years of experimenting with different types of liqueur flavors for family and friends, Morton was ready to take his small operation from home to store shelves. But thanks to a liquor license application requirement, finding a place that would meet his needs was difficult, he says.
"As part of the application, the landlord has to sign off that they know you're a distillery and are OK with you being on their property," Morton explains. "A lot of those smaller spaces are sublet and when you have a sublet, you can't get the owner of the building to sign off on the licensing."
Luckily, Morton learned of Industry City, which was not only able to sign his application, but also had enough space to offer when its new tenant quickly outgrew his original location. Now in four states, Morton hopes his brand of handcrafted spirits will work its way into more states in the coming year, without moving away from its labor-intensive craft to scale.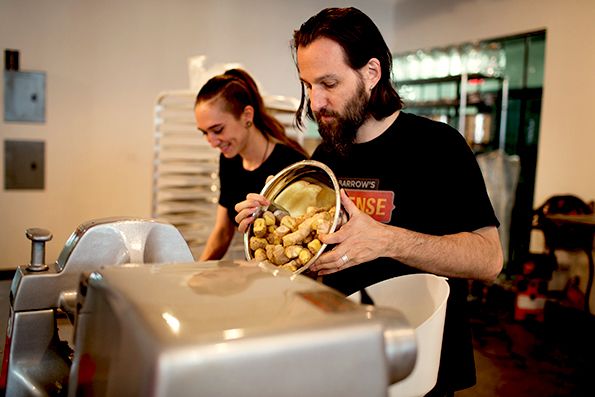 "Nothing about our process is new or innovative," says Morton. "It's been around for hundreds of years. The goal is to be an international brand, [while] making the product in the same way, and that will be a challenge in terms of scaling and maintaining the level of craft that we [have] now. We don't have the option of just buying everything in a five-gallon drum. We gotta do it the hard way." 
You can't help but get a whiff of the sharp and spicy root everywhere in the company's section of Industry City, even as soon as you get off the elevator. Barrow's Intense is made of only four ingredients—ginger, sugar, neutral cane alcohol and water—and each batch takes a little over a month to be ready. It takes a whole day to wash and cut up the ginger, explains Danielle Hengee, manager and head production at Barrow's Intense. "I feel like I've gotten to know ginger really well," she says, laughing. "I have a relationship with it."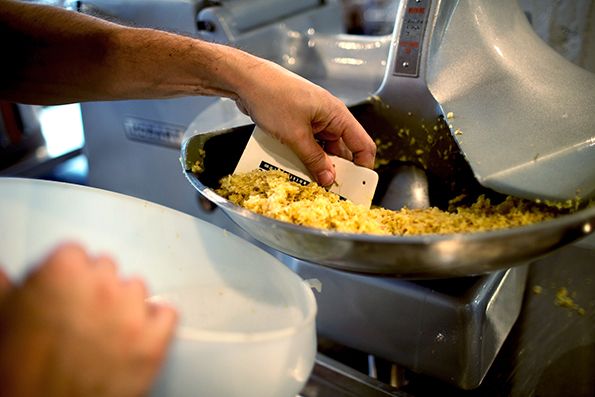 "It was a hobby," Morton says of making liqueurs from various fruits and vegetables. "I learned how to make your own liqueur from a friend. I did that for 10+ years. The ginger became very popular and my friends encouraged me to turn it into a business." Here, Morton scoops out freshly grated ginger from the business's Buffalo Chopper. Since moving to their new space within Industry City, they have gone from producing 25 cases to 170 cases of the liqueur, approximately seven times more than their previous volume, he says.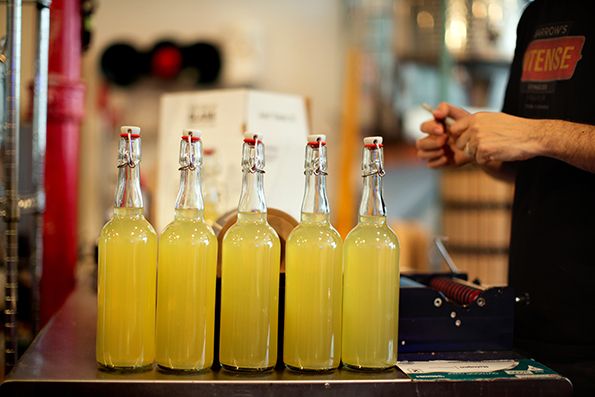 Everything from processing the ginger to labeling the bottles is done by hand. Morton has gone from having "labeling parties" with friends to hiring help, and recently reached out to the Industry community to find craftspeople who could help create equipment for the bottling process. "They were able to quickly create something for me that solved the problem," he says. "It was easy and fast and wonderful."
Lankka
If big businesses' origin stories tend to happen out of garages, small-business owners can relate to how Lana Stepul and her daughter and business partner, Katerina Bakunina, started their fashion line Lankka.
"We worked out of our bedroom for almost three years," Bakunina says of the brand's early Etsy-only days. "It was a hobby for me, just helping her out, customer service ... Of course, I was the model! Whenever we would shoot, we would move furniture to the side." Stepul, a prolific designer who created her own designs while also working for high-end women's brands, designed ultra feminine yet classic pieces and built up a fan base eager for her work.
"A lot of our customers wanted to come to us," Bakunina recalls. "They would constantly ask us, 'Do you have a studio, do you have a showroom, do you sell in boutiques?' Sometimes we would invite them to come over to our house, but that's still a house." 
Realizing "we cannot create something awesome doing it at home," Bakunina decided to quit her corporate job in IT and fully commit to turning her mother's passion into a self-sustaining business. And they already knew where to begin: finding a real space where Lankka could grow.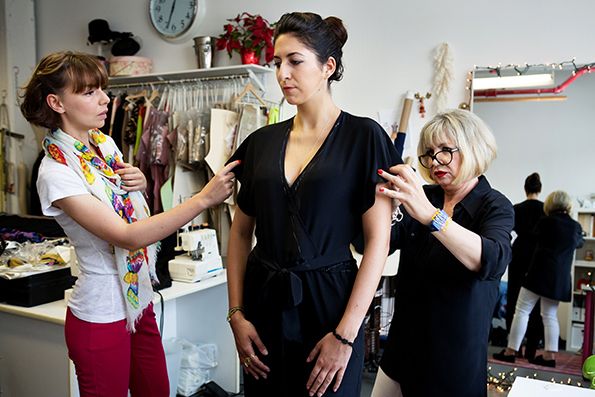 "Every time we drive on the Brooklyn-Queens Expressway, I would see those awesome industrial spaces and I would think to myself, 'Wow, what is happening there?'" Bakunina recalls of her first encounter with Industry City. "This was the first place that we looked at, and it was like, 'We're not looking at any other places because this is it.' It really felt like home."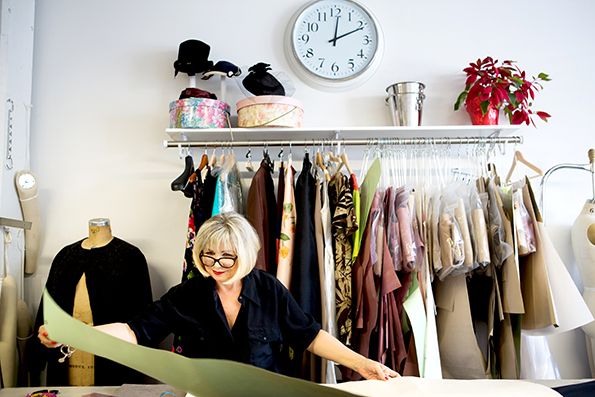 "The level of custom work we're able to provide now is just so much higher," Bakunina says. "Production increased, we're able to put more machines in, we're able to have another person work with us full time, we're able to have meetings with customers—we're no longer losing sales because we cannot have them over." Though their capabilities have increased by moving into a dedicated space, Bakunina and Stepul still want to keep things small. "Every piece that you see here, she's touched it with her hands at one point," Bakunina says. "That's the kind of energy we want our customers to feel, too."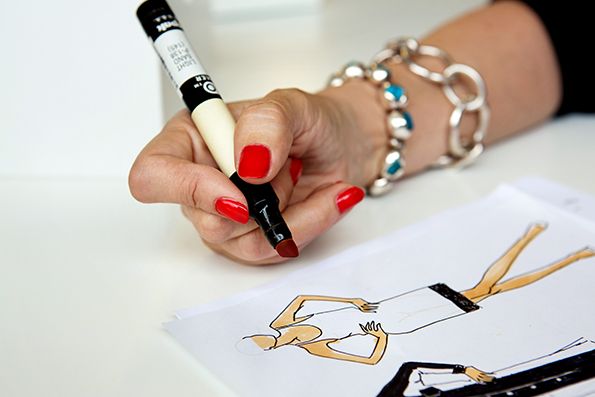 "Back when she came here maybe 20 years ago, she worked as a bagger in one of the sewing factories here," Bakunina explains. "[She put] a plastic bag over finished garments and she was making 2 cents per garment. She basically came full circle from being a bagger to finally just starting her own thing. We're basically in the same space, but with our own business."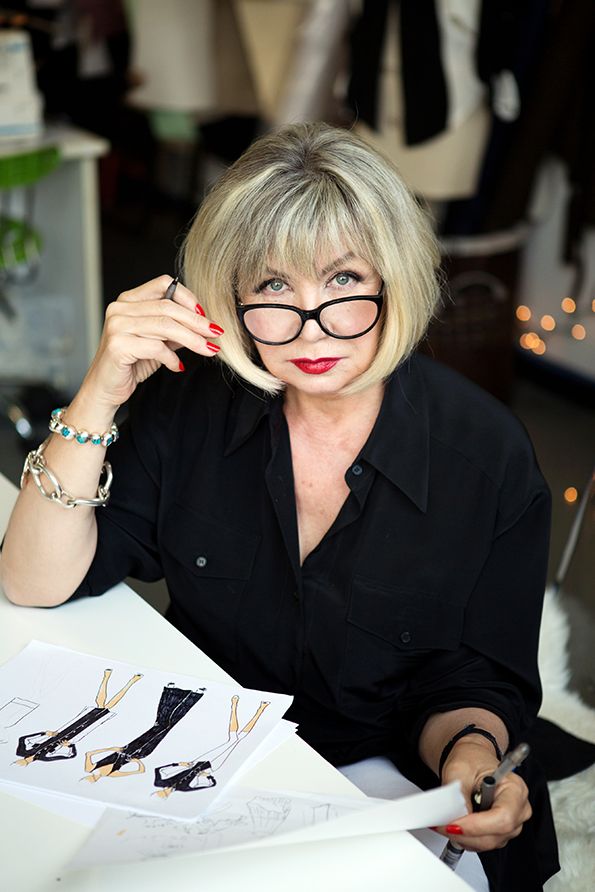 "My inspiration came from fabric," Stepul explains. "I see the fabric, I see the dress." Moving to their studio in Industry City has improved her creativity, thanks to an unlikely factor: organization.
"When you have little space, no matter how wonderful you are at organizing, you cannot be organized," Bakunina says. "Here we try to create a flow: from fabric to cutting table, the pattern is right there, it's not stored in the garage or anything. She has access to everything within her hand's reach." 
SPark Workshop
Necessity was definitely the mother of invention when it comes to SPark Workshop Brooklyn, a cooperative workspace for creatives who want access to power tools and space for their projects.
"I was looking for studio space for my sculpture studio," explains Gary Oshust, the workshop's owner. "There are a lot of art studio spaces in the city, but not a lot cater to some of the messier disciplines. I thought since I'm having a hard time finding a studio for myself, maybe I should open a bigger space and give other people like myself a place to work."
Oshust was right: Other professionals and hobbyists were looking for a space just like SPark Workshop to have access to tools they may not be able to afford and to work on projects they may not have room for (especially in New York, where space is at a premium). "One part art studio, one part incubator space, one part wood shop," SPark has become a refuge for artists whose biggest struggle is finding the means and tools to execute their vision.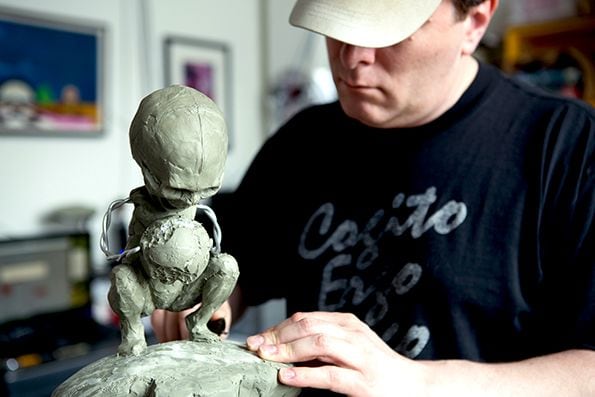 "I didn't start with the intention of building a woodworking space; it just sort of happened naturally and organically," Oshust explains. "As a sculptor, I really only need three tools in here. One of my first tenants came and he was trying to downsize his larger shop. He took a small space here and we put a lot of his tools in this space, and just started adding more tools that benefitted the woodworkers."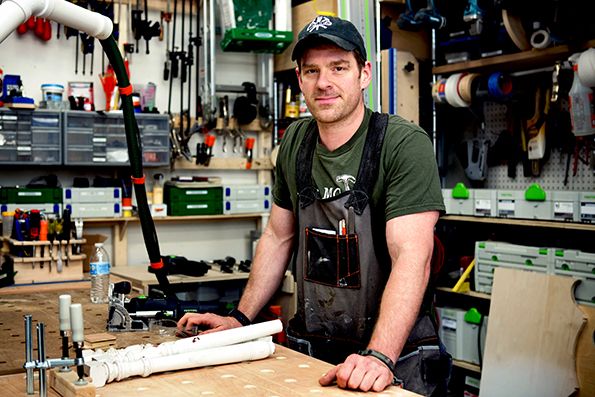 "This place is awesome," says Jimmy Little, the owner of Bug Dog Studio, which makes custom furniture and cabinetry. "It's nice to be in a co-op shop where I know nothing is going to go wrong." SPark Workshop has 15 private studios that are currently all full, as well as 21 lockers that hobbyists often rent out to hold their materials, tools and projects. 
Musician Warren Hemenway came upon SPark Workshop while Googling for a space to store his work—furniture made from reclaimed materials, such as deck wood. "It's accessible and the price is right. It's a really easy place to work out of; I don't have to deal with the details," Hemenway says. Though he says he's "not a master craftsman, by any means," Hemenway relies on the expertise of professionals on site whenever he needs help. "I'm just the artist trying not to wait tables," he says with a laugh. "There's stuff in here that blows my mind."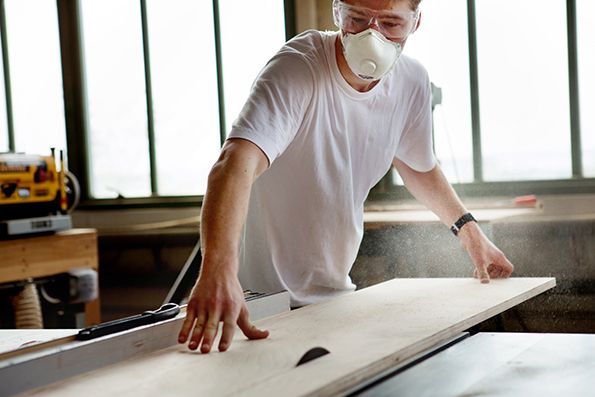 The SPark community goes beyond sharing suggestions on what tools to use in the workshop. "When I see things that make me think of a certain member, I'll pass it on," says owner Oshust. "It's sort of a two-way street."
 Read more articles on leadership.
Photos: Julie Glassberg/Redux Pictures