Over a decade ago, I wrote a book titled: "The Shape-Shifters: Continuous Change for Competitive Advantage." For years, everyone I've told about the book has asked me, "What on earth is a Shape-Shifter?"  The answer doesn't exactly come from "on earth!"  The term "Shape-Shifter" comes from the Star Trek character who "assumes whatever shape is conducive to success in the mission." (Later seen in the X-Men movie series.)
What a great metaphor for an innovative company. At the time, I shared this idea with author Tom Peters, and he challenged me to use the term "Shape-Shifters" as the book's title. The more I worked with the words, the more I saw how it described an innovative business model capitalizing on continuous change; thus the subtitle of the book. But what, exactly must a "Shape-Shifter" do and be?
Whenever people in any situation are asked to change, after the initial wave of resistance, there are three questions that are asked: "Why, to what, and how?
WHY? - The "why" is because continuous change is the only true source of sustainable competitive advantage in these unprecedented times. The really successful companies and people win by innovating to capitalize on change instead of resisting it.  They are always coming up with new ideas and changing existing products or services to provide the best value to customers, not just now, but "in the future"  because best value is also a constantly shifting target.  
WHAT? - Once the "why change" is answered, then the question becomes "to what?"  Value is the critical measure to help in deciding "to what." Value is a word we all know and understand, at least superficially.  When everyone sees or hears the word value, there are as many different mental pictures (of "value") as there are people, and each one is a little (or a lot) different.  To help unify the "picture" of value, I use five broadly defined value attributes: Quality, Service, Speed, Cost, and Innovation. I found that a graphical device helped get everyone on the "same wavelength."
Using these five attributes, a series of simple diagrams can depict value as a "shape." For any product, or service, assign a numerical rating between 0 and 10 to each of these value attributes. Plot these value "ratings" using a "pentastar," a five-axis "graph," and connect the dots.  Watch the "shape of value" (SoV) emerge.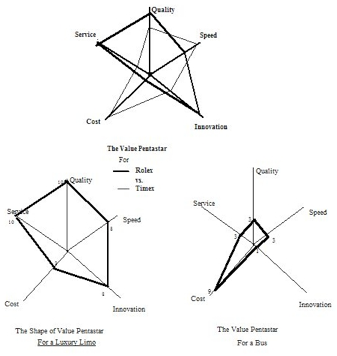 The Shape of Value diagram can help a group achieve consensus on a mental picture of value -- ideally, a "shape" that matches the customer's desired Shape of Value. Then, when the customer's Shape of Value shifts, so must your value proposition.  There is a lot more to deeply understanding value, but confirming that it is situational and constantly changing is enough for a start.
By drawing Shape of Value diagrams for customers, suppliers, competition, etc., it is easy to "see" (and communicate to others) how your company measures up competitively.  This exercise can help direct where your innovation efforts need to focus.  Overlays can expose gaps and these gaps point to attributes and dimensions where action is needed.
This is an exciting time to live and work, if only you can learn to capitalize on change through innovative thinking (and action) and thus, make change your ally, not your enemy. The customer's picture of value is an ever-shifting one.  Are you ready to become a Shape-Shifter?  Or will your competitor Shape-Shift ahead of you and match the customer's shape of value better than you do?  Your future depends on the answer! (But that's a topic for future articles.)
* * * *
John L. Mariotti
is President and CEO of The Enterprise Group. He was President of Huffy Bicycles, Group President of Rubbermaid Office Products Group, and now serves as a Director on several corporate boards. He has written eight business books. His electronic newsletter
THE ENTERPRISE
is published weekly. His Web site is
Mariotti.net
.