Thomas Edison had it right when he urged, "There's a way to do it better -- find it." At the heart of every innovation big or small, radical or incremental, is a single question driving the ingenuity of the innovator: Is there a better way?
Take, for example, the work of fashion designer Lu Kun, who has single-handedly put Shanghai on the international fashion map by pursuing that question. Lu was tired of China being perceived as one big factory. He was tired of China's clothing industry paying no attention to detail with its uninspired design. He knew there was a better way, and he set out to find it. His mission: demonstrate that creativity and innovation are alive and well in China.
The road wasn't easy. Undaunted by China's lack of a financial backing system for developing promising fashion designers, Lu began by learning the basics of fashion design in a vocational high school. He then spent three years learning the ropes hands-on: a year with a Shanghai tailor shop cutting and sewing followed by a year with a startup Hong Kong fashion label. A third year found him teaching sewing technique and production design at LaSalle International Fashion School in Shanghai, after which Lu considered himself ready to set out on his own.
Lu began as a personal fashion designer for wealthy individuals, then quickly decided to design an entire line of special occasion and upscale casual wear. Drawing his inspiration from what he knew best -- the streets of Shanghai -- Lu's bold and original creations were soon hailed as elegant and imaginative, yet at the same time distinctly Shanghainese.
Lu's "Shanghai chique" designs have won him the title of Best Young Designer by the Shanghai Fashion Federation, as well as the nickname "China's own Galliano." Until the arrival of Lu, no Chinese designer had achieved a presence on the international catwalk. Lu did it in about five years, well before the age of 30, and all from pursuing innovation's most important question.
Then there's the case of design student Deborah Adler, whose grandma Helen took grandpa Herman's prescription medication Amoxicillin by mistake, which for Adler was a clarion call to apply her skills and make sure such a thing never happened again... to anyone, anywhere.


Coming from a family of doctors, the world of medicine was a familiar one. When the unfortunate accident occurred, it became clear to Deborah that she had an opportunity to develop an idea that both hit close to home and satisfied her need to help others. She framed innovation's most important question as "How can I make medicine bottles more safe and user-friendly?"
Want more tips on innovation? Check these stories out:
She immersed herself in the problem, exploiting her own need for an MFA thesis project at New York's School of Visual Arts. She discovered that people take medication incorrectly 60 percent of the time. Grandma Helen's problem was almost universal.
Medication bottles hadn't changed much in 60 years. Sure, there was child-proofing in the 1970s. But simple observation told a story of deadly complexity: inconsistent labeling, confusing numbers, poor color combinations, hard-to-read shape, and tiny type (except for the drugstore's name and logo).
Adler's goals? Clarity. Visibility. Intuitiveness. Personalization. The new design included turning the bottle upside down and flattening it, so the label didn't wrap out of view. The prescription information was delivered in a hierarchy of priority, starting with the medication in big bold letters. Back label directions (such as "Take with food") were standardized and icon-based. An information card tucked neatly into the back of the bottle label. Color-coded rings made it hard to take the wrong medication, because every family member had their own designated color.
Target liked it so much that they bought up her patent rights and fast-tracked the design to all 1,000-plus Target pharmacies nationwide, dubbing it "Clear Rx." The New York Museum of Modern Art considered Adler's design so unique that it put the Clear Rx on display as modern art.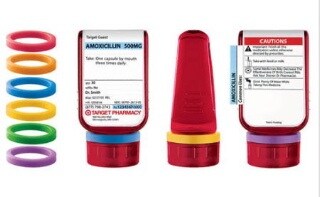 There is no limit on better, so if you're not constantly asking innovation's most important question, you're short-changing your ability to change the world!