Affiliate marketing is a sales strategy. Businesses or individuals link to a merchant's products and receive a commission if the affiliate partner gets a sale. The strategy is sometimes known as performance marketing.
How effective has this strategy been?
The 2010 IAB Internet Advertising Revenue Report showed that performance-based advertising models accounted for 62 percent of Internet ad revenues, up from 59 percent in 2009. In 2010, affiliate-marketing pioneer Amazon derived 40 percent of its more than $34 billion in sales from its program, according to Wikipedia.
Forrester Research projects that U.S. spending on affiliate marketing will reach $4.1 billion in 2014, up from $1.6 billion in 2007.
There's no doubt about it. An efficiently run affiliate program can create a significant boost in your online sales.
Affiliate program pros and cons
An affiliate program lets you use a talented and savvy sales force that is only paid when they sell. You decide how much the commissions will be for those sales.
It can also help create brand exposure for your business. Depending on the competitiveness of your sector, there's a good chance your competitors are already doing it.
But affiliate programs aren't without their drawbacks.
Your affiliate partners can compete for brand-related organic searches in search engines like Google.

Your affiliates will likely compete with your paid-search marketing efforts. A 2011 study showed that 60 percent of affiliate marketers use Pay Per Click as a sales vehicle to promote their affiliate links. However, the difference between competition from your affiliates and the other merchants you compete with is that you still profit from your affiliate competition.

You can't fully control the message of your brand exposure. "Rogue affiliates" can reflect negatively on your brand if they use sketchy tactics like e-mail spamming, false advertising, trademark infringement and other low-value practices. Set strict promotional guidelines and monitor your affiliate partners to ensure that they remain in compliance with them.
Is an affiliate program right for you?
"The quickest way to determine if an affiliate program is viable for a merchant is to check whether their competitors are running one," says Shawn Collins, co-founder of Affiliate Summit. "They often have a link in their website footer to their affiliate program if they have one. If you find affiliate programs for your competition, have a look at their commission rates to figure out what affiliates expect in your vertical."
If your competitors are running a program, and you can afford to compete with their commissions, an affiliate program may be a good option to add to your online-sales arsenal. Affiliates want to work with sites that convert, so your own website must have a successful sales record for affiliate marketing to be a realistic option.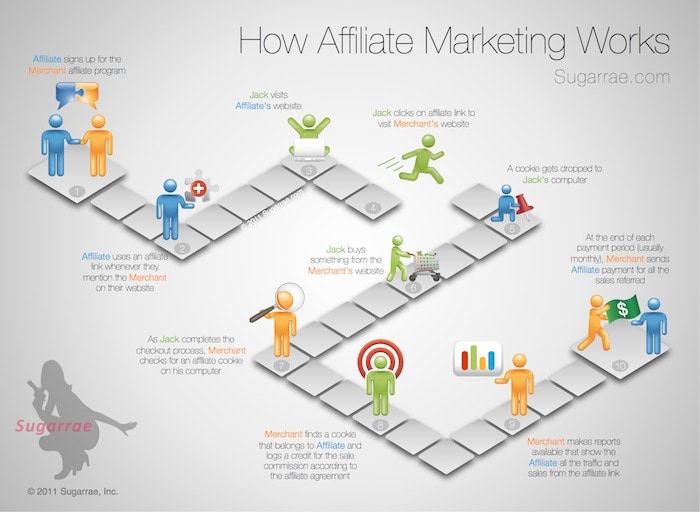 Taking the plunge with an affiliate program
Affiliate marketing can be a daunting prospect, especially for those new to the concept. Here are some questions you'll have to deal with.
Going with a network
If you're a small-business owner making your first foray into affiliate marketing, use an affiliate network to run your program, especially in the beginning. And for most small businesses and merchants, I'd recommend ShareASale network. They fit a small-business owner's budget and are held in high regard by affiliates and merchants alike.
Hiring a program manager
Depending on your budget, you may also want to consider hiring an affiliate program manager to manage your program once it's on the network.
Affiliate managers can help you create affiliate guidelines, design commission structures and recruit new affiliates. They'll show you how to ensure that enrolled affiliates have the tools they need and they can monitor affiliate compliance with your guidelines. They'll help you avoid mistakes that can cost you high-producing affiliates.
So how do you find a qualified affiliate manager?
"Finding the right affiliate manager is a difficult task because you need to trust them with building up to 20 percent of your sales," says Greg Hoffman, a veteran affiliate management professional.
"Managers need to be advocates for both the merchant and the affiliates. Their primary concern should be educating the affiliates on how to specifically promote the products. But they also need to be open-minded to listen to suggestions from the affiliates.
"The best way to find one is through referrals. Great managers have solid reputations in the industry. Ask an affiliate!"
Rae Hoffman-Dolan a.k.a. "Sugarrae" is a serial entrepreneur and well-known SEO consultant specializing in SEO-audit services and link-building strategies. She is also the co-owner and SVP of marketing for Speedy Incorporation.