Charlotte Beers first started her advertising career as an account executive, moving up the ladder to vice president and then CEO of some of the world's biggest firms, including Ogilvy & Mather Worldwide, where she increased billings by $2 billion in five years.
The first woman featured on the cover of Fortune, Beers also spent two years as Under Secretary of State for Public Diplomacy and Public Affairs, conducts seminars on women's leadership skills, and has written a book, I'd Rather Be in Charge.
On March 26, 2014, Charlotte Beers will speak at American Express's OPEN for Women: CEO BootCamp event in Los Angeles, sharing her secrets for success and talking about how women can become more confident leaders by embracing their authenticity. Leading up to the event, OPEN Forum spoke with Beers to find out more on becoming a better leader, why women business owners should celebrate their own bravery, and why they should always bet on themselves—even in the face of adversity and doubt.
You've been referred to as the most powerful woman in advertising. When it comes to advertising, what do you think smaller companies can do to attract women clients and customers?
I think you have to be in an environment that's women-friendly. There are places that I think women gather to support one another and to create a community. I think if you can enter that community respectfully, then you become a part of the dialogue.
If you're a small company, the most affordable medium in the world now is digital, but you need to have a very customized message. That's the point. You have to signal your customer on digital in a very specific way. You have to find their particular interests and tie your product to it.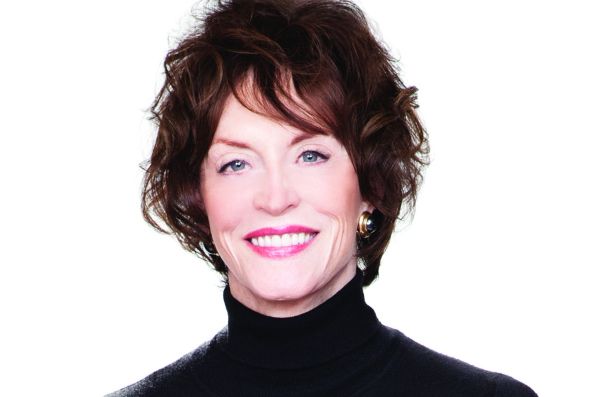 Former Ogilvy & Mather CEO Charlotte Beers
You've also conducted seminars about women's leadership potential. What's the biggest issue that women leaders have in common, and how do you tell them to address that?
I think the most important thing for women to realize is what an advantage it is to be a woman. That's not on the surface of our thinking, because there are a lot of prevailing expectations and what I call environmental factors, where women are expected to be nurturing, to be communal, to be collaborative. It can keep you from stepping out of the team and becoming the leader you can be.
It must be wonderful to live with someone like that at home, but when you're in the world of making something happen and conducting business, the advantage that women have is they form a whole new kind of leadership. It's not borrowed from the men, who have their own natural style. While each of us has some distinctive styles, to me, the attractiveness of women is that they are so understanding of the dialogue of the way people work, of what people mean versus what they say. It's such a gift.
Women are naturally more intuitive. Women are naturally more verbal. In terms of being able to express themselves, women are unafraid of intimacy. Really, business can be very personal and intimate. If they take those strengths and they don't translate them into being motherly, but rather into being a leader with that kind of distinction, it's really potent.
What do you think that women business leaders can do to help each other?
First of all, women business leaders have to decide to do that. Everywhere I go I hear women tell me that with their female bosses, there is always one who's not helpful, who is still competing with other women. You can understand it, because women have come up in a period of what I call scarcity. They're assuming that there's only going to be one woman chosen, so they see themselves not as competing with the men, but with the women. That's a bad idea.
What women can do to help other women is just put that hand out. The other thing we can do is confront the women who are not inherently supportive and say, "This is unacceptable. I don't expect you to give me favoritism, but I am in the same league. We're in this tribe together." It's extremely rewarding. Generosity to other women is a necessary point of being a woman leader. That doesn't mean you don't support and understand the men, because that's part of your asset base. You don't favor the women disproportionally, but you spend time teaching and guiding them.
What has been your biggest challenge in your career thus far, and what did you do to overcome it?
In terms of skill set, I was being considered for moving from a job with two offices to a company that had 253 offices around the world. I technically wasn't qualified for that job. I knew a lot about clients and agencies, and I knew a lot about communication skills, but I didn't know as much as anyone in the company about the multinational corporations around the world.
I took the job anyway. The man who was courting me to take the job, he too took a calculated risk on me. The most important decision I made was to take the chance to bet on myself. When I asked him why he thought I could do the job, he said, "I think you're the only one who can." I never got over that, because I thought, "He didn't even answer my question. He went beyond it to this affirmation." I had met him much earlier and we had a good relationship, so there is the core beginning of a very good experience. Then I bet on myself, even though I had a serious weakness.
I want women to do that. I want us to bet on ourselves even though there is something still missing and we're aware of it. There is a McKinsey study that says if a job is offered and a man has two out of the 10 characteristics, he will raise his hand. A woman won't raise her hand until she has eight out of the 10. That's why I like my story.
What makes an entrepreneur an authentic leader? And what do women gain from having those qualities?
If you're big or little, authenticity means people will believe you. If you're on your own and your business is brand new, nothing is more precious than someone saying, "I think this woman is going to make it." They've got to believe you're into this for the long run and if you say something, it's true. You don't have as much of a support system as the big corporations do.
Authenticity means you know who you are and you know exactly what you can offer. It's not an exaggerated, "I am a conquering person." It's, "I am clear on what my exceptional qualities are, and when I make a promise I keep it." You can hear that belief in a person's voice and see it in their manner.
Leadership means I'm not just doing the obvious. I'm going past that to a place where I need to make you promises, which means I can't prove them but I can deliver on them. You've got to have a suspension of doubt. Authenticity is about all you've got.
If you could give one piece of advice to a woman who's starting her own business, what would it be?
I would say there's a certain amount of built-in failure to starting something on your own. It's not how far you fall, it's how fast you recover. It helps to accept that. The other thing I want them to know about themselves is that they are a lot braver than we corporate women. They should celebrate that bravery. I never could have done it. I had to go where they already had the stationery, the office, and the clients, and then I could jump in. To have the courage to go cold turkey into a business, to just believe in it and see if the world agrees with you—that is frontier bravery.
For more on CEO BootCamp, visit openforum.com/ceobootcamp.
Photos from top: Landon Nordeman, Squire Fox