Jessica Brondo Davidoff is no stranger to the small-business world. In 2005, when she was just 23, she founded The Edge in College Prep with a $3,500 loan from her father and money saved from a bartending job. After seven years in business, the online platform, which provides tutoring and college advisory services, was serving 15,000 students and operating out of four international offices. 
But during that time, Davidoff says she discovered "a big gap between the people who wanted those services and those who could afford them." That realization led her to start Admittedly in 2013. The new service provides similar resources, but it's free to students and parents.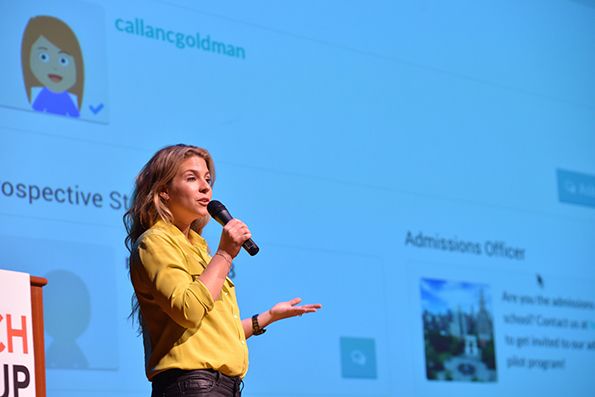 Building the Platform
After coming up with the idea for Admittedly, Davidoff applied to and was accepted into the Entrepreneurs Roundtable Accelerator (ERA) in Manhattan in May 2013. The accelerator's four-month program gives participants access to mentors, plus $40,000 in seed capital.
Through the accelerator, Davidoff met Emily Cole, a personality psychologist whose expertise was critical to creating the algorithm that makes Admittedly tick—it's driven by a database of 350 questions that students answer to help enable the site to match them with appropriate colleges and universities. While Cole is no longer with the company, Davidoff says, "she made sure the questions were asked in an unbiased way."
To help them determine the best college matches for them, students log on to the site, enter their standardized test scores and GPAs, then answer true or false questions that tease out information on everything from their preferences regarding weather ("My ideal winter involves wearing flip flops") to how they interact in the classroom ("Being called on in class gives me anxiety"). Davidoff likens the site to OKCupid, the questions-driven online dating site. Students also get access to free college prep curriculum and a network of mentors. 
"The accelerator program was really fantastic," Davidoff says. "We got huge insight into fundraising, and we learned a lot about the product design process and user experience." Through connections she met at ERA, Davidoff raised $1.4 million from RRE Ventures, Quotidian Ventures, Correlation Ventures, Joanne Wilson and others. Admittedly officially launched in October 2013.
Monetizing the Model
Davidoff notes that the private college admission counseling industry has grown 300 percent in the past seven years. While The Edge in College Prep, which she still owns but doesn't run on a daily basis, caters to the higher end of that market, Admittedly aims to scale to a much larger audience by making its services free to all. The company has already grown to 125,000 registered users. So what's the revenue model?
Davidoff is banking on marketing the site to college administrators, who'll be able to "own" a school page on the Admittedly site. "They'll assign student ambassadors to the page, and they'll be able to add custom media and engage with students who've indicated that they're interested in that school," Davidoff says. "And if a school wants to target students who would be a good fit, we can send information to students through our messaging system."
A base package for a school would start at $5,000 a year. But to build that feature, as well as a mobile app, Davidoff says she'll need to raise another round of capital this spring.
Lessons Learned
As an entrepreneur going through this for the second time, Davidoff's learned a thing or two and is determined not to make the same mistakes twice. "I really didn't know what I was doing when I started my first company," she admits.  "One of the mistakes I made was not trusting my instincts. But you're the one who knows your business and your product better than anyone, and if outside advice doesn't seem right, it probably isn't." 
Davidoff also learned a painful lesson about outsourcing. At The Edge in College Prep, she outsourced key functions, including finance and monthly reconciliations, only to discover a raft of miscategorized expenses at the end of the year. "What I thought was saving me time actually wasn't," she says. "Those things were tedious but super important. You need to know how to do them yourself before you outsource." 
She's also learned to be more strategic about PR and to be cautious about building pre-launch buzz. "Early on, we had an online SAT prep course, but if you have a lot of people coming to the site before you have much to offer, it's a waste," Davidoff says. "Brand building is good, but you really only have one opportunity to capture attention, so you shouldn't do PR before you're ready." 
Read more articles on business startups.
Photos: Courtesy of Admittedly