Throughout Elisabeth Crossley-Wright's childhood in Denmark, the family sat at the dinner table for hours, discussing social justice and community development. "In Denmark, it doesn't matter which side of the fence you're born on," she says, "because everybody has equal opportunity." As a social welfare state, the country provides free education, health care and other benefits for all residents.
Her mother, a teacher who volunteered to integrate refugee women and children by teaching them Danish, and her father, a human rights lawyer, instilled the belief that everyone deserves a chance. They taught their four children to give back to their community and contribute however they could.
Now based in Montreal, Crossley-Wright has created a jewelry collection inspired by the United Nations' 17 Sustainable Development Goals (SDGs). Through her company, With Love Darling, launched in 2016, she highlights global aims that are a given in her native country. These goals, adopted by all UN member states in 2015, provide a shared blueprint and "urgent call for action by all countries—developed and developing—in a global partnership."
The UN welcomes unique interpretations of their symbols representing the SDGs, says Crossley-Wright. With her Global Goals Charm Collection, she aims to create necklaces, bracelets, earrings and rings pretty enough to stand on their own, whether or not the wearer wants to publicize their meaning, or the fact that they're produced in workshops around the world using materials with fair-trade certification.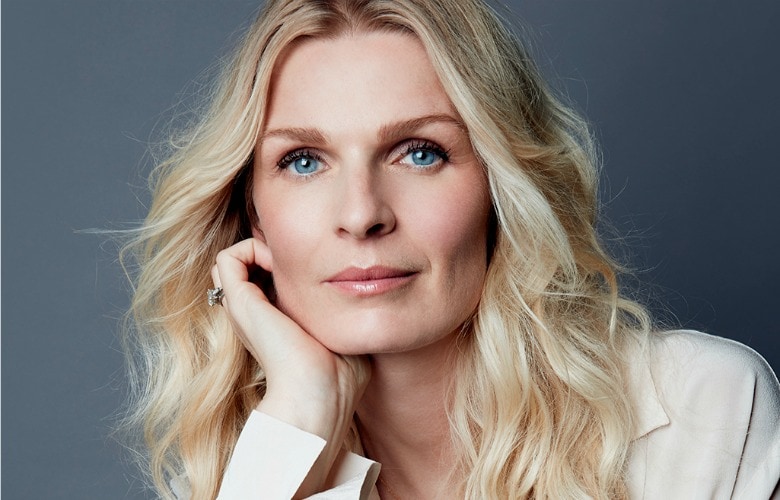 Photo: Elisabeth Crossley-Wright, founder of With Love Darling
Among the 17 charms, Crossley-Wright emphasizes the sentiment behind the two closest to her heart: "The magic never happens when you're alone," she says. "It always happens between people. When you're in a group, you can really foster change. I love that idea of partnership and community." Those values inform the simple diamond shape for Goal #11 (Sustainable Cities and Communities), "representing the strength and stability needed to form a thriving community," according to the company's website, and the final charm in the collection, representing Goal #17 (Partnerships to Achieve the Goals). Each stone on its multi-colored circle "represents every unique individual, working together for positive change."
Lessons in Leadership
Beyond her tight-knit family, Crossley-Wright first learned in depth about group dynamics at 19, when she joined the Danish army. As the only woman on many of her military teams, she was often asked, "Why did you join?" Now she realizes that she wanted to learn and be part of something bigger.
You have to be slightly uncomfortable to get an idea. You have to want to solve a problem.
—Elisabeth Crossley-Wright, founder, With Love Darling
As a 21-year-old officer, she led a team of 35 people on NATO peacekeeping missions in Bosnia and Kosovo. They focused mostly on community service, listening to residents and facilitating agreements between violent factions. While Crossley-Wright considers herself a pacifist, she believes in the effectiveness of an army used to maintain peace. "It was quite extraordinary to have that responsibility, so that was a huge growth factor," she recalls. "I felt enormously empowered, and my confidence skyrocketed. I thought I could do anything."
After the NATO missions, Crossley-Wright returned to Kosovo to pursue a law degree at night while working for the UN as a logistics officer. In the years following, she and her husband lived in London and had four children, now ranging from six to 16 years old. To circumvent the long hours of working at a law firm, she launched her own legal recruiting firm. Then the family moved to Monaco, which she likens to living in Disneyland ("such a nice life, but your brain turns to mush"). There she focused on raising small children.
"You have to be slightly uncomfortable to get an idea. You have to want to solve a problem," Crossley-Wright says. So, a few years ago, she welcomed the family's move to Montreal, where she encountered plenty of hard-working people and entrepreneurs. Once settled in, she knew she wanted to launch a brand rooted in storytelling and generosity. She loved the power of jewelry to speak volumes and to communicate love. Initially, she found withlove.com available for the out-of-reach price of $92,000. Her British husband, who calls her "Darling," suggested withlovedarling.com. It cost $2.99, and the company was born.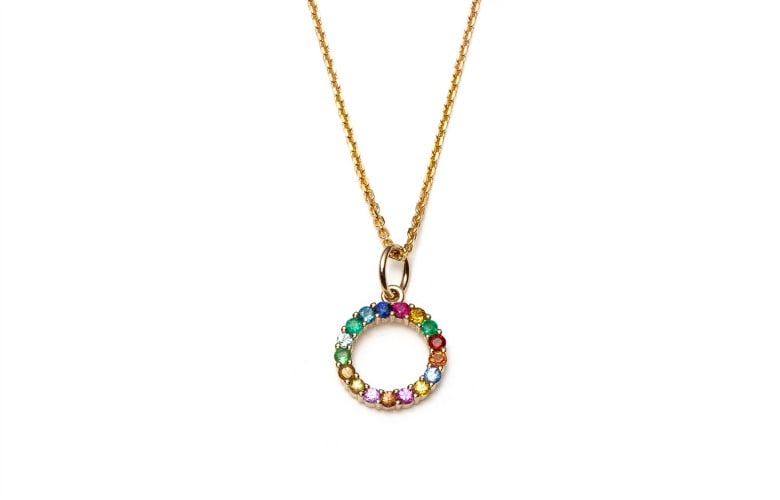 Photo: One of the charms in the Global Goals Charm Collection, inspired by the United Nations' 17 Sustainable Development Goals
Crossley-Wright launched with the general intention to create meaningful jewelry. When a friend suggested that she incorporate the 17 SDGs into her designs, she says, "It was like a light bulb went on: That's what I have to do! It's such a fantastic way to connect my past with my future, and the most fun I've ever had." Such a full-circle development—linking back to her days working for the UN—reminds Crossley-Wright of Steve Jobs' Stanford commencement speech about connecting the dots backwards. "I force my kids to watch it because it's such a good way to look at life," she says.
Family Collaboration for Global Reach
Another full-circle development is also fundamental to With Love Darling's growth: Crossley-Wright's sister Hedvig Alexander, also shaped by those childhood dinner-table conversations, has helped connect the company to handmade artisans worldwide.
As co-founder of Powered By People (PBP), an emerging B2B sales platform for ethical and socially-responsible sourcing, Alexander can introduce With Love Darling to artisans in low-income communities in Africa, Asia and Latin America. In addition to recruiting and training these producers, PBP leverages technology to scale sourcing, production, distribution, sales and data integration through a transparent supply chain. It's important to support this handmade sector, says Crossley-Wright, because the income it generates can help artisans lacking in formal education to pay for school and health care.
By selling directly through withlovedarling.com—and soon, in partnership with an established international jewelry brand at scale—Crossley-Wright can offer high-quality products with reasonable pricing. "It has to be accessible for everybody if it's going to be successful," she says. A significant portion of the company's profits support the not-for-profit Project Everyone, founded by filmmaker-activist Richard Curtis to promote the Global Goals.
As Crossley-Wright grows With Love Darling from its current team of freelancers and consultants, she'll build a senior team to scale her ultimate vision, solidified when she exhibited jewelry at the 2019 World Economic Forum in Davos, Switzerland. There she found support for developing a wider community to create opportunity for artisans through international art and design partnerships. To stay motivated while working toward this ambitious goal, she turns to inspiring podcasts whenever possible.
"Being an entrepreneur can feel so alone," she says. "When I listen, it's like having friends-on-the go who can share this journey with me. It's such a lottery, where we are born and under what circumstances. But if you're trying to be part of the solution, that gives meaning to life."
Photos: Courtesy of With Love Darling