Among the time-tested ways to raise money for business—such as hitting up friends and relatives or seeking venture capital—crowdfunding has emerged as one of the most effective ways to obtain needed funds. Websites like Kickstarter and GoFundMe have simplified the process, allowing users to simply post a project and wait for the cash to start pouring in. Here's a look at five crowdfunding success stories from businesses that did it right.
1. Books of Wonder
New York City's largest and oldest independent children's bookstore faced a new challenge last year when it lost the tenant for its café space, located within the store. The added financial strain of carrying these extra costs could have led Books of Wonder to close its doors if not for an innovative approach to funding.
In October 2012, Books of Wonder launched a crowdfunding campaign with the goal of refurbishing and revitalizing the store. The company chose Indiegogo.com because of its flexible funding option—unlike some of the other funding websites, this one allowed them to keep any money raised even if they didn't reach their goal. But instead of setting up the campaign and sitting back, Books of Wonder took a proactive approach, getting authors to donate autographed books as donation incentives and initiating a social media campaign to push the cause.
By late November 2012, Books of Wonder raised $100,000 through Indiegogo.com and phone-in supporters. Today, the company has a new café tenant and a bright future thanks to a killer crowdfunding campaign.
2. Mom Gets a Business Conference
Patty Lennon, CEO of Mom Gets a Life and Mom Gets a Business Conference, used crowdfunding to successfully finance her first conference. Lennon raised the necessary funds in less than two weeks—and she started with a list of less than 1,000 contacts.
Lennon says her small list is what differentiates the success of her campaign from others who start with hundreds of thousands of contacts before ever launching a campaign. "Anyone can be successful at crowdfunding if they have a quality product or service they are passionate about and are willing to be open and honest about their need for help," Lennon says. Not only did Lennon raise enough funds for her conference, but she acquired two major conference partners as a result of the campaign.
Mom Gets a Business Conference's campaign was so successful it has led Lennon to create CrowdfundwithEase.com, a blog where she shares her secrets to success with the many who have asked for her advice.
3. Teamability for 10,000 Entrepreneurs
Teamability is a new technology created by The Gabriel Institute designed to predict how well a person will function in a team environment. In September and October 2012, The Gabriel Institute raised $40,000 on Indiegogo.com and is now in the process of handing out the crowd payouts: 10,000 free uses of Teamability for entrepreneurs participating in startup incubators, business accelerators or entrepreneurial education and support programs. This campaign successfully raised $40,000 in 40 days and in return is offering $800,000 as a pay-it-forward gift to entrepreneurs.
4. Hyde Park Body Boutique
Candice Peters tried to get a bank loan to open her fitness studio, Hyde Park Body Boutique, in Cincinnati. And she was rejected—13 times. She finally obtained a loan with the help of the Greater Cincinnati Micro Enterprise (GCME), which helped her obtain a special minority business owner loan through Borrego Spring Bank.
When Peters needed working capital to grow, she turned to SoMoLend and raised $9,000, with the help of three lenders, through the platform. Peters was able to remodel her studio, hire six additional personal trainers and launch the Spincinnati indoor cycling class—an effort that was such a hit with customers that it spurred the next phase in Hyde Park Body Boutique's growth.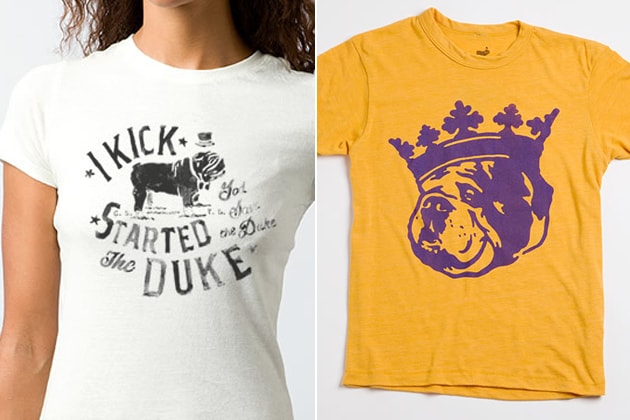 duke-winston.com
 
5. Duke & Winston
Duke & Winston started out as a simple idea for Seun Olubodun: To print the image of his pet bulldog, Duke, on a t-shirt back in 2009. After selling out of 50 t-shirts in a single day as a street vendor, Olubodun realized he was onto something big. Three months later, Olubodun quit his despised 9-to-5 gig and poured everything he had into the creation of Duke & Winston.
While Duke & Winston has a loyal local following and does well at trunk shows, Olubodun realized he'd have to expand his presence in order to make things happen. So, in order to expand the Duke & Winston product line and attend two major trade shows to gain recognition, Olubodun launched a Kickstarter campaign in December 2012 with the goal of raising $20,000. One month and 217 backers later, Duke & Winston had accumulated more than $30,000 in funding.
You don't need a major brand or hundreds of thousands of followers to achieve crowdfunding success. Take a few lessons from these small-business owners: A little creativity and a lot of passion could make you the next major crowdfunding success story.

Obsessed with crowdfunding? Read more. 
Angela Stringfellow is a freelance writer, social media strategist and complete content marketing junkie obsessed with all things Web, written word and marketing. Angela blogs via Contently.com.