When Kristine Gottilla lost her job at a commercial painting studio just as the recession hit in 2008, she went back to her creative roots by designing and sewing custom leather handbags. Gottilla says she's been able to build her business by relying on feedback and ideas her customers gave her when she kicked off her entrepreneurial career by making custom handbags. She also prides herself on the fact that all of her products are made locally in Brooklyn, which appeals to not just New Yorkers, but customers from all over the world. Since being named one of the American Express OPEN Rising Stars of Fashion in 2013, Gottilla has only continued to grow and build awareness around her brand, SPENCER DEVINE.
I recently caught up with Gottilla to talk about her rise as an entrepreneur, how she plans to keep building momentum around her brand, and what advice she has for this year's Rising Stars. (And to share some of her photos from the past year.)
How do you describe your products?
We provide a collection of leather handbags and travel bags at an accessible price point. Our bags are transitional. They can be worn in different ways, which makes it ideal for our customers to use them throughout the day, whether they're walking or riding their bikes to work or traveling. The style and its practical function rolls over. It's also important that our bags are American-made, here in Brooklyn.
So you started the business in Brooklyn?
Yes, I started the brand under my own name back in 2008. I was working out of a storefront I shared with a jewelry designer in Williamsburg. People would come into the store and I would do custom work for them. As more people found out about us, we grew up and now offer a narrowed-down collection of pieces inspired by the most-requested elements from customers on custom orders.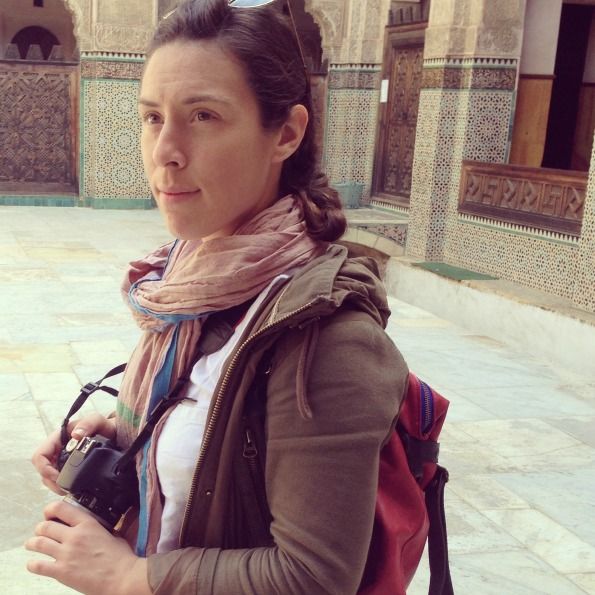 Gottilla searching for design inspiration in Morocco
How do you sell your products today?
About 90 percent of our sales are online. We are targeting partners and sites that can help us with larger orders around the world and that can afford our margins. We are very selective with the sites we work with, as maintaining our high brand value and value perception are of utmost importance. Partnering with international ecommerce sites is an intentional creative-marketing and sales strategy at this current stage of business, which is allowing us to gain customer awareness and sales around the world. All of that is helping to increase SPENCER DEVINE's growth rate quickly.
Where does the name SPENCER DEVINE come from?
The business is named for my cousin, who passed away when he was 17 and I was 11. I made the name change in 2012. It's very personal to me and helps create a lasting legacy. But the name also has a somewhat unisex feel, which reflects the design of many of my bags.
Were you always making things growing up?
My first real memories I have are of mixing paints with my dad in our basement in Bergen County, New Jersey. He is a financial analyst, but he has always had such a talent for painting with oils.
And that helped inspire you?
Yes, I grew up taking art classes. And I got my BFA in fine arts painting and later studied costume design. I went to Italy and learned to sew. I was always intrigued to find ways to merge art and design with the purpose of creating unique products to help people function in their day-to-day more smoothly.
Unfinished versions of SPENCER DIVINE's Second Generation LG A-Line bag
So what was the trigger that led you to start your own business?
When I returned to New York, I got a job as an artist assistant and then worked for a commercial painting studio. I had been playing around with making leather bags on the side, and when they laid everyone off at the studio, I started doing that full time. Everything organically developed from there.
How did you start your production process?
One at a time. I now have hundreds of designs in my portfolio. Some did better than others. Everything was super customizable and I learned so much from my customers. I never forget that I have had hundreds of partners in developing my collection.
Do you still do custom work, now that the business has grown?
Some. But I now have a team based in Brooklyn that allows me to do much more than I ever could by myself.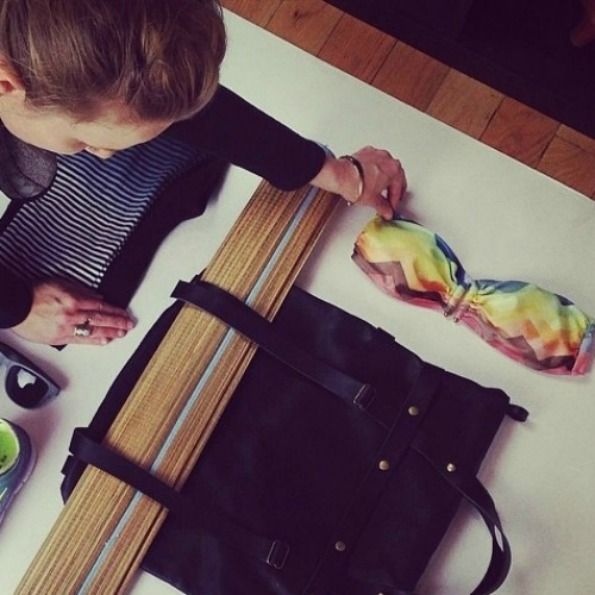 Gottilla arranges accessories for a summer photo shoot
It can be difficult for artisan designers to let go of their work. Has that been hard for you?
Letting go is inevitable if things are going well and evolving. It's part of growing a business. I still oversee every stage of production and only work with people who care about quality as much as I do. It's all about trust. They follow prototypes and quality control. But that's also why it's so important to keep production local, so we can maintain that high quality.
What has the last year been like for you after competing in the Rising Stars of Fashion competition?
The past year really has been a tipping point for the business and me. The response to our transitional backpack has really been incredibly encouraging. Our focus now is on getting it out to more people—and the award really helped with that. It's tough for small brands like mine to get that kind of exposure without a huge marketing budget.
What kinds of challenges have you run into while growing your business?
Having enough funds to do everything we want. We have shifted our strategy to make the most of what we have. We are targeting partners and international ecommerce sites that provide larger orders all while getting us great exposure in their markets.
What does a typical day for you look like?
I guess it depends on whether we are in a high-production period or not. If we are, then I'm up at 7 a.m. and sewing until 10 p.m. Otherwise, I will be working on emails and calling in orders for our materials. I also check in on the artisans who I have sent orders to and schedule things like design, production, and product photo shoots. I try to stay as organized as I can be in terms of prioritizing what needs to come next.
Handbags in the making at SPENCER DIVINE's Brooklyn workspace
What do you think your business will look like in five years?
Well, one of the things we are looking at right now is moving into a bigger space in Brooklyn by the end of this year. We want to create a space where our customers can come visit us and see their bags being made as we value transparency in our making process. I would love to get back to having a space where people are part of the process like we used to when I got started.
What's your advice for this year's Rising Stars?
From my experience, I would say to really locate and exploit the unique strengths in your existing business model. Then, when mapping out your goals for next stages, make sure your brand's authenticity and uniqueness are never compromised by an impatience to succeed in accomplishing them.
Photos: Courtesy of Kristine Gottilla