While growing his company La Colombe Coffee Roasters to 30 U.S. cafes and hundreds of wholesale accounts nationwide, co-founder and CEO Todd Carmichael has also established himself as an adventure traveler and philanthropist.
Whether trekking unassisted across Antarctica or sailing solo across the Atlantic, Carmichael finds that his most innovative and creative ideas come while traveling. Back home in Philadelphia, where he and company president JP Iberti founded La Colombe in 1994—and still run the 600-employee operation—Carmichael brings those ideas to life. Fueled by plenty of high-quality coffee, including the company's recently launched draft latte in a can, Carmichael also relies on his American Express Centurion Card in turning those adventure-inspired ideas to reality.
Born out of a cutting-edge manufacturing process incorporating a pressurized valve and liquefied gas in each can, the draft latte can contains fair trade, cold-pressed espresso and chilled, frothy milk. The product's rapid growth this year—through online sales and by scaling from zero to 25,000 distribution points in just eight months—brings the everyday luxury within reach of most Americans.
Carmichael, who plans to deliver the same portable luxury worldwide, says the can's current placement in nearly 50 percent of domestic grocery stores is just the beginning. When speaking about growth, expansion and getting things done, his energy is infectious. Read on at your own risk: You might end up scaling a mountain, too.
People have options for convenient, quality coffee these days. How does La Colombe stand out?
Along with being people-centric, innovation has been key. To be innovative when we launched in 1994—pre-cell phones, pre-GPS—was to uproot yourself and go to Brazil and drive through the mountains looking for coffee. So we did that. We're always looking for that next thing, that edge: to create it, or at least be involved in it.
What sparked your idea to package the draft latte in a can?
First, we launched the draft latte at our cafes. People fell in love with this new invention, and when we saw them standing in lines out the door, I thought, "Just imagine what we could accomplish if I could put that in a can."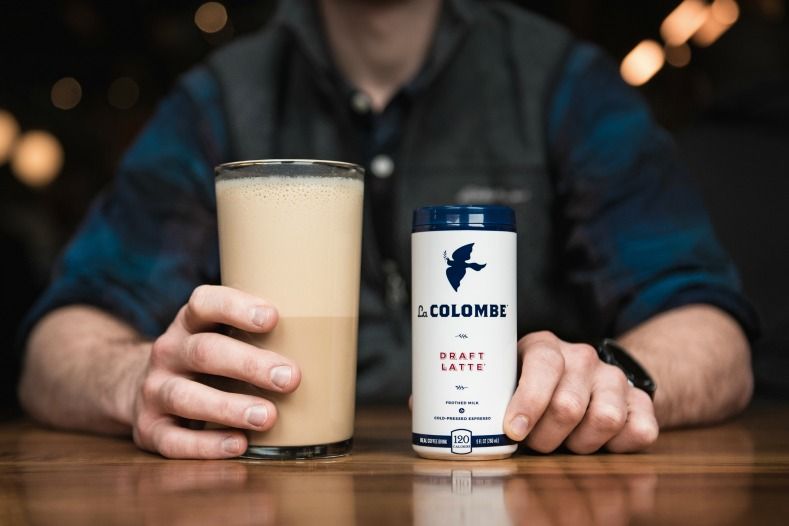 La Colombe's draft latte in a can
How did you bring that idea to life?
It took me about three weeks in a lab to discover that nitrous oxide could replicate the texturizing effect of water vapor in a hot latte. By adding enough pressure, I got liquid compressed vapor. The moment you open the can, that liquefied gas interacts with air, combining really well with milk. It brings out natural sweetness without adding extra sugar.
So you're a mad scientist, too. What did your process look like?
I started with an aluminum can, drilled a hole in the bottom and punched in a volleyball valve to inflate nitrous oxide from a tank. I pressurized the coffee-milk mixture, shook it up, let it sit for 10 seconds, opened it, poured it and phhh ... It worked. Just like a beautiful latte. After that, it was about how to stabilize and manufacture it.
How did you fund such large-scale production in scaling to 25,000 distribution points in just eight months?
I maximized my balance on my American Express card. We're two guys, and we have one investor. But this expansion came mostly through bank financing and wise use of our credit cards.
What other benefits does your American Express membership bring?
American Express also helped us through a difficult period in Haiti after the [2010] earthquake. The bank system had crumbled, and we needed to take care of our farmers. American Express helped us to secure a truck and get some cash on the ground. If you're a business that's mobile and on the road, this is an absolute must.
Along with your social mission, La Colombe seems focused on creating shifts in coffee culture. What's another example of that?
We played a big role in bringing cold brew to market at scale, and I can trace that innovation back to a big day for me personally. I'm an adoptive dad. I've got three beautiful girls and a boy, and they all come from Ethiopia. When it was time to fly from D.C. to pick up my little guy, I knew that early morning would be mayhem. So I brewed my coffee overnight and bottled it to drink on the way to the airport. Then it sat for another hour in the car. When I tasted it, it was perfect.
Listen to your gut. I've always done that to some degree, but now more than ever. The future belongs to the dreamer.
—Todd Carmichael, co-founder and CEO, La Colombe Coffee Roasters
That was a huge moment, heading back to the country that made me who I am to pick up my son, drinking the best coffee I've ever tasted. I thought, "I've got to bottle this up. I need to share this."
What advice would you share with your younger self?
Listen to your gut. I've always done that to some degree, but now more than ever. The future belongs to the dreamer. So dream and believe in your dreams—that small, faint signal that comes from somewhere inside you. Follow that one. That one is right.
What other lessons stand out from your experience growing La Colombe?
When I got an entry-level job in coffee at the age of eighteen, I fell in love with it for a lot of different reasons. I was so intrigued by the names on the big bags of beans: Kenya, Tanzania, Rwanda and so on. As a farm kid who had never traveled, I dreamt of going to those places. Since then, I've spent a lot of time searching for coffee in places that people warn against, like war zones and areas recovering from natural disaster. Places where we can make a difference.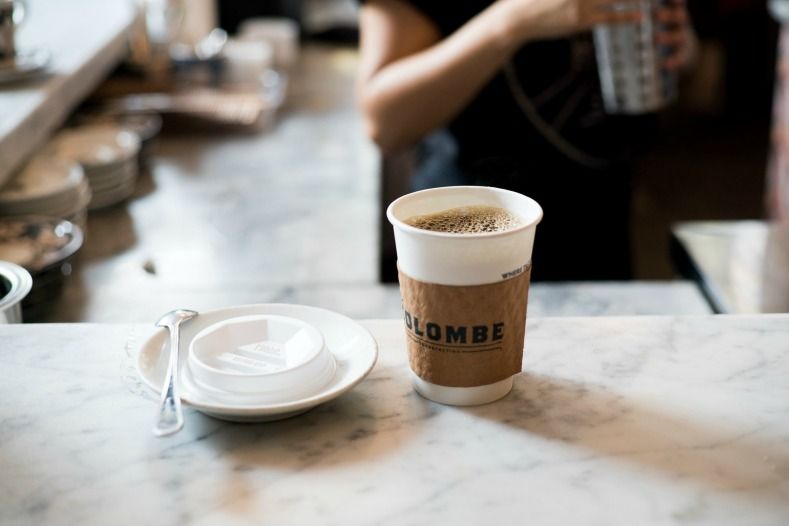 La Colombe has 30 cafes across the U.S.
Traveling through Africa in the early '90s, I learned that in many of the isolated coffee-growing regions, villagers don't speak the language of the city and typically don't read or write. Since it was impossible to learn all of these tribal languages, I realized the value of symbolism.
In creating the business plan for La Colombe, I wanted a symbol representing peace for as many people as possible. Across cultures, that symbol is the dove—or, as they say in my business partner's home country of France—la colombe. Now, when I meet villagers, they see a dove symbol on my shirt or hat communicating that I come in peace.
Every generation some company comes along and changes the way America interacts with coffee. When you change an industry, you have an opportunity that comes with it: How to change the world and make it better. With the far-reaching impact of our draft latte in a can, there's a lot we can get done.
Photos: Alexander Mansour / Courtesy of

La

Colombe