It's hard to be a woman with large feet. Many times that perfect-looking shoe in a size 7 or 8 just doesn't look right when it is stretched out into a bigger size.
I know. I wear a size 11, sometimes an 11 ½ or an occasional size 12 if it's a running shoe, since feet swell after a few miles. My foot runs on the narrow side, making it nearly impossible to find a long narrow shoe that will fit my foot. I've stuffed my shoes with every cushioning type of material imaginable so my feet don't slip out of my shoes. I've certainly lost or nearly lost a few pairs while chasing down a source or two after a professional sporting event or hearing at a federal courthouse. I usually wear a lot of ballet flats when it's warm enough. I learned my lesson after breaking a heel this summer. For workouts, I've resorted to using elastic Yantz to make sure my running shoes are tight enough.
Sure my feet (and shoes) usually look proportionate to my 6-foot frame. It's hard to look professional and stylish while staying comfortable. There are plenty of times when shoe designers just take the size 6 pattern and enlarged it to fit a bigger size foot. A shoe created for a petite 5-foot-2 woman, doesn't always work well for someone on a taller, larger frame. So what's a tall business woman to do?
Enter Kathryn "Katie" Kerrigan, a 6-foot tall leggy blonde who wears a size 11 shoe. "I struggled with shoes issues for years, especially when going shoe shopping for prom," Kerrigan said. While in graduate school at Loyola University she had to create a business plan for a class. Remembering her shoe issues, she designed a business plan for tall women with larger feet. In 2005, she stood outside a Nordstrom Rack, one of the few mainstream retailers that carries larger sized shoes, and interviewed 200 or so women as they were leaving. She found out what styles they wanted, how much they were willing to pay and what they considered comfortable.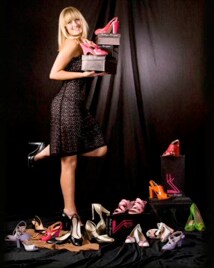 With that research, Kerrigan went to Italy and met with craftsman who produced designs inspired by her grandmother's iconic 1920's flapper style coupled with timeless classics. With designs in hand, she contacted Amazon.com and sold 35 styles to Endless.com and became a small business entrepreneur. She then opened her flagship Kathryn Kerrigan shoe store in Chicago's suburb of Libertyville, Ill in 2007, selling women shoes sizes 6-15 (Euro 36-46). The first two years of business, "were nothing to write home about," she said. Now Kerrigan said sales figures are just under $2 million for 2010. She's seeing growth in the U.S. and internationally in the U.K., Ireland and Australia and has franchises open in Toronto and New Jersey in 2011, in addition to the already open franchises in Chicago and Winnipeg, Canada.
"There's just not a lot of options available for women above a size 10," Kerrigan said. "That's because stores still see it as a niche market, even though nearly 40 percent of all women in the U.S. wear a size 9 or larger," said Stephanie Sack who opened a franchised Kathryn Kerrigan shoe store in Chicago's Bucktown neighborhood in May 2010. "I believe in the Cinderella story," joked Sack, who also who owns vive la femme, a Chicago-based plus-size clothing store. "The right pair of shoes can change your life. If you wear a fabulous pair of shoes, it sets off the right outfit, change your attitude, posture and literally the way you walk in the world."
Want more from the Lifestyle section? Check out these stories:
That translates into better moves in the boardroom, classroom or any professional situation. It's important to be taken seriously, but as many women know, that confidence is helped by feeling good about how you look.
Here are some suggestions of places to go and what to consider when shopping for a larger shoe. Keep in mind your large feet are in good company. Oprah wears a size 10 ½ shoe. Paris Hilton, Uma Thurman and Meg Ryan all wear size 11s and Elle McPerson wears a size 12.
Consider a Vintage Heel
We are seeing a "sturdier heel" in 2011, Sack says. In part, Sack says, because professional women aren't willing to put up with painful shoes after a certain point in there career. Plus, Mad Men has brought back that iconic, lady-like silhouette where vintage-style shoes, that give a "grown-up sexiness" are in style. Think 1940's pin-up girl, which has a more solid shoe that is "more proportional if you are taller or have a larger booty," Sack said. The sweet spot is 1 ½ to 2 ½ inches. "It gives you a little lift, that is elegant, feminine and professional," Kerrigan added.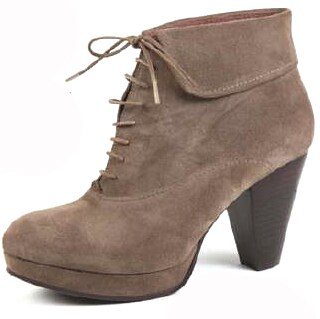 Comfort is Key
Shoes need to be comfortable. "If you walk into a meeting with ill-fitting shoes are limping it's obvious your shoes are doing nothing for you," Sack said. "People then assume, mistakenly, that you are willing to accept something second best and that's not the type of image any professional woman should project." Besides if it's not comfortable, it will become "furniture in your closet."
Try Color
A structured ballet flat in cherry red or dusty purple will hide a wide foot and make an outfit "pop." "I'm surprised with how obsessed women are with not making their foot look too big," Sack said with laugh. "Your foot size is your foot size, and chances are your foot doesn't look as big as you think.
Everything Should Be Proportional 
If it is a peep toe, make sure you can see your feet. Make sure the grommets and other accents and accessories make sense. "You don't want to look like jelly bean fell on your shoe," Sack said. "It should be harmonious with your frame."
Go for Oval
Pointy shoes can make a foot look longer, and oval, not round shoe has a soft edge that can be pleasing on the eye to taller gal.
Wear Leather and Laces
If you have a narrow or wide foot, calf, anything that laces up is more adjustable. Unlike synthetic, leather lining will mold better to the shape of your foot.
Most Women Don't Wear the Right Size Shoe
Many are misdiagnosed. Try a size larger, just to see. Yes, it is frightening to go up a size, but sometimes your feet are bigger than you think and will thank you later. Just because you wear a size 10 or 11 in one brand doesn't mean you'll wear it in every brand.
Where to Shop
Dawn Reiss is a Chicago-based journalist who has written about everything from eating crickets in Cambodia to the trial of former Illinois governor Rod Blagojevich.