Burberry's Art of the Trench campaign redefined UGC (User Generated Content) in the digital era. It's simple, really—the best way to show how great your product is is to show real, fashionable people wearing your product ... and looking good doing so. Since the Trench site launched in 2009 (it's still a living project today), several other brands have sought to integrate UGC into their marketing tactics and business models. 
UGC campaigns are an excellent way to collect creative material for marketing purposes, get photos of your products on the social Web, and drive sales and brand engagement. Images can be especially useful in driving apparel sales—Free People and Rent the Runway include UGC on their sites to show products on real people. Luis Sanz, co-founder of photo aggregator Olapic, says customers engage more with photos than with text reviews, which could lead to to a five-fold increase in interactions. Conversion rates on product pages that include customer photos can increase up to 30 percent.
"Lots of e-commerce customers end up not buying a product because they're not sure how the product is going to fit after they make the purchase," says Jose de Cabo of Olapic, which Free People used to pull photos for its site. "It also shows they have a super hip, engaged customer base."
Last summer, apparel company Free People began integrating consumer Instagram photos onto product pages for its denim jeans. Doritos put its Super Bowl commercials in the hands of chip eaters—and it worked. Ray-Ban worked with Breakfast to create "mosaic" billboards in real time by pulling in Instagrams from a three-day music festival.
Lululemon: Inspire Customers
Yogawear company Lululemon's Instagram stream captures yogis in impressive poses and preaches inspirational wisdom, driving home the point that you can do anything when you put your mind to it. 
A few months ago, the brand partnered with Olapic to collect images from consumers that represent #TheSweatLife—users were asked to tweet or Instagram photos of themselves getting their sweat on, and these images are displayed on a subsection of the brand website. These crowdsourced pictures show people pushing the limits, contorting their bodies and exploring the world in Lululemon gear.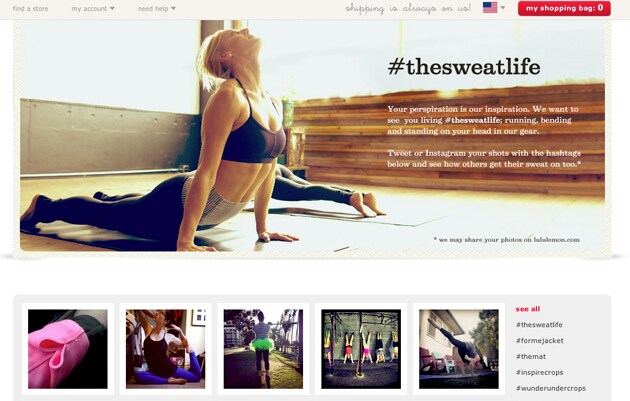 lululemon.com 
"We created the program as a way to connect with our guests and showcase how they're authentically sweating in our product offline," says Lesia Dallimore, brand manager at Lululemon. "We see it as a unique way to bring their offline experiences into our online community."
In addition to #TheSweatLife, when you click on a picture of a product with hashtags for specific products, like #wunderunder or #groovepant, the site directs you to product pages, where customers can easily purchase items shown in the photos.
To date, the brand has received more than 7,000 photos via Instagram and Twitter, and the main #sweatlife gallery has had more than 40,000 unique visitors since launch.
Lesson: A loyal community is a powerful thing—highlighting customers who live your brand makes others want to live your brand too. Encourage customers to snap photos that capture your brand values, and synthesize them into a Facebook cover photo, a T-shirt design or art to decorate your store. When choosing a hashtag, include a key brand value with broad, organic applications (see also: Tiffany & Co.'s #TrueLovePictures and Nike's #MakeItCount).
Rent the Runway: Help Customers Find a Fit
Rent the Runway lets you rent haute couture for weddings and other highly photographed occasions. These also tend to be high-risk occasions, so women might be deterred from renting—what if a dress doesn't fit?
Rent the Runway found that many of its customers who did rent dresses had positive experiences and uploaded photos to Facebook and Instagram to show off their Cinderella moments—12,000 of them, to be exact. The burgeoning startup decided to turn this organic crowdsourcing of photos into Our Runway, a campaign to celebrate real beauty and help each renter find a dress that works for her body.
Those who have rented are encouraged to upload an image and indicate their measurements and what size dress they wore, along with comments and feedback about the outfit. With this massive archive of images, prospective renters can use the "Find Women Like Me" tool to select their own measurements and see what dresses look like on people with their body types, as opposed to stick-thin models. Members who have viewed these UGC photos are 200 percent more likely to rent than those who have viewed a product shot on a model.
"With Our Runway, we're creating a platform for the everyday woman to discover amazing styles that work best for her body, and forming a community that celebrates every woman's special moments," says RTR CEO and co-founder Jennifer Hyman. "It's empowering to see thousands of photos of diverse women of all ages, sizes and ethnicities feeling self-confident."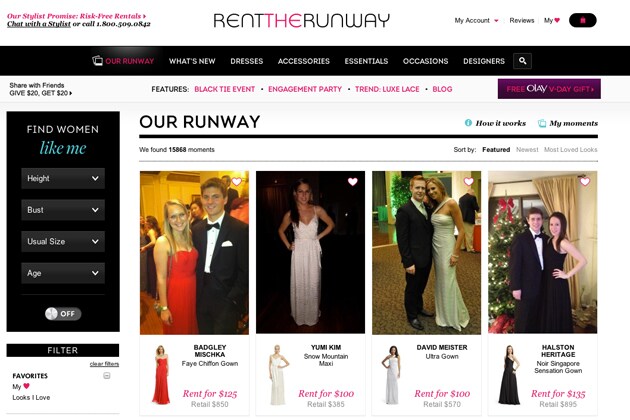 renttherunway.com 
Lesson: Online shopping is far less daunting when buyers know what they're getting, and photos are more useful than text reviews when it comes to pre-purchase research. Showing "real people" wearing your product proves the popularity of your brand.
Pepsi MAX: Find Your Superfan
Jeff Gordon has some serious fans on social media, and to engage this crowd, Pepsi MAX—for whom Gordon is spokesperson—created MAX It Now to find the ultimate superfan. The beverage brand replicated the format of NASCAR's Sprint Cup with a series of 24 social media challenges asking fans to do things like tweet why they prefer Pepsi MAX to Coke Zero in 24 words and Instagram themselves with a MAX and #24 gear. Users earned points for how quickly they completed each task, and they won prizes (including TVs, gift cards, a year's supply of Pepsi MAX and die-cast cars), based on the quality of their posts.
After 24 challenges, the 10 most engaged users (based on point totals) went through four more challenges to vie for the grand prize, a trip to the Chase Race at Martinsville Speedway as a VIP Pepsi MAX correspondent to manage the brand's social channels and interview Jeff Gordon. Stephen Radford won the competition and blogged about his experiences on NASCAR.com. (Check out his cool challenge entries.)
For Pepsi MAX, it was a win-win. The brand had more than 7,300 entrants and more than 700 images of Pepsi MAX cans posted to social sites. Meanwhile, the microsite had more than 52,000 visits, with a time-on-site average exceeding six minutes. And a Pepsi MAX rep says that, for a fairly reasonable price (compared to traditional sweepstakes), the brand was able to award prizes to "true fans," offer a fun month-long experience and inspire them to share Pepsi MAX and Jeff Gordon content with friends and followers. "Whereas traditional sweepstakes are a bit of a mystery and no one expects to win, with MAX It Now, we were able to be transparent about who was receiving prizes and why, and gamified the whole experience," says the rep.
Lesson: Huge fans will go to great lengths to demonstrate their love for a brand. Don't be afraid to ask them to go out on a limb; you won't get a ton of responses, but finding your hardcore brand evangelists is more important than finding mediocre fans who are in it for the prize.
Threadless: Let UGC Be the Product
If two heads are better than one, it makes sense to tap the collective creativity of a large community, right? That's exactly what the T-shirt company Threadless does. The Chicago-based printing company has received 257,921 designs since its founding in 2000 and paid out $7,120,000 to 1,374 artists, who make money each time someone buys their design.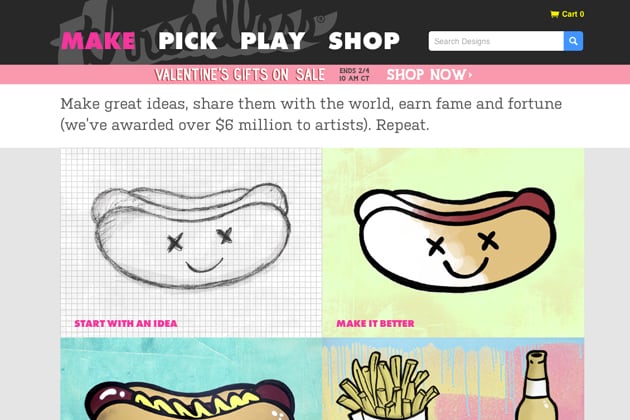 threadless.com 
Artists and designers are encouraged to submit their files for scoring. For seven days, the Threadless community scores the design 1 to 5, leaving comments; that feedback helps the Threadless team decide what to print. When a design is selected, the artist gets cash upfront and royalties based on the number of products sold with the design.
Threadless founder Jake Nickell's goal wasn't to build a multimillion-dollar business, but to "give the creative minds of the world more opportunities to make and sell great art," he said in an interview.
Lesson: Good design is worth paying for, and crowdsourcing yields some incredible creativity. Consider a design contest for your new order of merchandise.
UGC and the Law
Before you jump into a UGC campaign, make sure you're aware of the legal ramifications. Joshua Sessler, a digital media and entertainment lawyer at Cowan DeBaets Abrahams & Sheppard LLP in New York, says if you're going to have some sort of contest, the first thing you need to do is be extremely clear about whether it's a sweepstakes (random drawing) or a contest (some criteria involved).
Then, you ought to have very clear official rules—say where and how the winning material will be used, for example. You should be safe as long as you're in compliance with the rules you posted. In the submission widget, include verbiage such as, "By submitting to this contest, I agree to these rules." (Since states and countries have different laws regarding contests, speak with a lawyer to ensure you're in compliance.)
If you're going to solicit content on Facebook, that's a whole other beast—Facebook has its own strict rules. It's important to note that any promotion on Facebook needs to be administered within a Facebook app, so it may be easiest to use a third-party platform, like Offerpop or Strutta.
In addition to the initial rules, have winner(s) sign an affidavit authorizing your brand to use the winning materials post-contest. "If I'm a contestant and I submit a piece of video, I want to know upfront what you're going to do with it," Sessler says. "If I win, there's going to be a broad range of rights that I'm giving you—the right to exploit my content and control it past a certain point."
User-generated content can be a great tool in your marketing arsenal, but it can also be a legal mess if you're not thorough from the get-go. Do your legal research and be clear about how the UGC will be used, and respect the rights of the creators. After all, their material will likely help your brand make money!
Has your company used UGC? Tell us about your experiences in the comments.
Photo: Olapic