It's not often that you can get a group of 20 kids—ages ranging from 5 to 9—to stay quiet and focused during a field trip. But here at Let There Be Neon, a lighting fabrication studio in Manhattan's Soho neighborhood, more fantastical things have happened. Sitting on the floor, each child's face is awash in the hot pink and orange glow of neon as they learn the science behind the signs. (There's no shortage of them either, with a neon logo, message, cameo-style silhouette or clock seemingly taking up every available inch of wall space in the large studio.)
Jeff Friedman watches on from the side, chuckling to himself. "There's going to be a test later, so I hope you were paying attention," he says as the kids shuffle past excitedly, anxious to see how all this magic gets made in the store's glass room. (Friedman has the quintessential native Brooklynite accent that turns words ending with As into Rs, makes vowels go longer and engenders goodwill to all who hear it.)
Let There Be Neon has been around a long time—the store celebrated its 42nd anniversary this year. And the technology has been around even longer: French engineer and chemist Georges Claude introduced neon lighting at the Paris Motor Show 104 years ago, on December 3, 1910. But in the years since, neon has become timeless and refined in the States.
"Even though it was invented in France, it clearly became an American craft," Friedman says. "In 1972, Rudi Stern opened Let There Be Neon, which at the time became the first gallery dedicated to neon. [He brought] together all these artists from different fields to begin creating his vision."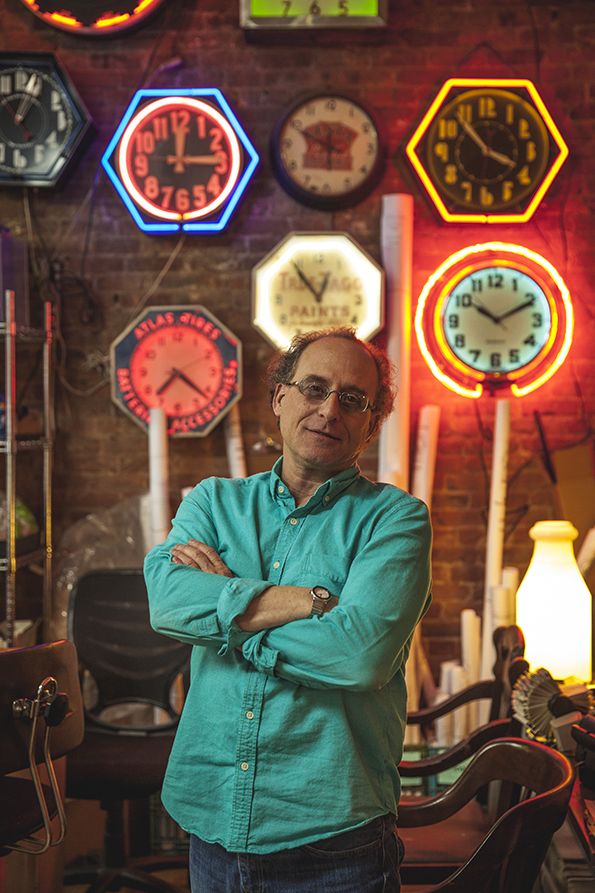 Friedman joined the team in 1977, where he worked for a few years before leaving in the early '80s to strike out on his own. The two reconnected again to merge their two companies, and in 1990, Friedman became the sole owner of Let There Be Neon. It worked out for the two of them: Stern, who was a name in the art world and brought neon to Studio 54, was able to return to his multimedia art roots. (Stern later passed away in 2006 due to lung cancer complications.)
"Rudi was the perfect example of why artists and commerce should never mix," Friedman says with fondness. "Because he was such a visionary, but his feet were clearly not planted on the ground. And yet he couldn't be a visionary if his feet were planted on the ground.
"I have an art background," he continues. "And that part of the creative concept of what we do here so interested me, but I'm also practical. I'm not going to not think about the bottom line, whereas in the past, the company never thought of the bottom line and got into trouble because of it, like any small business would."
Though the company has seen its share of lean times—and Friedman says "any business that says they haven't is lying or foolish"—Let There Be Neon has become a go-to for restaurants, artists, film and TV production and retail. (They create all the neon signs for Kiehl's North American stores and some in Asia, and even created a pair of neon wings for a Victoria Secret fashion show.)
"There are other sign companies in the world, there are other neon companies in the world," Friedman says, "but we take a clearly commercial medium that's used for advertising, store displays, restaurant signage and this and that, and give it an artistic twist."
Friedman gave OPEN Forum a tour of his studio and explained why Let There Be Neon is still lighting up businesses all over the world.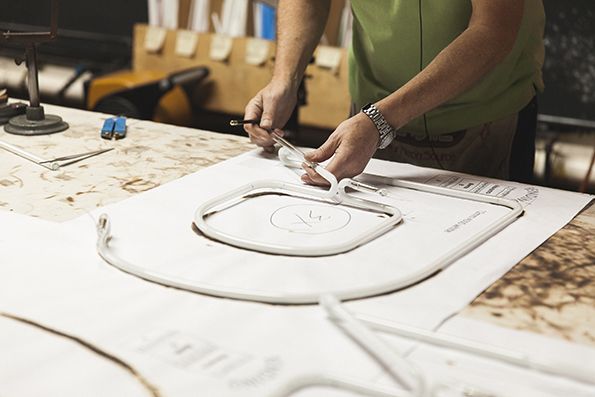 Contrary to popular belief, "neon is environmentally friendly, because it's a very efficient light source," Friedman explains. "Neon can last 40, 50, 60 years." Though the company also does LED work, it has become synonymous with neon.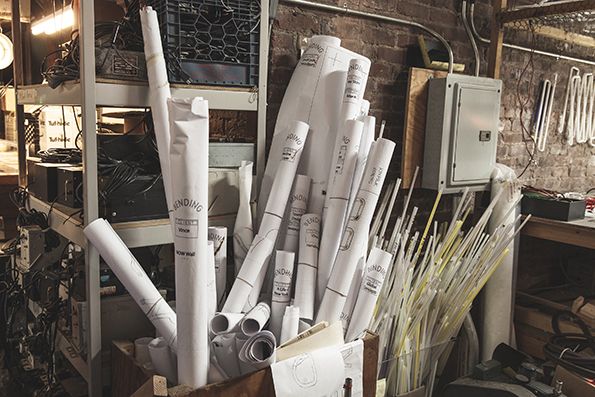 Plans and glass tubing in the shop's glass room, where master glassbenders work on incoming projects. Since there's limited space, the day starts at 5 a.m. and each worker's schedule is staggered to accommodate workflow. The company has been in its current space since 1984 and recently signed a lease extension. Dealing with Manhattan's notorious limited space is a business decision, Friedman says.
"The owner of a gallery in Chelsea is not going to get on the subway or take a car into Bed-Stuy, Brooklyn, to visit a shop, no matter how beautiful" it is, he explains. "Two of our biggest clients—Estee Lauder and L'Oreal—[are nearby]. How many times I can tell you we're talking about a project and they go, 'You know what? I'm going to walk right over now.' And these are the people that are decision makers."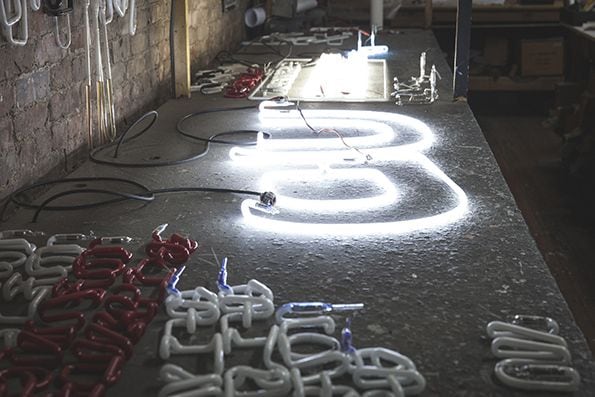 The back of the studio is where the magic happens. Now, how exactly does it work? "Each tube has an electrode on it," Friedman explains. "The purpose of the electrode is that it allows the electrical current to flow through the tube when you light it up, and the electrical current is what excites the [neon] molecules and makes it light."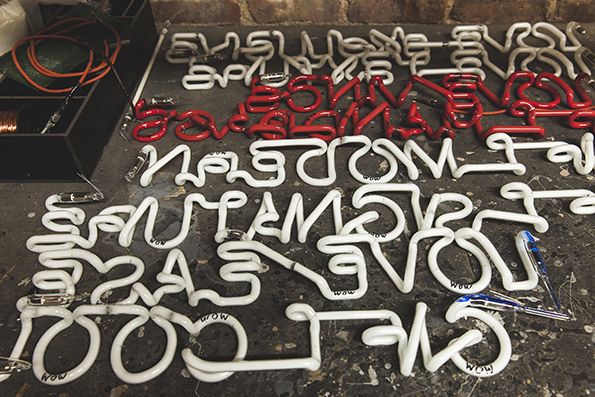 Glass bending, Friedman says, is one of the hardest aspects of neon light fabrication. "You really have to have a feel for it," he explains, "because if you blow too hard, you're going to blow a hole in it. And if you don't blow enough, it's going to be flat. You want it to be nice, even and symmetrical."
Retail projects account for the majority of Let There Be Neon's business, followed by restaurants, contemporary art and gallery work, film and television and residential projects. And a lot of the work that comes in is from a tag team of good old word-of-mouth advertising and past clients.
"If we're doing service work for a restaurant, that service work can always lead to new work because you fix his sign and he's opening a new place in a year from now, he knows that you took care of him," Friedman says. "Or his friend across the street needs a sign and he sees that this company fixed their sign. You have to keep pushing on that."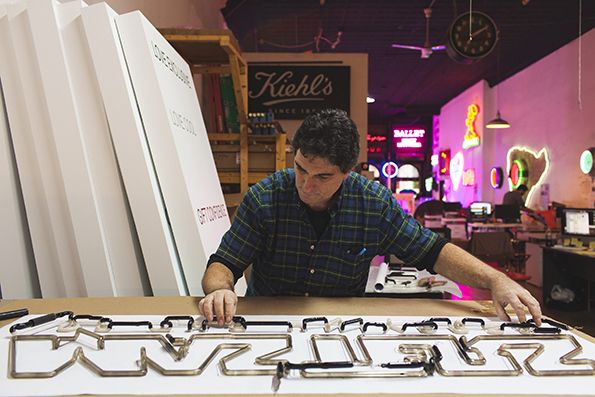 When asked for the secret to his company's longevity, Friedman gives credit where credit is due: to his staff of 14. "We have people who've been together for 30, 35 years," he says. "Sometimes I find myself worrying too much about the little things, and I stop, and I say, 'You've got a phenomenal team.'" Over the years people who started out as apprentices have become welcome members of the team. What does he look for in his talent? "Just really making sure that people fit cohesively, work together, and that they want to do a good job."
"We're creating something for our clients that they're happy with—we just happen to be making neon," Friedman says. "We would have the same attitude if we were selling shoes: We'd bring it to the client better than anybody else. And that's why we're so strong. It's a belief, a philosophy, an attitude."
Read more articles on leadership.
Photos: Katrina d'Autremont for OPEN Forum