Last month, I did something most entrepreneurs would find unthinkable, outrageous, or even downright offensive. That's right, I went on vacation—and stopped checking email for more than a week.
Now, if you know me, you know my iPhone never leaves my side and a few minutes rarely go by when I'm not glancing at my inbox. Like most entrepreneurs, email is a lifeline for me and I treat my inbox almost as a to-do list. As such, I try to end each day by reaching what I call "inbox zero"—no unread messages. If I haven't responded, acted on something, or advanced the conversation, it gets marked as read and I move on.
With this digital compulsion that I'm sure sounds all too familiar, I knew I couldn't trust myself. So at 7:16 p.m. on September 2, I literally deleted my work inbox from my phone, so I couldn't check it, even if I wanted to. Cord cut. Cold turkey.
Now that I'm back from my journey—or a tour through Europe, as it were—here's what I can tell you: I came back recharged, refreshed, and full of new ideas, in a way other vacations in recent memory never accomplished.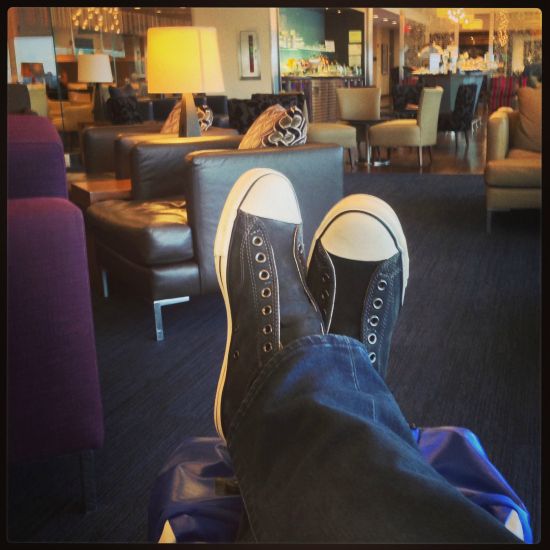 The author Instagrams from the lounge at Newark Liberty International Airport, moments after surrendering his email.
Sure, I had the occasional itch and a few night terrors about what was piling up in my inbox (258 emails as it turned out, not as bad as I expected), but for the first time in a long time, my work life was safely out of sight and out of mind, allowing me to enjoy that quaint notion of an actual vacation. Without the daily game of email Whac-A-Mole, I was not only able to take a little time for myself, but actually reflect on big ideas for OPEN Forum and my other ventures.
You might be saying to yourself, "I could never do that." Sorry to deliver a little tough love, but if you're that indispensable for every single day-to-day decision at your company, you're not running a particularly well-built company. My friend Richard Branson preaches the gospel of delegation and I'd say he's doing OK. It allows him to pause and focus on big ideas. Like going to space.
So how did I do it? A few tips:
1. Plan ahead. Taking a real vacation takes work. I spent several weeks preparing for Life Without Rod and had all my proverbial ducks in a row before jetting off to the land of croissants, knackwurst, and fish and chips. Alternate workflows were laid out, contingency plans discussed.
2. Trust your team. I have the benefit of being surrounded by some terrific people (including OPEN Forum's deputy editor, Michelle Court). And the most important thing an entrepreneur can do is build a great team. Because whether it's sunning yourself for a few days in the Caribbean or simply scaling your business, eventually you can't do it alone. If you've hired well and created a solid organization, let it work for you.
3. There's always a Plan B. I didn't entirely cut the cord, of course. I still had my personal email. (And what would I do without Twitter and Instagram on holiday?) I advised my colleagues that they could absolutely reach out to me if anything pressing came up. The fact that they didn't have to was definitely a validation that I nailed points 1 and 2.
4. Remember, you're a human being. We've all heard corporate lore about women who check their BlackBerries while in labor or men who sleep with their iPhones on the pillow beside them. Some might call that dedicated. Not me. Don't get me wrong—I work hard. And in the past year, harder than I ever have before. But it's simply unsustainable to be "always on" and I know I came back from vacation with more focus, as a better entrepreneur. The recent story of an investment banking intern who literally dropped dead, reportedly after pulling all-nighters, should be a sobering wakeup call for all of us. Trust me, a little time off is not only good for the soul, it's also good for the bottom line.
Rod Kurtz is the editor-at-large for OPEN Forum.
Photo: Shutterstock