For kids growing up in Dover, Tennessee, higher education isn't a given. Most of the residents work blue-collar jobs in nearby Clarksville or Paris, and dine at the single McDonald's that opened seven years ago. "There isn't a lot of money to go around," explains local teacher Philip  Bossenberger.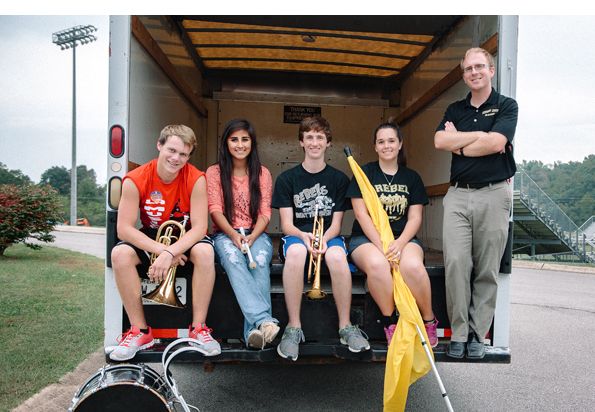 Philip Bossenberger's high school band students depend on their truck to get to competitions. (Photo by David McClister for OPEN Forum)
Dover's one crowning glory is its high school band program. Bossenberger and his wife, Josephine, have spent the last five years building up the program, and thanks to stellar performances in regional competitions against larger schools, several Stewart County High students head to college every year on music scholarships.
But last school year didn't end so well for Bossenberger and his students. After dismissing his class, Bossenberger headed out to the parking lot to move the band truck to its summer parking spot. When he turned the key, the starter wouldn't engage. His heart sank. He knew that without a truck to travel to competitions or away football games, any chances for scholarships this year seemed dim. 
Bossenberger managed to get the U-Haul-sized truck towed to nearby Gray's Garage, where the prospects worsened. The repair estimates for the mice-chewed electrical system were so high that the school board couldn't swing the cost. They declared the truck totaled, and there were no funds available for a new truck.
That's when Casey Bates stepped in.
Bates, the owner of Gray's Garage, knew the school didn't have any money. His wife had been a teacher, and he was familiar with the world of squeezed budgets trying to fund student dreams. Bates leaned on his parts company for a discount, erased his profit and managed to get a several-thousand-dollar job down to a few hundred. The school board authorized the repair.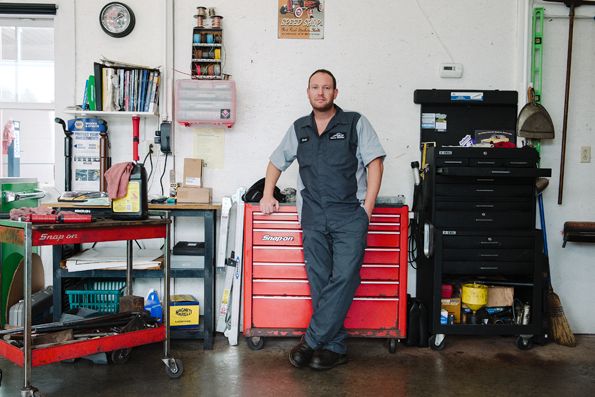 Casey Bates thought of his garage as a place to fix cars, not necessarily lives. (Photo by David McClister for OPEN Forum)
"As far as the band director figured, he just assumed when he left at the end of the school year that the truck was not going to be usable," Bates says.
You can hear the pride when he speaks. It's pride in his ability to help, whether anybody besides Bossenberger knew that he did it—pride in knowing his investment may mean that one or two of this year's Stewart County High seniors will be able to afford college.
While a mechanic in a Tennessee town of about 1,500 residents may seem like an unlikely hero, his one small act could have life-changing implications for this area. And it's a type of action that's replicated all across the country. Small-business owners like Bates know and love their communities. They celebrate the successes and help spackle up the holes by investing heavily in their neighborhoods. According to a study from American Express and the Chronicle of Philanthropy, three-quarters of small businesses donate an average of 6 percent of their profits to charity. And a 1991 study from Oregon State University found that small businesses donate twice as much per employee than large businesses.
Whether they're investing or volunteering, countless small-business owners take countless unsung steps to save our communities every day.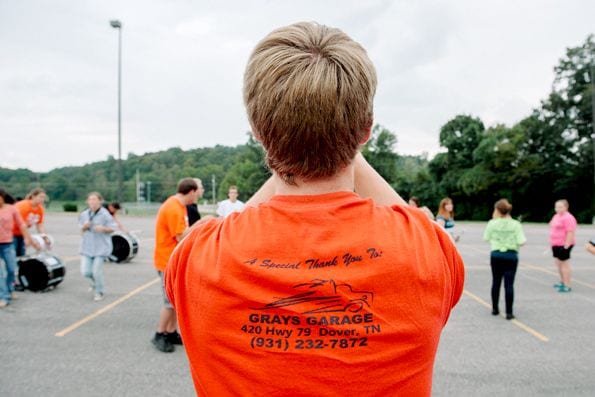 A band student shows support for the small business that supported him. (Photo by David McClister for OPEN Forum)
The Price Heroes Pay
Tom Roeser, owner of Otto Engineering, is a slightly different kind of small-business hero than Casey Bates: He made a grand gesture that immediately earned him national media attention. A longtime business owner in Carpentersville, Illinois, Roeser decided to save an entire neighborhood.
Carpentersville is only 8 square miles of township on the outskirts of the Chicago suburbs that, in the mid-1900s, consisted primarily of modest two-story housing for returning soldiers starting families. Those tract houses were already a little worn by the turn of the century, when the foreclosure crisis hit. By 2008, it seemed like there were more empty houses than occupied ones, and Roeser started to get concerned about the neighborhood across the river from his manufacturing company.
Roeser, an earnest man with round wire-rimmed glasses and thinning hair, bought 35 abandoned houses near his company in order to renovate and then rent or sell them. His intent was to improve his company's surroundings to make his customers and employees feel safer in the area, but he quickly discovered that the neighbors also appreciated his efforts. "Families living next door to a vacant home are powerless unless they have the money to do something," he says. "Their home may become valueless. I found as I was investing in the houses that the people in the neighborhood all realized that I was investing in them."
Directed and produced by Jennifer Molina
Over the past five years, the grateful residents have rallied to support Roeser. As his renovation project expanded, Roeser says the neighbors banded together to create a neighborhood watch to protect his equipment from being stolen. And now, 100 rehabbed houses later, Roeser says that he gets stopped on the street every day by residents who just want to thank him. 
But the local government is another matter.
Roeser has been fined for code issues that he says other builders have also violated—for example, constructing a driveway of concrete pavers rather than using other materials. Renovation projects have been halted when Roeser was told that his budgets weren't specific enough. And at one point Roeser tore down a house and created a vacant lot rather than struggle with what he says were extensive landscaping requirements for a piece of property on which the building extended to the sidewalk.
Ed Ritter, who has been mayor of Carpentersville for five years and served on the planning commission before that, says the local government and Roeser agree more than they disagree. "Tom doesn't always like the way we interpret the rules," Ritter says. "And there are times when we were wrong, I'll admit it—times when we weren't responsive enough or gave mixed messages to the contractors." Ritter says the township has the same goals as Roeser, and in fact recently invested in equipment to repave miles of neighborhood streets where Roeser is rehabbing houses. Ritter sees this tension as simply an inherent difference between entrepreneurs and government. "Tom is driven to get things done, get them done in a hurry and get them done right. We'd like government to be as fast as Tom is, but we just aren't."
The Ripple Effect Of Saving A Life
Sometimes local small-business heroes can save a whole town; sometimes they can save a life. Karen Mares was having trouble easing into her new role as a stay-at-home mom when her daughter was born 10 years ago. "I was very adrift and sad," Mares says. "I just wasn't recovering." After about a year of struggling, Mares was clinically diagnosed with postpartum depression. Her doctor prescribed antidepressants the same week that Mares started a new part-time job in her hometown of Beaverton, Oregon.
The medication helped, but it was the job, Mares believes, that really saved her from drowning.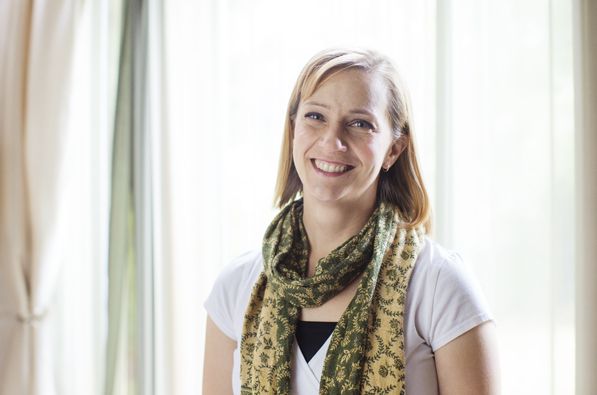 Karen Mares is all smiles now, but was clinically depressed before finding work at a local business. (Photo by Clayton Cotterell for OPEN Forum)
Mares was hired by Mark Hanscom, owner of a local Gymboree Play and Music franchise where she had been taking her daughter for classes. "Just having something to look forward to every week gave me a sense of purpose," Mares remembers. "It gave me an identity as something other than a mom." 
We usually think of "community" as a geographic area, yet Hanscom's community for the past 23 years has centered not around just a neighborhood, but around a group of new parents who bring their infants and toddlers to his Gymboree classes. "This is a ministry, really," he says. "We have the opportunity to make a difference in the lives of people who are facing this difficult transition to being first-time parents. They're exhausted and lonely, and they live here in Portland where it's drizzly and gray eight months out of the year."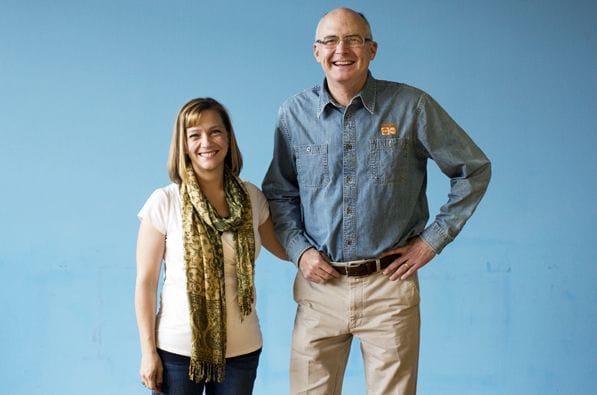 Mark Hanscom, who hired Mares, says his business is more of "a ministry, really." (Photo by Clayton Cotterell for OPEN Forum)
Those community-building skills extend to Hanscom's employees. When he interviewed Mares, Hanscom focused on identifying the skills she could contribute to the Gymboree vibe. Mares asks all job candidates to fill out an "inventory of life experiences," in the hopes of sniffing out non-resume-worthy material like high school cheerleading, or a fond memory of summer camp songs. "I go more on gut feel when I hire," Hanscom says. "We try to be kind and encouraging here. It's what we do for customers and for staff." 
In essence, he gave Mares a chance. 
A Community Of Outcasts
Sleep-deprived and shell-shocked new parents are a community with which the majority of the population can sympathize. But what about society's outcasts? Ex-convicts comprise a haphazard "community" of varied offenders who share one terrible and humbling experience—serving prison time. The theory of prison sounds reasonable: pay your dues, get rehabilitated, then re-enter society. But the reality is often quite different, especially for long-timers who spent enough time locked away to have lost touch with social and technology changes. Adapting to a new world is a challenge made harder by the fact that the world rarely opens its arms in welcome to those who have served time.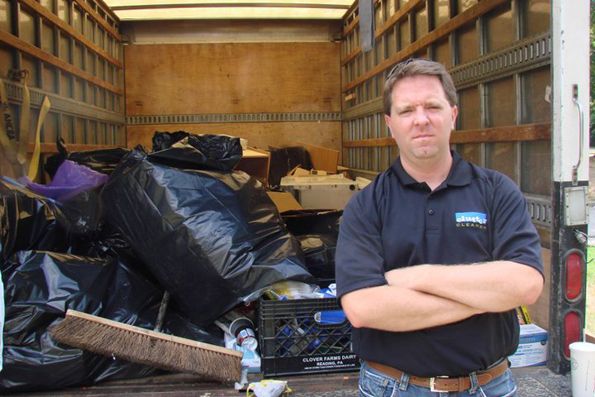 While Matt Paxton's business cleans up clutter, he helps local ex-convicts clean up their lives. (Photo courtesy of Matt Paxton)
By the time Matt Paxton started Clutter Cleaner in 2006, he was acutely aware of the value of a second chance at life. A stint working for casinos in Lake Tahoe had not been kind to Paxton. He skipped town and headed home to Richmond, Virginia, with a broken nose, $30,000 of debt to an angry bookie, and an emotional mix of guilt, responsibility and ambition that would lead him to eventually hire a workforce of convicted felons and various types of recovering addicts. Today he'll argue that it was just smart business, but Paxton knows he has also changed their lives.
Ronnie Frye is a tall, dark and handsome 40-year-old with a friendly, gap-toothed smile. He has the requisite tattoos of a man who spent 19 years, 11 months and four days in prison, but he usually covers those with modest long sleeves. Paxton owed Frye's sister a favor, and when Frye was released from prison, she asked Paxton to try her brother out for a week on a cleaning job. 
"Getting a job is super important," Frye says quietly, nodding his head slowly for emphasis. "When I was in, I saw guys who were released come back two or three times, and it was because they couldn't find work."
Frye applied for several warehouse jobs after he got out, but nobody called back. Checking that little box marked "convicted felon" on a big-company job application is often the kiss of death, but small businesses have the flexibility to take more risks. 
"I gave Ronnie the opportunity because he wasn't asking me for a job," Paxton says. "He was just asking for a chance."
After a week's trial, Paxton was so impressed by Frye's work ethic that he hired him full time to help clean up the extreme hoarder houses that had become Clutter Cleaner's bread and butter. Paxton already knew that having employees like himself, with something dark or embarrassing in their past, helped them bond with and gain the trust of his hoarder clients. After seeing Frye in action, Paxton made hiring older ex-cons part of his business model—at one time 10 of his 15 employees were convicted felons who had served 10 years or more.
The Startup Cycle
Another community that often doesn't get the support it needs is military spouses. Entrepreneur Roxanne Reed has made a difference in this community not by offering employment in her business, but by helping others start businesses of their own.
Reed saw that, while the military community enjoys widespread support from the general public, its members face complex logistical and emotional challenges that non-military families can't imagine. As a military spouse herself, Reed had started a business holding home parties to sell candles and candle kits. They sold well, and soon other military spouses, mostly wives, started asking her for advice. How did she finance her startup? How did she market the idea? What would she do with the business if her family were suddenly reassigned to a new location? When Reed started a second company, Jane Wayne, to manufacture and distribute military-themed women's clothing, her experience broadened and the questions became more complex.
RELATED INFOGRAPHIC: "Shop local" advocates reveal their true spending habits. Click below to read more.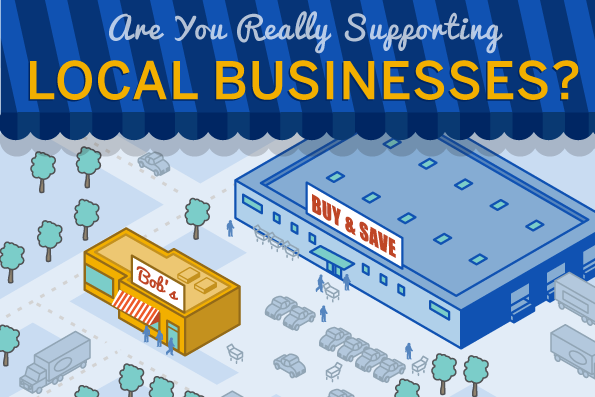 Reed was drawn to advising military spouses on their unique challenges when starting companies, so earlier this year she founded The Military Spouse Foundation. It offers small-business mentorship and an incubator model built especially for military spouses. Reed was motivated by her overwhelming desire to give back to the community that offered her so much support with her own businesses.
"The Foundation wouldn't be here if it weren't for my two companies," Reed says, as her voice cracks with emotion. "For the community to bless the brands the way they have, I don't see them as mine. They belong to the community. They've been built by the community."
"I'm Not A Hero"
These business owners have changed their communities, and other people's lives for the better. They often make these choices despite the risks to their own businesses. But are they heroes?
"I'm not a hero," Tom Roeser of Otto Engineering insists. "A hero is a guy who throws himself on a land mine to save his friend."
In fact, if you ask any of these business owners whether or not they are heroes, each one will immediately shut you down. They're blunt about simply making smart business moves, with social good being a nice side benefit.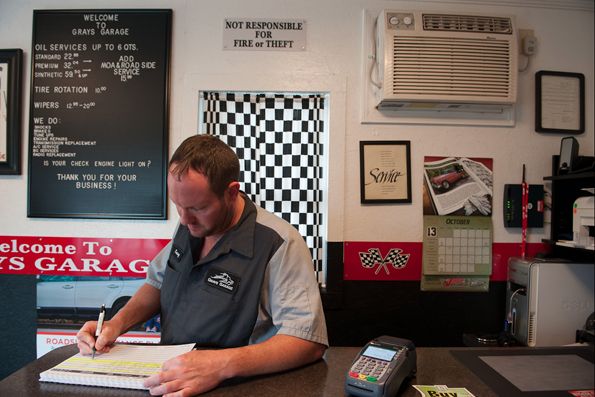 Good samaritan, good business: Helping the community "always comes back to me," Casey Bates says. (Photo by David McClister for OPEN Forum)
Casey Bates, for example, may have a big heart for his local school, but he has a bigger heart for his business. Band director Philip Bossenberger is a regular client at Gray's Garage, and Bates' repair donation spread a little word of mouth to encourage the band parents to patronize his shop as well. "I kind of look at it this way: This is an investment in growing my business," Bates says. "Most of my advertising dollars are spent in the schools, like I'll buy a page in the football program. When I do that it always comes back to me."
Clutter Cleaner's Matt Paxton is equally frank about his primary motivations. "I'm a profitable businessman," he says. "I'm not a big enough business to do social good unless it makes me some money."
And the details of hiring Karen Mares just don't stand out to Mark Hanscom—creating a nurturing environment for freaked-out new parents is what he has done every day for the past 23 years. 
That's not to say that these business owners don't recognize and feel good about their contributions. Paxton's eyes light up when he talks about taking ex-convict Ronnie Frye on his first airplane trip, or teaching him how to use a cellphone. Roeser sounds slightly awed and surprised by the community response to his rehab projects. Roxanne Reed brags about her mentored startups as if they were beloved, overachieving children. Community outreach is admirable, but if you run a small business, you have a responsibility to your family, your employees and your community to stay in business. Nobody wins if the company's do-good urge shuts it down.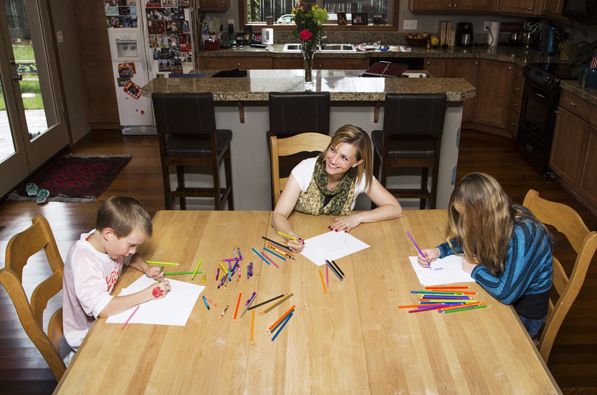 Mares was a struggling new mom when her local employer "saved [her] life." Today, she's the mother of two. (Photo by Clayton Cotterell for OPEN Forum)
Today, 10 years after she started working at Gymboree, Mares is a poised, confident parent of two fast-growing kids. Her community has expanded beyond those transitional early parenting days, and her work now includes blogging and writing for websites. And although Hanscom downplays that long-ago hire, one of Mares's blog posts from 2008 is titled "The Local Small Business That Saved My Life." 
Small businesses are often so busy wrangling day-to-day operations that they may not even realize the difference they make. But the communities and people they save will never forget.
Is there a local small-business hero in your community that you'd like us to feature? Add your suggestions in the comments section below.
Read more articles in our "Local Heroes" series.