As one of the co-founders of True&Co, 30-year-old Aarthi Ramamurthy's mission was to change the way women shopped for intimate apparel by creating an online, algorithm-driven, "try and buy" platform for bras. Now she's taking that experience and applying it to her new startup, Lumoid, which allows photography enthusiasts to rent pricey camera gear and take it for a test drive before buying.
To get the equipment that's the best fit for their needs, consumers tell Lumoid what they'll be photographing (wildlife, weddings, landscapes, babies, etc.), and the company suggests specific kits, which rent for between $5 and $25 a day. When the rental period is over, customers can either buy the equipment, applying 30 percent of the rental cost to the purchase, or ship the equipment back using a prepaid label and "bank" that 30 percent to use toward a future purchase.
Like True&Co, Lumoid "applies tech, machine learning and data" to e-commerce, Ramamurthy says, effectively changing the way consumers choose and purchase goods online.
The Idea Just Clicked
Ramamurthy came up with the idea for Lumoid after she left True&Co to join Battery Ventures as an entrepreneur-in-residence. "I wanted to learn about venture capital and valuations," Ramamurthy says of her move to the venture capital firm. She had previously worked at Microsoft on Xbox Live and at Netflix, where she created software that streams the service into consumer electronics devices, such as Roku.
At Battery, she noticed a growing number of pitches from companies that lived at the intersection of e-commerce and hardware. An idea evolved: Would the marketplace embrace a "try and buy" site for consumer electronics?
As an amateur photographer, Ramamurthy owned several cameras and lenses, so she decided to test her idea by building a website, then offering her own inventory for rent and sale. "Pretty soon, I ran out of my own gear," she says. As the handwritten checks came in—from moms wanting to photograph their kids with something other than their iPhones, or from photography enthusiasts with a hankering for new lenses—Ramamurthy realized she was on to something. 
She applied to Y Combinator, was accepted and graduated from the prestigious accelerator last September. During that period, she received some important feedback from customers. For instance, she learned that while customers were eager to try out new camera gear while on vacation, they weren't crazy about the space it took up in their luggage. So Ramamurthy offered to ship the gear directly to hotels, where the vacationing photographer could pick it up, try it out and then either buy it or send it back and keep the memory card.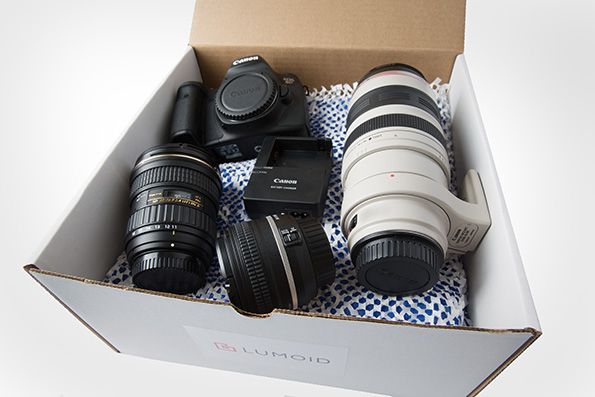 Getting the Right Partners
All the equipment offered on Lumoid is used and comes from small retailers, most of whom don't have an e-commerce presence to help them move inventory. For the most part, Lumoid doesn't stock inventory, but instead asks its brick-and-mortar retail partners for access to the excess inventory they'd like to make available on Lumoid.
The company currently works with six small brick-and-mortar stores in the San Francisco area, where Lumoid is based. When a customer requests equipment, the retailer ships it within three days and splits the revenue with Lumoid. "It's a new source of income the stores didn't have before," Ramamurthy says. "We make it very easy for them."
The company is also beginning to partner with small online stores, run by individual sellers who usually sell their gear on Craigslist or eBay. And when Ramamurthy's own extensive data gathering tells her that a particular item is very popular, she'll frequently choose to stock that item herself.
The Power of Data
Ramamurthy thinks that Lumoid's long-term value lies more in the data that it collects than in the equipment it rents and sells. "We're really more of a software company than an equipment rental company," she says. The data she gathers on what customers click on and rent—and specifically how those products are being used—is extremely valuable to brands. For example, memory card manufacturer PNY gives Lumoid memory cards in exchange for data on how customers are using their products. 
More brand partnerships are in the works, and Ramamurthy says Lumoid is building credibility as a platform where manufacturers can test new products and find out how customers are using them, what they think of them and how much they'd pay for them. "Brands love data on who is using their products," Ramamurthy says, adding that in the future, Lumoid is likely to offer data to brands in exchange for inventory. The company has also partnered with several YouTube channels that offer tutorials on specific gear.
Lumoid's sales are currently growing by about 45 percent per month, with the company serving a wide range of customers, from gadget geeks and moms to "men from Ohio and Kentucky who live 40 miles from the nearest Best Buy," Ramamurthy says. So far, the company has been operating on an original investment of $100,000 from Y Combinator, but Ramamurthy is currently in the process of raising a seed round.
In the coming months, the company plans to expand its virtual inventory with additional brick-and-mortar and online partnerships, and through big brand partners that crave the kind of in-depth customer data that's not available through retailers like Best Buy or Amazon. By giving both consumers and brand partners what they need, Lumoid's focus—and future—both seem clear.
Read more articles on startups.
Photos: Lumoid