When the Adoni brothers told their family and friends that they wanted to open a domestic shoe and sneaker factory in New York City, "everyone thought we were absolutely crazy," says Jordan Adoni, 29. But he and his brother, Jensen, 23, were undeterred. They had worked for their father's shoe manufacturing and importing businesses and had a few ideas of their own about how things should be done. Two years into their venture, Modern Vice, the brothers are not looking quite so crazy. They operate the only full production footwear factory in New York City and make up to 1,000 pairs of shoes a day. Last year, the company posted revenues between $6 million and $7 million and this year is on track for $18 million.
Recognizing Opportunity
Back in 2010, Jensen was helping to launch a line of handbags for his father's company, Pour La Victoire, and "fell in love" with the process of sourcing the leather and hardware locally. "What killed me was that we took samples to retailers and got amazing orders, but we couldn't fulfill them in New York City," he says. "So we shipped the materials overseas." 
A year later, he decided to leave his father's company and strike out on his own with his brother. The two began producing wedge sneakers that were made in Italy. But like so many company owners with overseas operations, the brothers became frustrated with long lead times, lack of control over the manufacturing process, communications snafus and the complexities of moving goods across continents. In recent years, those complaints have become more common, prompting an increasing number of companies to bring their production back to the U.S. The Adoni brothers decided to do the same.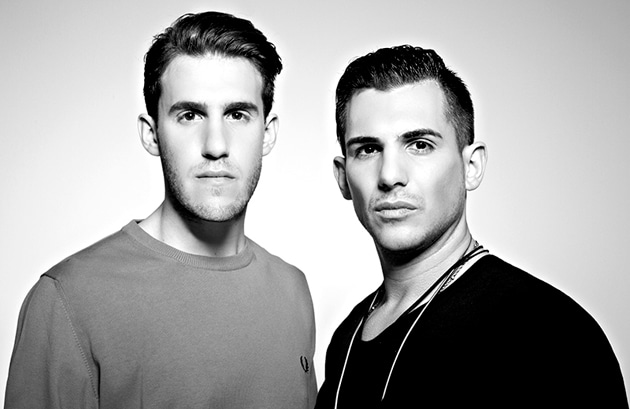 Courtesy of Robert Bomgardner
Unexpected Treasure
The first step was to track down equipment—not an easy task since very few companies manufacture shoes in the U.S. The brothers heard that the iconic skating boot manufacturer, Klingbeil, was going out of business, closing down its Queens operation after 62 years of outfitting Olympic skaters such as Sasha Cohen and Sarah Hughes. "We fell in love with the product and craft," Jensen says. "The company was on its last legs, and we were just going in to buy the equipment. Instead, we bought the company."
With their own savings and an investment from a family friend, the Adonis bought Klingbeil and moved the factory and its 10 employees, including second-generation owner Don Klingbeil, to the garment district in Manhattan, where they opened their own 7,000-square-foot factory in March 2012. The acquisition not only gave their new company the instant credibility of an established brand, but a workforce of true artisans.
Brand Building
Their father, Jay Adoni, is part owner of the factory, called The Adoni Group. The company now houses eight different brands, including Modern Vice, Modern Vice Collection, Giraffe Walk, Jay Adoni, and Klingbeil. While some of the brands, including Klingbeil and the brothers' Modern Vice Collection, are 100 percent manufactured in Manhattan, other brands in The Adoni Group still use production facilities in Italy, Brazil and China.
"We make everything from ballet flats to winter boots and everything in between," Jordan says. Often, he says, the brothers will put their factory to the test by making specialty footwear that presents a particular set of challenges. "We just made our first over-the-knee boot." Distribution for the company's brands ranges from specialty boutiques to large retailers such as Macy's and Lord and Taylor.
Labor Challenge
"It's very hard to get skilled craftsmen," Jensen says. "To work here, we put them through a week or two to see if they can keep up with the pace."

Some of the company's 45 employees are actually shoemakers who worked for Jay years ago. "We convinced one man from our father's business not to go back to Columbia," Jensen says. He notes that factory employees very often bring in their sons or cousins to work with them, giving the factory floor a strong family atmosphere.
But as their company grows, the brothers know that finding a steady and reliable pool of workers will be a challenge. They believe they have a long-term solution, not just for their own company, but also for other U.S. manufacturers. They're applying for foundation grants to build "a vertical model of schooling in New York" that will offer a high school curriculum along with specialized training in manufacturing. "The first three floors will be a school, and the rest of the building will be factory space," Jordan says.

Will there be demand for a school that tracks students into manufacturing jobs? "You can't escape from your DNA," Jensen says. For the Adoni brothers, at least, it's hard to imagine a career that's more satisfying.

Read more articles on growing a business.

Photo: Courtesy of Jared Siskin