When Sophia Hall noticed a long line forming outside of her shop, Make Good, 45 minutes before its relaunch party, the stress, insecurity and exhaustion from the previous two weeks evaporated with a gasp and a grin.
"Look, a line!" said Sophia, peering through the front window of her boutique store, which sells handmade goods from local artists, out to the growing crowd on Fern Street in San Diego's South Park neighborhood.
The people in this urban village of historic craftsman homes, small storefronts and restaurants were eager to check out the changes to the 600-square-foot shop owned by Hall and her husband, Jon. Through social media and word of mouth, San Diegans had learned of Remade, the event celebrating the redesign and relaunch of the Halls' store, which they won in a redesign contest from Etsy and American Express. The prize included a $5,000 design refresh from American Express, which was designed by Rue magazine.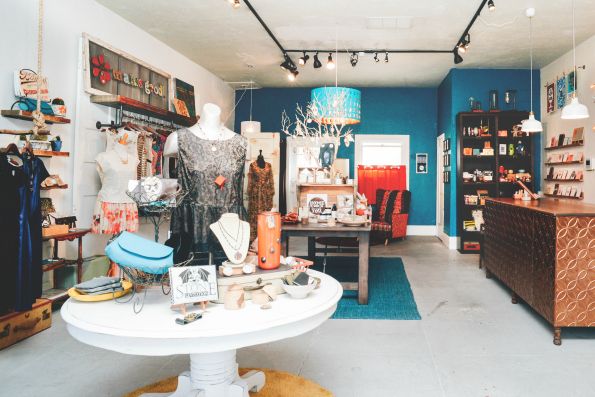 Make Good's redesigned interior
A Neighborhood Store
Opened five years ago, Make Good is an example of hyper-local commerce—the shop sells only handmade goods sourced from artisans in San Diego and neighboring Tijuana, Mexico. The store also sells designer resale clothing. The Halls live in this neighborhood, as do the few friends and family who work part-time in the shop as needed.
"To our knowledge, Make Good is the only store in the San Diego region selling 100-percent locally sourced goods," said Sophia. "Our San Diego-Tijuana artist focus reflects a reality often missed in the story of San Diego business and culture. The two cities are inextricably linked, each informing and influencing the other in interesting, creative and dynamic ways."
The store also reflects the couple's determination to break from a consumer culture where the questions of "Where was this item made? How? And by whom?" seldom enter into the conversation.
"One of our deep values at Make Good—and this is manifested in Sophia's curating and merchandising efforts—is to provide a good alternative," said Jon. "Unlike national retail chains, we connect the buyer to the seller as directly as possible. We know every artisan who creates our products, personally. We know where and how they make, the materials they use (often recycled) and where they live."
This business model returns about 75 percent of Make Good's revenue to the local economy, Jon said.
The Origins of Make Good
When the Halls moved from Orange County to San Diego in 2008, Sophia became part of a group of women artisans, dubbed the Handmade Revolution, who often gathered in her home to make and sell their items. The Handmade Revolution then began selling some of their items out of the corner of an ice cream shop, which led to an opportunity to sell goods on consignment in a nearby foreign film shop. When the video shop closed down, Sophia was encouraged by neighbors to take over the space.
In just a few weeks and with limited operating capital, the Halls conceived and branded Make Good, with Jon, a marketing and branding professional, creating the store's logo, signage, marketing materials, ad campaigns, website and email marketing. Friends helped renovate the store with display cases and shelving largely repurposed from secondhand furniture.
"When we signed that first one-year lease, we weren't sure this unique business model would work," Jon said.
Initially, the shop represented eight artists. That soon grew to 20, then 50 and eventually, over 100. In the beginning, artists worked in the store in exchange for display space and a more favorable consignment rate. Since then, the couple has maintained a flexible approach to getting work done, which includes work-in-trade and having one of their daughters work part-time.
"We've had so many people be incredibly supportive of what we're doing, so finding help has rarely been a problem," Sophia said.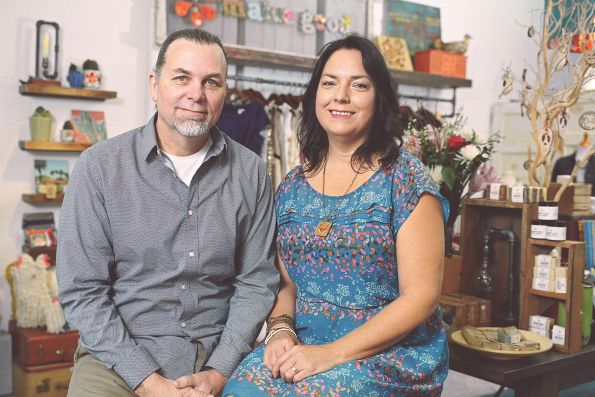 Sophia and Jon Hall
Supporting Make Good's Employees
From the start, Sophia wanted her business to be about the artists whose work she sells, and she sought to establish strong, trusting relationships with them. Many had been burned by other shops that damaged or lost their merchandise, or were slow to pay them, if at all.
When she started selling her work at Make Good, Juanita Banuelos, a Tijuana-based artist who makes hand-tooled leather jewelry and accessories, used to take photos of every item she left with Sophia. Based on previous bad experiences with sellers, Banuelos thought it important to create a record of every piece of inventory she entrusted to the Halls to ensure she was paid for items that weren't returned to her. Three years later, she drops off a new bag of her merchandise and tells Sophia no invoices or receipts are necessary.
"I feel secure with Sophia and Jon," Banuelos said. "They really appreciate the artists, and they even help me with pricing."
Sophia curates inventory based on her eclectic tastes that range from cute to controversial. But what really captures her attention is a great story, the artists' passion and their production process. The curating process had a steep learning curve, she said. In the beginning, some products would sell out quickly and others would just linger on the shelves.
By closely watching her sales and engaging with the people visiting her shop, Sophia said she has developed a better sense of the unique market of handcrafted goods and what may appeal to Make Good's customers.
"I think I've managed to develop a reasonably good sense of both inventory mix and price point for our customer base," she said.
A New Look
On the warm, sunny Saturday afternoon of the Remade event, a dozen Make Good artists had set up booths in a small lot adjacent to the store where they could sell directly to consumers. Offerings included housewares made from sea-stained salvaged lumber, urban-industrial light fixtures, jewelry, greeting cards, toiletries and leather goods.
Visitors entering the redesigned store pass beneath a new handmade sign of reclaimed wood engraved with Make Good's name and simple orange flower logo. New aluminum pendant lights cast a glow over the entry at night. Inside the shop, the couple added additional track lighting and more new pendant lights, including one in teal, the second of the store's two signature colors.
Merchandise is displayed on wood tables and simple, clean-lined shelving and bookcases. Fresh white walls are highlighted by a signature teal wall in the back of the shop. New fixtures crafted from reclaimed wood display jewelry and the scent of handmade soaps and candles contribute to a soft, light, welcoming feel.
"It's great to have an opportunity to meet the people who buy our things and to see their faces and reaction to our products," said Leigh Suarez, a Tijuana-based artist, who specializes in hand-knitted, hand-dyed wool bags, scarves, accessories and home decor. Suarez and his wife, Olivia, have been selling their work in Make Good since 2011.
The Halls became eligible for a shop redesign by participating in the Etsy Trunk Show program, which, in partnership with American Express, paired boutiques with Etsy sellers to host a trunk show on Small Business Saturday. Founded by American Express, Small Business Saturday is held on the first Saturday after Thanksgiving and encourages people to shop at small local businesses. 
It was the first time they had participated in the event and they wanted to take advantage of the canvas shopping bags, doormats and other promotional materials provided by American Express. The Halls also leveraged the large social media following of both Etsy and American Express by using the companies' hashtags to reach their broader base of followers. The strategy worked.
"Small Business Saturday was our biggest sales day. Ever," Sophia said. "Fifty percent higher than the next highest sales day."
After a visit and some suggested design changes from an editor at Rue magazine, the couple began planning the redesign on their $5,000 budget. In late January 2015, the Halls closed the store for a week, and Jon took vacation from his full-time job to implement the design changes.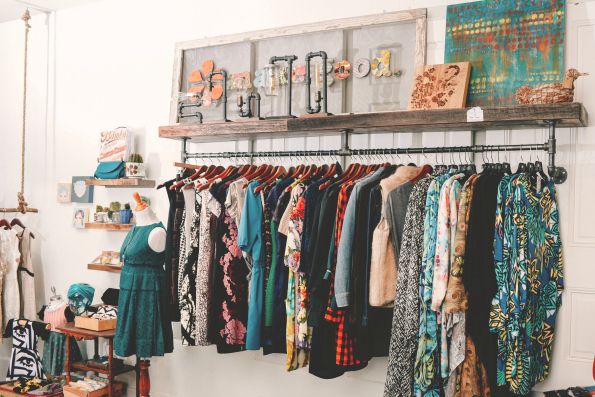 Some of the items available for purchase at Make Good
Tough Redesign Decisions
The objective most difficult task was to de-clutter and replace the store's cramped, consignment-shop appearance with a fresh, clean and more upscale aesthetic. That meant curating more than 150 vendors down to a more manageable list. To do so, they had to identify which categories of merchandise were most desired by their clients. And they also considered the economics of scale: Items that required too much display space but weren't big revenue drivers had to go. Merchandise that could be displayed by taking advantage of vertical space, such as jewelry, could be mounted on wall displays rather than spread across a table or counter.
There were a lot of tough decisions, Sophia said. But the designer's critique allowed her to look at her space, with merchandise that had grown organically over time, with more objective eyes. "It also taught me to experience the store with all my senses. For instance, I sell these beautiful handmade soaps. They should be displayed so they can be seen and smelled," she said.
To conserve cash and keep within the ethos of their business, the Halls repurposed existing materials whenever possible, and enlisted the help of local tradespeople who were willing to provide services at reduced rates.
"They've always sold great things in this store, but now you can really see it all, it feels much more spacious and bright," said shopper Betsy Hall, as she admired Mexican tile coasters.
The Halls have already started planning events for later this year to further promote the redesigned space, including their first professional fashion photo and video shoot this spring that will feature their expanded designer resale clothing, as well as their newly expanded selection of jewelry and accessories. They also plan to increase social media activities, including their website and video, to showcase the work and stories of selected artists. And they are considering possible collaborations with artists and musicians for unique events that highlight Make Good's cross-border perspective.
As Sophia and Jon stood in front of Make Good smiling for local television crews covering their relaunch, a crowd milled about the marketplace.
"This is great," said neighborhood resident Lisa Chamberlain, as she took a break from shopping and bit into a taco sold by a locally-owned taco truck and bopped to the background music a DJ played for shoppers. "It's really great that we can meet the artists who make these items and hear their story. It makes it so much more meaningful when you give one of these items as a gift," Chamberlain said. "And even if I don't buy something today, I know I can come back here and buy something when I do need a gift. It's such a wonderful thing to have going on in the neighborhood."
Photos: Tommy McAdams